6 Cloud Telephony Techniques to Successfully Brave the COVID-19 Pandemic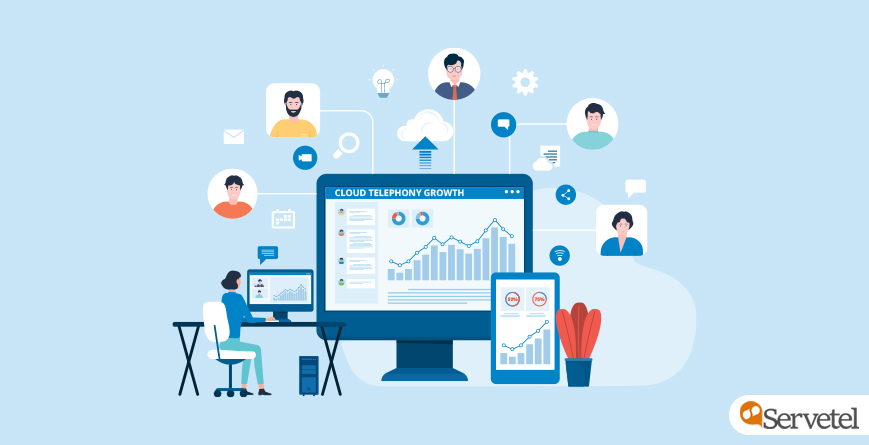 With the pandemic affecting all sectors of the economy, we have witnessed a widespread acceptance of remote work models. Even though all businesses these days have mitigation plans in place, their inefficiency was made apparent to us in light of the world crisis.
In times like these, it is especially difficult for businesses to be in constant touch with their customers and stay afloat. Firms need to constantly evolve, innovate and engage in smarter marketing techniques in order to stay visible and relevant.
As per the report Cloud Telephony Service – Global Market Trajectory & Analytics: "Amid the COVID-19 crisis, the global market for Cloud Telephony Service, estimated at US$13.5 Billion in the year 2020, is projected to reach a revised size of US$40 Billion by 2027, growing at a CAGR of 16.8% over the period 2020-2027".
The reasons for this demand are pretty simple. A step away from the traditional setup, cloud telephony is an upgraded and faster solution for all your business needs.
Cloud communications boast of being handy as well as easier—they do not require any heavy infrastructure and hardware or expensive maintenance. Additionally, one enjoys remote accessibility and significantly lower business costs.
Here are the six best marketing tactics of 2020 that prove why and how cloud telephony helping businesses:
(1) Understand, De-clutter, and Communicate with your Database
While you might have gone over your database countless times in the past, with changing circumstances, revisiting your customer information is never a bad idea. Cloud telephony breaks your data down into a sizeable and easily comprehensible format. Not only will this help you understand your customers better, but will also help you look for solutions for your target audience. The more comprehensible the data is, the smoother it becomes to fine-tune your solutions to suit customer needs.
Additionally, cloud telephony makes it easier to reach out to your customers. As soon as the new 'work-from-home' culture set in, a series of norms were changed, such as office timings, availability of resources and staff, changes in return/exchange policies, etc. A simple cloud-enabled intimation of the same goes a long way.
(2) Build a Loyal, Secure Network with Creativity
Reaching out to customers in a crisis can be relatively easy and difficult at the same time. At this point, a combination of cloud communication tools and creativity is what you need. And what better way than to utilise social media to practice the same. Apart from being a safe creative space, social media is also a great tool to keep in touch with your target audience, give them a redressal forum, and engage and interact with them on a regular basis.
Businesses can also think out-of-the-box when it comes to advertising and creating targeted social media campaigns. Constant and creative communication will pave the way for a loyal and secure network of customers, in for the long-ride.
(3) Make Way for Solutions
In uncertain times, the number of questions your brand faces are bound to increase. In order to tackle the large influx of queries, one needs all hands on deck. Limiting communication with your customers is not the ideal escape right now. Therefore, this just might be the best time to invest in cloud telephony. IVR (Interactive Voice Response), for one, is a standalone and completely reliable system to stay connected with your customers. Not only does it equip you to handle multiple queries at once; it allows call recordings—to analyse later—and gives you access to client feedback.
Another option is to avail bulk SMS services. Simple messages such as "we're in this together" or "we prioritise your safety before anything" can work wonders. The idea is to not stop communicating with your customers during a crisis and steadily gain their trust.
(4) Go Back to the Roots
The pandemic has brought a lot of changes in our lives with another world order in place. And the same stands for businesses. As people and circumstances are constantly evolving, there is a need for firms to do the same.
Evolving doesn't always mean thinking of new solutions. Sometimes one can find handy solutions while tracing back their roots.  So while Internet-based services are on the rise, several customers still prefer a good ol' telephonic conversation.
Look for an omnichannel approach for your business that integrates various platforms and provides a holistic solution to consumers. According to GrooveHQ, "companies with the strongest omnichannel customer engagement strategies retain an average of 89% of their customers, compared with 33% for companies with weak omnichannel strategies."
Another aspect of such communication is empathy. In tough circumstances, empathy is what brings out customer loyalty and appreciation for your brand.
(5) Sync Marketing Strategies with the Pandemic
This year there has been a well-rounded focus on health and well-being, of both employers and employees. You might be taking the best measures and conforming to international standards, but are your customers aware of it? Are they well-informed of all protocols that you have in place to tackle the pandemic?
Well, if not, then now is the right time to have the talk. Assure your buyers of the safety and hygiene practices you are following via cloud telephony solutions such as voice broadcasting, bulk SMSes. Cloud telephony not only makes communication easier but also paves the way for expanding your business by reaching out to a wider consumer base.
(6) Set up Dedicated Helplines
It could very well be that your clients are only looking for specific solutions while keeping others on the backburner. For targeted solutions, setting dedicated helplines is an essential measure.
For example, at the onset of COVID-19 in the country, the government resorted to launching toll free numbers. Such an approach not only helps provide targeted solutions, but also serves as a dedicated, one-stop solution for all queries related to the topic.
Moreover, empowered by the cloud, you can access remote locations where Internet services may be scanty.
To sum it up
The year 2020 has fired heavy shots at us and COVID-19 has tested industries, markets, healthcare systems, and various other domains. 'Virtual' and 'remote' were the two most commonly heard terms throughout the year. As new norms came into being, access to all things became remote, and cloud technology paved the way for newer, smarter and more innovative marketing techniques.
Tapping into data, assembling it, and analyzing it has never been easier than with cloud services. Apart from providing new-age solutions, this dynamic and ever-evolving field helps achieve short and well as long-term goals. Cloud telephony also involves minimum overall costs, while obtaining maximum output for businesses.
Author bio:
Vanita Arora is bent on managing the marketing activities at Servetel. Being greatly in love with music & traveling she always has been a nerdy soul.