Hair Stylers To Own For Every Occasion & Location
Styling at home has become a penchant for all of us who want to get decent styling and at the same time save some dime. We all are well accustomed to flat irons, hair curlers, and hair crimper and how well it helps to style right at home. Every other person owns one of the three aforementioned hair styling appliances to achieve their favorite hairstyle. Many of us are not really into purchasing all sorts of hair styling tools as we fear we might not be able to style as much or it may lead to too much expense. But in our hearts, we know how much we want to style our hair as differently as possible for parties and special occasions.
It's time to fulfill all those wishes and own something that styles your hair as you desire. Thanks to Vega and its extensive range of hair stylers that now makes it possible to style as much as possible for any occasion and location. Let's have a look into the must-have Vega hair stylers that will win you over.
Vega 3-in-1 Hairstyler – The Showstopper
You can now straighten, crimp and curl your hair easily at the comfort of your home with this one-of-a-kind hair styler. From a corporate look to a party look, the Vega 3-in-1 Hair Hair styler is the one-stop solution to give you a new hairdo every day. The hair styler's flat plates are designed to straighten your hair smoothly to create a sleek look. The crimper plates work magically to create beautiful textures while the curling iron works its way to create lustrous locks. This hair styler features 1 button to switch freely into three different styles to attain your desired hairstyle conveniently. Best designed for family functions like weddings, or annual office parties for getting any trendy hairstyles.
The praises don't just end here, the Vega 3-in-1 Hair styler has been awarded as the No. 1* Hair styler Appliance Brand in India under the category of "Most Recalled Brand", "Most Owned Brand" & "Most Satisfied User".  (*by AZ Research, February 2023)
Vega Glam Up 2-in1 Hairstyler
How about a hair straightener with a twist? Vega Glam Up 2 in 1 Hair Hair styler is your chance to dive into the fun of hair straightening and curling experience. Featuring Twisted Ceramic Plates for even heat distribution, this 2 in 1 Hair styler is designed to be your all-in-one solution to great style, be it Sleek and Shiny Straight Hair or Smooth and Bouncy Curls. Its Adjustable Temperature Setting ranging from 100°C-230°C with Rotary Knob offers the convenience to switch easily based on your hair type. Other features include Unlock Switch for convenience, a Digital Display to let you customize your styling process, and ultra-fast heating for effective results in just a few minutes. You can pick this hair styler for date nights or a fun night out with friends.
Vega 2-in-1 Wet & Dry Hairstyler
A hair styler distinctly made for both dry and damp hair, Vega 2-in-1 Wet and Dry Hair Hair styler is a perfect combination of straightener and curler. Simply wipe your hair and use this hair styler. This hair styler comes with ventilated holes that maintain the moisture level in your hair while you style them. You can switch to different styles from poker straight hair to bouncy waves or lustrous curls as the hair styler has flat plates to straighten the hair and the curling iron helps to create beautiful locks. This hair styler also comes with a spiral sleeve for easy storage of a hot barrel after use. Try different looks with this versatile hair styler and get enchanted with your new avatars. This is suited for styling when you are in a hurry and you need to get your hair done after a wash. You can easily use this hair styler on damp hair and style it.
Vega Go Mini 3-in-1 Hair Styler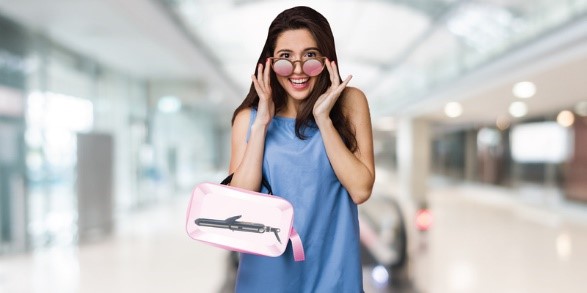 If you have loved the 3-in-1 hair styler previously mentioned, then you would definitely love its mini version. Best made for traveling like trip or destination weddings, this hair styler helps you flaunt the best hairstyle on the go. Flaunt a new you every day with Vega Go Mini 3 in 1 Hair Styler. Straighten, curl and crimp your hair on the go as it fits perfectly in your handbag to quickly achieve that desired DIY look with ease, be it corporate, party or holiday. Its lightweight and mini size makes this hair styler your one-stop solution to get your choice of hairdo anywhere. Its flat plates quickly straighten the hair to create a sleek look while the crimper plates create beautiful textures and the curling iron creates lustrous locks. The hair styler features one button to switch freely across these three different styles conveniently. So, glam up with Go Mini 3in1 Hair Styler for any occasion and any location.
What's more, these amazing hair stylers are highly economic and totally fits your budget. You don't have to spend any extra on the salon for getting trending hairstyles for attending functions and parties. With Vega, hairstyling is now a piece of cake, and with just a little practice you can become your own hair expert in no time.