8 Essential Things to Consider Before Starting Your Own Business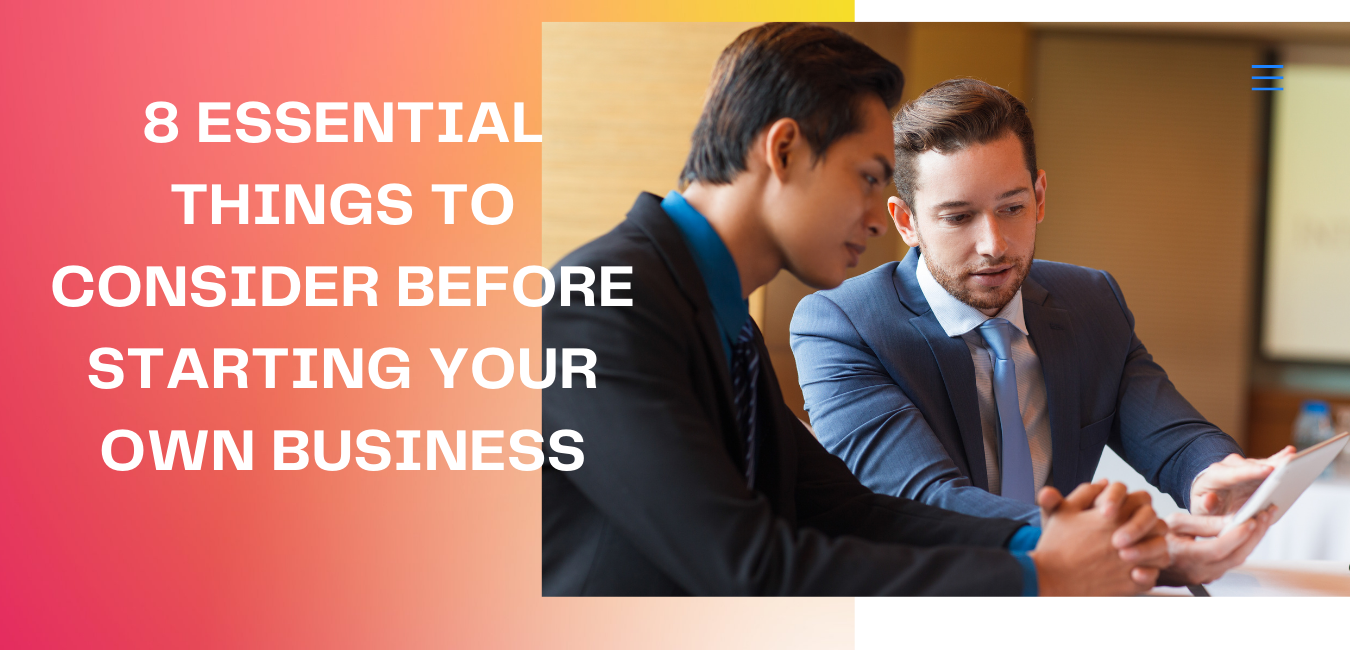 Starting own business is everyone's dream. But only a few people get about fulfilling their dreams. If you're among those people that're planning on starting your own business, there're eight essential things to consider.
What're these eight essential things? I will discuss them in this article, so continue reading. First, I will discuss the reasons to consider these eight essential things.
Reasons to Consider Eight Essential Things
As I mention earlier, there're strong reasons to consider these eight essential things. Here're some of them.
High Failure Rate of Startups
A new business actually qualifies as a startup. According to global figures, about 80 percent to 90 percent of all new businesses flounder and fail in the first two years of their inception due to various reasons. This makes it important to consider the eight points that I'm going to write about.
Lack of Direction
Usually, most entrepreneurs open a new business without the lack of proper direction in which they wish to take the enterprise. This can prove to be a rather expensive blunder because any business that runs without proper direction is destined for losses and eventual closure.
Loss of Investment
The above two factors and many more can eventually lead to colossal financial losses for you as an entrepreneur. Surely, this is a situation you would wish to avoid. And sometimes, you might also end up with debt that ruins your credit score and upsets your family lifestyle. This makes it all the more imperative to consider the eight essential things that I'll be writing about.
Eight Essentials to Consider Before Launching a Business
Now that you're aware of the top three reasons why you should put in a lot of consideration before starting a business, let's discuss what're these factors to consider in depth. These eight considerations can actually help you start a business properly and minimize the risks of running into losses or closure of the enterprise.
Need for Your Business
The first and foremost consideration before starting your own business is to find whether there's an actual need for it in the market. Often, the market may have several businesses in the same field in which you intend launching one. In such cases, you would have to counter fierce competition from well established players in the market. Often, overcoming competition from firmly established players can prove very difficult for a new entrant. Therefore, find out if there's a genuine need for the business that you intend to start and get a sizeable share of the market pie.
Business Niche
A niche is most important to give your business that unique edge. Because, that's how you can position your business in the market. It helps you to focus on a specific type of customer and meet their needs and demands. Unless you have a good niche, you would most likely end up shooting in the dark to get enough clients. Instead, a proper niche helps you define what type of customers you should attract and focus your marketing effort towards them. There are many expert blogs and youtube channels available that will help you to find out great business ideas.
Own Skills for the Business
Do you have the necessary skills and expertise in running the type of business that you're planning to establish? This is the third most important question that you've to consider before starting a business. There's no point in setting up an enterprise in a field where you have little or no knowledge or expertise. Not only would you be unable to operate the business effectively, you won't also be able to give it the proper direction it needs to sustain in the market.
Amount of Investment
Generally, every good entrepreneur takes into consideration the amount of investment that their business would require. If the initial investment is too high, you would have to justify it with equally high profits. Because a high-investment-low-profits business is always headed for doom. And it's not easy to get investments for your business. You would have to dig in or even empty out your savings and investments to start a business or seek venture capital and money from crowdfunding. Yet, profits have always to justify the investment.
Business Plan
Another major consideration before starting your own enterprise is the business plan. Because, a business plan serves as a roadmap for the enterprise to grow and sets short-term, mid-term and long-term goals that're realistic and achievable. If you cannot create a superb business plan, it's best to ask a business consultant to create one for you. A business plan is most essential when it comes to setting down operating procedures for the enterprise. Therefore, this is something to be considered seriously.
Growth Prospects
You also need to consider growth prospects for your business. Does the market in which you wish to enter provide enough scope for growth? And what're the other markets in which you could venture with low investments and yet record high profits. To do so, you'll require a complete study of the market in which you wish to launch the business and those where you plan to enter for future expansion of the enterprise.
Online Presence
Nowadays, it's a must for every business to have a strong online presence. And this online presence should be in the form of a business website, a superb business blog and social media pages on Facebook and Instagram, Twitter and LinkedIn, among other platforms. Therefore, consider how you would mark a strong online presence for your business. According to online marketers, businesses that focus on content marketing record 120 percent more customers and leads than enterprises that ignore a strong online presence.
Staff and Payroll
And finally, also consider what is the proper number of staff and employees you'll require on your payroll. Having too many employees only leads to redundancy and longer payrolls while fewer workers mean overwork and high overtime wages. This calls for an astute judgment from your side while employing workers for your business. If there're some tasks that require specialized skills, you can consider hiring freelancers.
In Conclusion
These eight considerations should help you set up a profitable enterprise as a budding entrepreneur. You can always adapt these considerations to meet your specific needs and requirements for the business you plan to set up. Starting a business also requires specific permits and licenses from various departments and government authorities. Consider these also before you set up own business. If you get all the things right, there're superb chances of succeeding with your new enterprise. And of course, you'll need to exert extra efforts to make your business venture a success. Setting up a business is easy and running it is a pleasure if you get these considerations right.
Ends.