BigCommerce vs. WooCommerce – which is the Best eCommerce Platform?
BigCommerce and WooCommerce are the two most renowned eCommerce platforms around the web. These two giant platforms make it simple for online business owners of all kinds to operate their online businesses. Therefore, shoppers online are frequently buying products and services from these platforms.
You may be starting your online business for the first time or already a seasoned entrepreneur seeking to expand. Hence you can utilize WooCommerce or  Bigcommerce as your tool to create and manage a fully functional web store. But you should know how these two platforms work differently.
In this article, we will be providing a detailed comparison of WooCommerce vs. BigCommerce. As a result, it will be more reasonable for you to make the right choice for your eCommerce business.
Major Requirements for Every eCommerce Store
You might be selling physical goods, digital downloads, or services. However, there are several essential aspects that your shop must include. You will need a proper way to represent your products, as well as a viable procedure for clients to pick and pay for them, similar to the traditional "brick and mortar" business approach.
Moreover, your online store must have a feature that helps customers to contact your business directly. As a result, buyers will grow more reliant on your online store, reducing their alternatives. To effectively advertise your brand through an online store, it must include customizable options. Consequently, you can fulfill client demands as your company grows.
Apart from essential features, top-rated eCommerce platforms have differences in terms following aspects:
User-friendliness or ease of use – The platform you use as an online store owner must be user-friendly. As a result, you can create a store from scratch and handle all the issues by yourself.
Cost or Budget – The price or package of creating an eCommerce store should be flexible.
Payment Gateways or methods – The primary objective of your online store is to sell products and get payments. Hence, the payment gateway of your website should be accessible by every shopper.
Customizable or Scalable – Other than the usual features, your platform should allow you to customize the store according to business needs. This option is crucial when you are expanding your business and applying new options.
Help & Customer support – The customer support of your online store must be outstanding.
WooCommece is a WordPress plugin that provides extensive features to customize your virtual store to a far-reaching extent. BigCommerce, on the other hand, comes with a bundle of built-in features and flawless customer support.
You can select a platform when it comes to WooCommerce vs. Bigcommerce. How? Well, we will represent a comparative analysis that will assist you in deciding the best option for your business.
What is WooCommerce?
Nearly half of all eCommerce websites around the world are under the roof of WooCommerce. Since WooCommerce is a free and open-source plugin, the user base is vast and growing rapidly. WooCommerce works flawlessly with WordPress-hosted websites. All you need is a web-hosting service from your desired provider, followed by the installation of WordPress to start your online store. Moreover, you can migrate the whole website from one provider to another.
After installing WordPress, you may install the WooCommerce plugin from the WordPress plugin directory. By activating this plugin, You can start building your online store with vast options available in it. The plugin is compatible with almost all WordPress and third-party themes. In addition, users can create and manage their site easily, including product pages, cart functionalities, and payment gateways.
If you are willing to expand the functionalities of your business website, WooCommerce gives you all the flexibility. Because WooCommerce is an open-source platform, you can modify the plugin's source code. Besides, there are thousands of plugins that extend the features of WooCommerce. For example:
WooCommerce Stripe Payment Gateway
WooCommerce Product Feed Manager
YITH WooCommerce Wishlist
Booster for WooCommerce
Customer Reviews for WooCommerce
Our mentioned plugins can highly increase your WooCommerce store's performance.
What is BigCommerce?
Currently, BigCommerce hosts 147,368 business websites around the globe, including top brands such as SkullCandy and Woolrich. You will get all the essential features to create and run your online business within this single platform. Therefore, You don't need to install any plugin or third-party services to run your website.
BigCommerce's primary site builder provides many additional capabilities –
Abandoned shopping cart recovery,
Connecting sites with top eCommerce sites such as eBay, Pinterest, Amazon, Google, etc.
Secured payment procedure (with SSL certification)
BigCommerce App store where you will get additional tools to enhance your site's capabilities.
BigCommece offers numerous free and paid themes that are customizable via the store builder tool. Therefore, basic users can utilize the drag and drop option, and advanced users can also work with the source code.
In a BigCommerce website, you can get different apps to extend your online store's functionalities. You can get these apps directly using the BigCommerce dashboard. Here are some notable BigCommerce Apps :
LiveChat + Customer Insight
Google Shopping by Sales & Orders
InStockNotify
Yotpo Product Reviews
Klaviyo
With the basic analysis in mind, we will look at WooCommerce vs. BigCommerce and get into an in-depth feature review.
WooCommerce vs. BigCommerce – Major Feature Differences
Ease of Use – WooCommerce
While running an online eCommerce website, user-friendliness and flexibility is a major concern. Therefore, when you can easily customize your site, you will have more time to focus on your business's growth.
WooCommerce, unlike Bigcommerce, is a plugin that you can find in your WooCommerce Plugin directory. To use it, you must install this plugin on your WordPress-hosted website. Once you install WooCommerce and activate it, you can start the setup process via a setup wizard.
Through the setup wizard, you need to work on Page creation, store location, shipping & tax, and payment gateway. The next step requires you to add products to your online store. You can also add plugins and change themes to enhance the features of your store.
Ease of Use – BigCommerce
The creation and maintenance process of BigCommerce is easy compared to WooCommerce. Because BigCommerce is a self-hosted platform, you do not need to install any additional plugins to utilize it. Besides, additional aspects such as security, backup, and performance issues will not become your headache.
It takes three simple steps to complete the setup process of a BigCommerce online store. After signing up through the trial plan, all you need to do is provide your email & content address, store name, and a few additional details.
When the setup process is complete, you will be able to view the dashboard. From the BigCommerce dashboard, you can get a store preview, upload products, and customize the store. The admin panel located on the right-hand side includes options such as managing orders, products, customers, and more.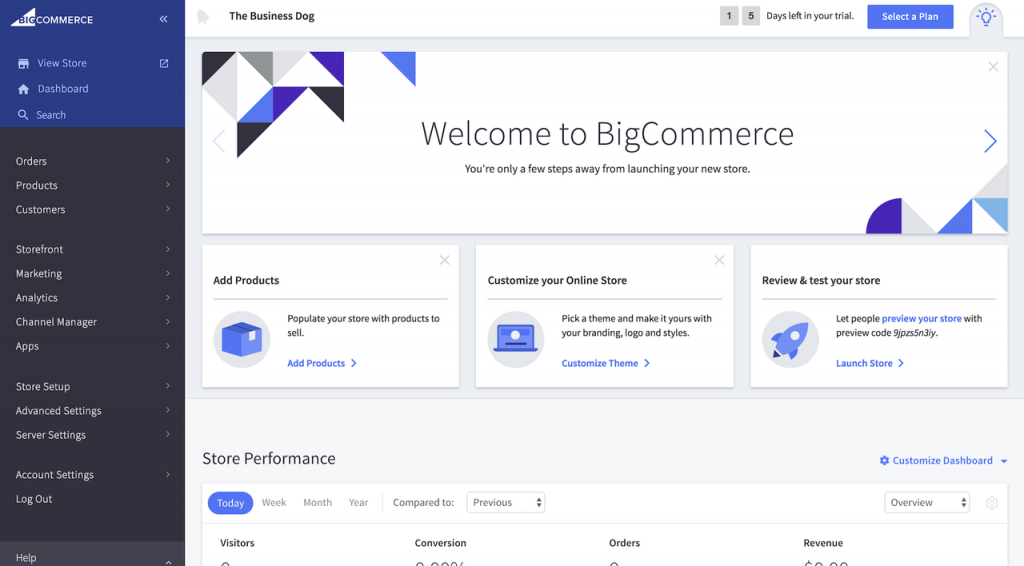 For new online business owners, BigCommerce provides a subdomain that is free of cost. BigCommerce can be utilized under a WordPress website through the BigCommerce WordPress plugin. Therefore, you will get access to all BigCommerce functionalities while using WordPress.
Budget or Pricing Comparison
Budget is a significant factor while choosing an eCommerce platform to run your online store. When you are thinking about owning an eCommerce website, keep two things in mind – (1) the initial cost to set up your website and (2)The additional costs to maintain or enhance it.
WooCommerce is technically a free WordPress plugin that you can set up on unlimited sites. But the pricing comes ahead when you are:
Buying a theme (costs $39 on average),
SSL certification to maintain the security ($9/year)
Hosting service which is renewable or upgradable ($10/ year)
Additional features and customization options may charge you extra.
If you count only WooCommerce, it is free of cost, but the additional cost is more significant compared to BigCommerce.
BigCommerce offers three payment plans including:
Standard Plan ($29.95/month)
Most Popular Plus Plan ($79/month)
Pro Plan ($299.95/month)
BigCommerce automatically upgrades your pricing plan when your sales exceed a certain amount. Suppose you are running a Pro plan, and your sales volume reached an additional 200k. Therefore, you have to pay BigCommerce an additional $150 to BigCommerce, which is a bit discouraging. You may want to have full control over your profit and business growth, but BigCommerce dominates it.
Payment Gateways or Options
WooCommerce Payment Gateways
If you are running your business with the WooCommerce website, you can utilize 100+ payment gateways. The renowned Payment Gateway such as Paypal and Stripe are integrated on WooCommerce by default. Besides, WooCommerce has designed its own payment gateway that works perfectly with WooCommerce powered stores.
WooCommerce payment gateway accepts major debit and credit cards securely. Additionally, it helps you convert more customers because they don't have to leave the website to complete the payment process.
BigCommerce Payment Gateways
BigCommerce has 65 payment channels that are automatically embedded into BigCommerce websites. The payment gateway of this platform includes some of the best options such as Amazon Pay, PayPal, Apple Pay, etc.
You can select your preferred payment gateway for your business. Bigcommerce includes a payment gateway on your website if you forget to add one.
Scalability of WooCommerce vs. BigCommerce
When your website grows, you will require more resources to scale up your online store. Let's see the difference in scalability between WooCommerce and Bigcommerce.
Scalability on WooCommerce
WooCommerce is a self-hosted platform that puts you in charge of managing your website's resources, backups, upgrades, and security. The hosting companies of WordPress will ask you to update the hosting package to match your expanding website's requirements. However, for some businesses, the update process may include some complex phrases.
You may host your WordPress website with WP engine – a managed WordPress hosting provider.
Scalability on BigCommerce
Because BigCommerce is a completely hosted solution,  you don't need to manage the technical issues. This means the storage backups, downtimes, upgrade, and security will be handled by this platform itself. As your business expands, your plan, along with other aspects, needs to be updated. BigCommerce minimizes all your effort to scale up your website.
Help and Customer Support
WooCommerce Customer Support
Customer support is one of the most significant differences between WooCommerce vs. BigCommerce. WooCommerce offers customer support through their Docs collection, which includes solutions to various issues. If you are having any site issues, the hosting companies support team can help you troubleshoot them.
All you need to do is place your request via tickets and wait for the support team. WooCommerce has a huge community full of developers. Therefore, you can get a solution by asking for help from the developer's community.
BigCommerce Customer Support
BigCommerce provides outstanding customer support where you can contact the support team directly from your dashboard. Besides, you can get support via phone, live chat option, and email. Moreover, you can get full support from the user community of BigCommerce, where you can highlight any topic and get solutions.
The support team of BIgCommerce is ready to assist you 24/7, which is impressive. Therefore, you will get solutions whenever you face any trouble operating your site. In addition, BigCommerce has created an enormous archive of documentation based on the solution given in their help center. As a result, from beginner to experienced users can understand the solution they have given.
Conclusion
Making a comparison between BigCommerce vs. WooComece is not an easy task. Both these platforms are powerful enough to run your eCommerce business efficiently. When it comes to choosing one platform, it depends on some major aspects – technical expertise, budget, business type, and personal preference.
With WooCommerce, you can gain full control over your eCommerce website. You are allowed to choose between numerous options of Plugins, themes, and extensions. Moreover, you can compare and then select the price plan of any service that you want. In addition, most of the services are free of cost. As a result, with a low budget, you can start your dream online store and gradually grow up.
The only disadvantage of WooCommerce is that you are solely responsible for every action taken on your website. Hence, the learning process to implement a successful website takes time.
BigCommerce is an all-rounder solution for retailers because of its user-friendliness. From website building to selling products, BigCommerce takes care of all the processes. Additionally, this platform handles all the backups, website security, and optimization for you.
The only drawback of BigCommerce is that you won't have full control over your site. There are limited options for themes, third-party apps, plugins, and pricing plans.
We hope this article helped you to understand the notable differences between WooCommerce and BigCommerce. Now, it's your turn to choose the best platform that suits your eCommerce business to get the best sales outcome.
Author bio : 
Atanu Das is a professional content writer who is actively writing SEO-optimized content. For the last four years, he has been writing creative content on WordPress, WooCommerce, Google Merchant, eCommerce, and other topics. He is currently working as a content writer at Webappick – a giant WordPress Plugin development company.