Best Features of an Inventory Management Software for Warehouses
One of the systems in today's logistics that is increasingly important is warehouse inventory management. Only highly intelligent and dedicated workers can purchase inventory quickly and choose how frequently to conduct counts.
But by routinely reviewing inventory levels, a conventional warehouse software management system can keep track of all the items. This management system is still expanding its functions to include a number of industries, including light manufacturing and transportation.
Scheduling, distribution, and supply chain planning, as well as enterprise resource planning, intersect occasionally with warehouse management. As a result, confusion is felt as a result of many software options.
In this situation, an integrated solution that unifies warehouse management with other business functions is required. To obtain real-time data, warehouse management software can be connected with other pertinent equipment. The finest warehouse management system directs workers and tasks using real-time data.
A separate department must be established to oversee warehouse operations. This is due to the fact that maintaining both the present system and the warehouse management system on the go necessitates a significant amount of human participation. To reduce labor costs and increase accuracy levels, warehouse software is typically automated.
An easy transition to the warehouse management system is made possible by this automation. Additionally, it shortens the cycle time, improving the quality of the service provided to the client. Cross docking, first-in-first-out, order monitoring, and material handling are a few topics that are included. There is no question about their increased effectiveness.
Nothing worthwhile is given to you on a plate. Setting up a warehouse system is a labor-intensive process. You must group together objects and locations that are comparable. Details include weight, rack number, size, status of the object (raw or completed), speed of movement, and an unending list of other factors.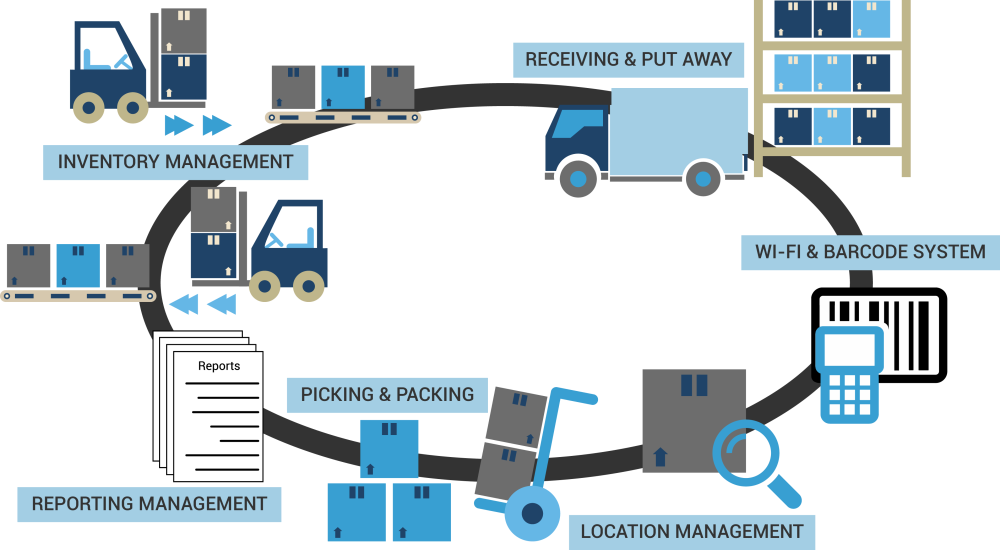 Each item's information is recorded into a database, making retrieval more simple. These are, however, provisional specifics that change depending on the business. A distributor of washing machines may need information on front- or top-loading models, the manufacturer, the maximum weight of dry clothing the machine can hold, the weight of the machine, its features, and many other things.
It is necessary to set up the warehouse management system since product mix is possible there. Inventory is protected against misuse and theft by warehouse inventory management.
Finally, combine the advantages and features of QuickBooks from Intuit and the barcode software from IntelliTrack. To manage your QuickBooks inventory and establish a robust and affordable inventory control system, use IntelliTrack software.