Free Video Editing Software without Watermark – 5 Handpicked Tools
Adding product videos to your blog, or product page, and social media channel is proven to be a successful form of digital marketing because it helps build customer trust and can dramatically increase conversion rate. The easy-to-use software will help you make well-produced videos in a shorter time. We compiled a list of 5 free video editing software with no watermark on the desktop for 2021 and sorted out the most important features of each program. Choose one tool from our list of free video editors and you could begin to create eye-catching videos for your website, YouTube, Facebook, Instagram, and more.
MiniTool MovieMaker (Windows)
MiniTool MovieMaker is a free lightweight Windows video editing software on Windows. If you want to edit videos like a pro, you can download this free video editor program. Below are some features we like.
It is compatible with video files in MP4, AVI, MOV, and MPEG format,
It won't leave any unwanted watermark on your video projects.
Split large-size videos into many smaller parts, merge/combine multiple clips into one, trim the unwanted portion of the video.
Easily add video transition effects, filters, customized text /titles/captions/ end credits to your videos.
Add music to the video, remove the audio track with a click.
Extract the audio from the video with no quality loss.
The autosave feature is useful.
Download MiniTool MovieMaker on the Windows 10/8/7 computer, open the .exe file to start the installation, and launch it. To reduce your work time, you can use the free video templates in the software. Simply choose one template, import some video clips, you could quickly finish a video, and then export it with no watermark. If you do not plan to use the readily available video templates, follow the steps.
1). Launch MiniTool free video editing software, then click the "Full-Feature Mode" to enter the main interface.
2). Click the gray "Import Media Files" button to import some video files from your computer, then drag these files and drop them to the timeline in the lower part of the software interface.
3)To edit an engaging video, you could split/trim the video, rearrange the sequence of your video clips, combine some clips into one, apply different transition effects between 2 clips, add visual filters, change video brightness, add text, add music to video, etc.
4). Play the video in the preview window in the upper-right corner, confirm the content, finally click "Export" to save them to a designated folder. In this step, you can choose different formats and settings, including MKV, MP4, MOV, WebM, WMV, MPEG2, AVI, TS, MP3, and GIF.
MiniTool MovieMaker provides other features that you might need, for example, speed up a video, make slow-motion effects, reverse the video, make GIF from video, convert image to video, remove the background music/soundtrack, etc.
On one hand, the premium video editing programs are usually costly and require high-end PCs. On the other hand, most free video editing software and online tools only offer limited features and have the watermarking issue. If you need a completely free video editor with no watermark that comes with many editing features, try MiniTool MovieMaker. (Related – You can also find some honest reviews about MiniTool software here).
VSDC Free Video Editor (Windows)
You should be familiar with the non-linear video editing tool – VSDC Free Video Editor. This video program is considered as one of the most comprehensive video solutions for Windows users to produce videos and directly publish them to Facebook, YouTube, Instagram, etc.
This free video editor with no watermark is compatible with Windows 2000, Windows XP, Windows Vista, Windows 7 /8 /10, 64-bit Linux, and OS X.
It provides several video processing features and works with tons of
You can use many visual effects, including filters, color correction to give your videos a stunning look.
This free video editor without watermark is user-friendly, thanks to the smooth UI and easy-to-follow instructions. VSDC Free Video Editor makes it easy to craft videos, even for people who are getting started to do video edits. Advanced users can opt for the Pro version of VSDC that costs $19.99 (valid for one year).
OpenShot (Windows)
By searching"free video editing software no watermark" on Google, you are very likely to find OpenShot from the search results. OpenShot empowers you to make professional-looking videos with no hassle. You are free to quickly add text, apply special effects, add transitions between 2 video clips, sort videos, trim videos, adjust audio levels, etc.
OS compatibility: Windows 7/8/10, OS X (above 10.9), and Linux (most distributions are supported).
The easy-to-understand interface makes video creation and editing quick and straightforward, and you can redistribute or modify the UI for your own needs.
Openshot supports nearly any common codecs and formats.
Support creating multiple layers for your different videos and soundtracks.
VideoPad Video Editor
The VideoPad by NCH Software is free to use on Windows and Mac OS X computers. This free video editor with no watermark is suitable for people who want to create videos in a short time.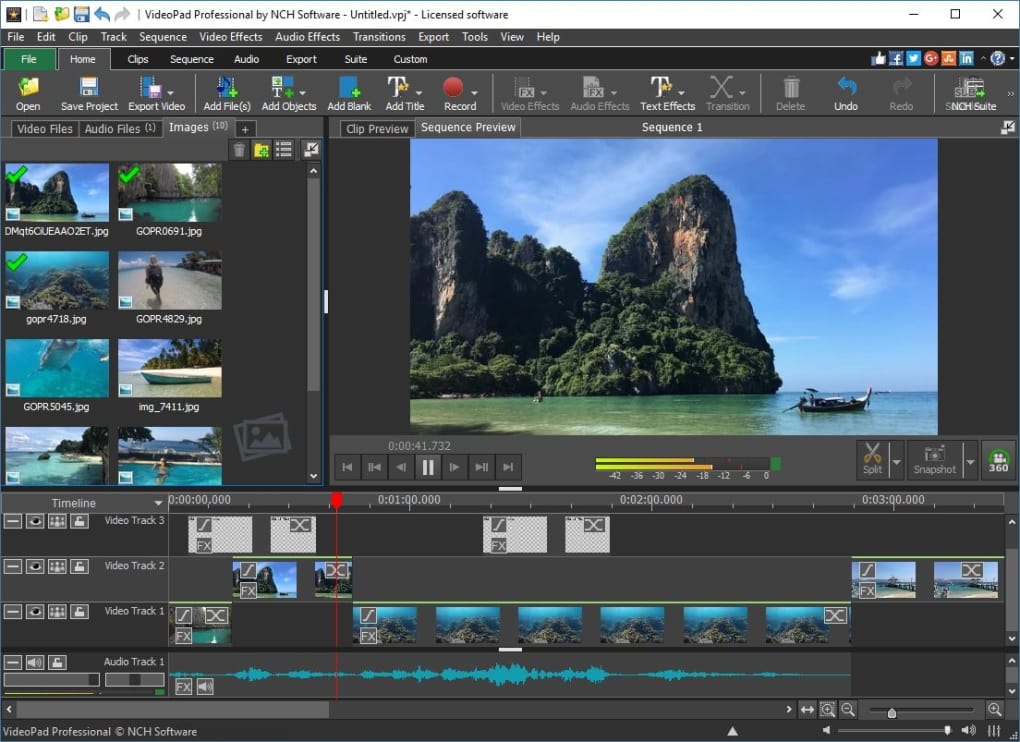 It offers many features to and gives a professional look to your videos, for example, plug-ins, video transitions, and visual effects (light balance, text snippets, color correction, and more).
The video stabilization feature is useful when you want to convert your shaky video into a motion-stabilized one.
The latest version of VidPad video editor can support 2D to 3D stereoscopic conversion and 3D video editing.
In my test, I found that VideoPad software did not perform quite smoothly when working on my old computers with low system specifications. I also notice that it lacks eye-catching font styles for me to choose when I want to add some text to the video. Overall, VideoPad is simple to practice with, it is great for digital marketers, students, video editing hobbyists who are starting to learn how to produce videos.
Shotcut
Shotcut is another free video editing software without watermark and ads. It has a straightforward, intuitive interface. It provides you with many panels, detailed information about the media properties, an encoding panel, volume control, plenty of audio filters, etc. You could import many types of multimedia files into Shotcut because it supports several video/audio formats and codecs.
OS compatibility: Windows 7/8/10 (64-bit), Mac OS X 10.10 – 10.15, and Linux (64-bit, with at least glibc 2.27).
Drag and drop capabilities are friendly to users.
A wide range of export/ import formats is supported.
Has 3-way color correction and 360-degree video editing features.
Shotcut can edit basic videos even on a low-end PC.
At the first sight, this completely free video editor without watermark gives users too much information at one time. But after you use the takes many times and know where to find them, you will edit videos more efficiently.