Host IT Smart Review: Should you trust this VPS hosting provider
All websites require a hosting plan but not every hosting plan is the same. It is crucial to choose the right hosting plan to meet your business requirements.
Before arriving at a decision, it is necessary to have a thorough knowledge of different hosting plans. The wrong hosting plan can mean massive losses and reduced productivity, while the right one can take your business to the next level.
Ask yourself these questions –
Do you have multiple websites that require hosting?
What is your topmost priority?
Cost-effective hosting or high performance, extra resources, etc.
Would you require an upgrade or managed to host shortly?
Shared hosting might work for start-ups, but for businesses looking for a budget-friendly option that offers relatively high levels of high-performance, VPS hosting might be the answer.
What is VPS hosting?
VPS stands for the virtual private server. In VPS hosting, a single server is split into several virtual servers to host numerous websites. Each virtual server is separate from the other.
Hypervisor software makes this happen. It splits the central server and allows each virtual server to function separately.
Every segment has an operating system and software. Moreover, each website is allotted a certain amount of resources like RAM, CPU, disk space, bandwidth, server space, etc. This way, no website has to share its resources with other websites.
These partitions ensure total privacy, more flexibility & reliability. You even have the luxury of rebooting the server at your own will.
When to opt for VPS hosting?
Tough question, right?  Not really; it would require you to conduct some self-analysis. There are some glaring signs which scream – SWITCH to VPS hosting. Let's discuss some of them below
Significant increase in website traffic – It depends on the level of optimization, server tweaks, etc. A good shared hosting plan can handle up to 150k, but a poor script can make your server crash.
Security – The need for increased security in businesses like e-commerce can only be met by VPS hosting. With shared hosting, resources are shared between various websites that compromise the safety of information.
Excessive downtime – As per the research conducted by Industry week, the average cost of a downtime incident is about $17,000. Imagine what could happen if your site slows down or crashes due to excessive traffic.
Hosting provider warnings – Unlimited bandwidth doesn't mean you could use it to your heart's content. Excessive use of resources like bandwidth, RAM, CPU could invite a warning from your hosting provider.
Numerous websites – If you operate multiple websites, there is a high probability that a shared hosting provider won't handle the load.
Flexibility – Shared hosting providers don't allow the flexibility of installing more add-ons, software. Neither does it allow you access to more resources like bandwidth, CPU, etc. VPS can do a lot more than the above.
The reasons mentioned above are just a few. When your existing hosting plan doesn't meet your business's increased demands, you will know it. Trust me.
About Host IT Smart
Founded in 2012, Host IT Smart is a spin-off of web development and digital marketing company. It now has a fleet of servers and serves 5000+ clients across India and the US.
Host IT Smart's unique selling proposition is supposed to be its pricing and customer support. It offers support for both Linux and WordPress websites. Besides, they also provide specialized hosting for eCommerce websites, Java hosting services, and reseller hosting.
Let's take a look at Host IT Smart's VPS plans in detail.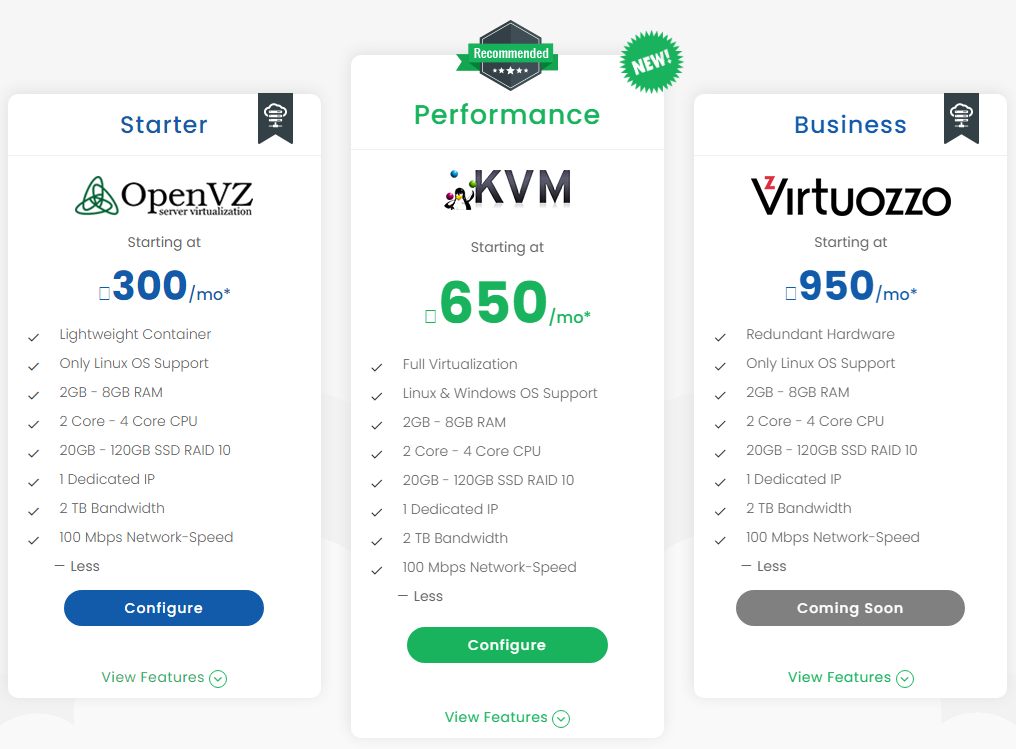 As you can see above, Host IT Smart has three different plans for clients. They have cheap VPS hosting plans. The prices, add-ons, and resources differ with each plan. Clients that require additional resources and server management can choose between the performance and business plan.
The rates get more competitive as the hosting plan's duration increases. On top of it, you have the luxury of choosing the server location.
People who want more performance than a basic plan can opt for the KVM plan. The salient features of the KVM plan are as follows.
Super Performing Enterprise-Grade Hardware.
2X speed with Enterprise SAS SSD Drives to store the website files, databases, emails, and more.
2X16 Core Xeon Gold Processor ( new innovative technology )
Wide range of OS selection
Support for IPv6
Customizable and Dedicated backup plan
DNS / PTR Records
99% Uptime SLA
They are also about to announce the Virtuozzo plan that will exceed your expectations, but you might have to wait a little longer for that.
Conclusion
To sum it up, if your business has outgrown shared hosting, it is time to move to VPS hosting.
Host IT Smart's services can provide you the following benefits.
Control over the hosting environment
Robust security measures
99.99% uptime guarantee
An intuitive dashboard
24/7 support
Choice of the data center
Live migration
Increased power & scalability
It doesn't matter if you're taking baby steps in the industry or an old-timer; they have something for all. The best part is that they have superior customer service and the lowest prices.