How to efficiently manage your orders on WooCommerce?
What do you think makes some retailers stand out and bloom in the cruel world of competitiveness we live in? Have you ever not checked if the shipment will take off the same day? Exactly! The answer lies in the art of efficiently managing the process of delivering goods and products to your customers as rapidly as possible, and it's no secret that e-commerce has filled many gaps in the game, taking sales to another level. On one side, revenues grow based on the money-saving aspect, and on the other, the time-saving characteristic of the whole process will bring your customers back for more sooner than you thought.
Most business owners review their fulfillment methods regularly to hit the jackpot, while smart business owners seek the right plugin that excellently suits their needs. If you are the one, get ready for the best e-commerce plugin that will change the fortune of many businesses. With many data filter options, order export was never easier. Because of the advantages it graciously offers to the user, there is no doubt why there is a rapidly growing number of those who picked precisely this one. Out of the JEM Products series, the WooCommerce Order Export PRO plugin is a plugin that comes fully equipped and as real as it gets. It brings anything you may need in that sense in a practical setting. The very user-friendly design will make you lose no time and help you save a lot. Very straightforward – you have several filter options under the first tab, "Export data" starting from "Date range" over "Output format" to "Filter" and "Fields of exports". An innovative feature is "New orders only", which enables you to export orders yet to be processed.
In the real world, with this one, you can decide how you want your WooCommerce data exported: monthly, weekly, daily, or by manually picking the period. The format is now also a matter of your preference, whether you want data to be shown in a specific time format, under a custom filename, or whether your export items are in the same or a separate line. Let's start with the data range (the first image below) and what it offers. You can select the range of dates you want your orders to be exported: today's, yesterday's, this week, etc.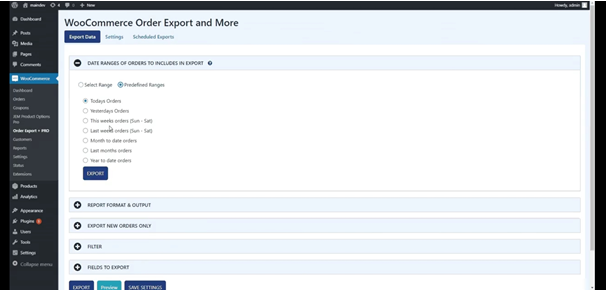 Handling non-western characters used to be a challenge? Not anymore. WooCommerce Order Export Pro comes with strong character encoding support that will let you get rid of such limitations. No wonder everyone is astonished by some of the most refined data export functionalities of the modern age. All the data, in any way you can imagine. Moreover, exports can be automated under specific parameters and further submitted straight to your inbox. The drag and drop feature allows one to easily reorganize fields and set preferred export settings that you can use on other sites in just a few clicks – the good old "copy/paste" method.
Under the Settings tab, highlight the code in the "Export settings" field, right-click and copy it to your clipboard and paste it to the same field in another woo-commerce you manage. There is one very nifty feature, which is "Preview ."WooCommerce Order Export Pro plugin will let you preview your data as in the export file before you export. The idea is to be able to make sure the correct data will come out on the first try. As the image below shows, all you have to do is set your exporting parameters and click the "Preview" button. It will preview the first 25 items listed in the export file.
WooCommerce Order Export Pro Plugin is viral among drop-shipping companies or individuals. Therefore, exports can be FTP'd. Multiple automatizations are also available, which means now you can regularly deliver exports to your personnel, accountant, or – you name it. The export file looks neat, too, as you can see below. You can also reorganize fields or choose which fields you want on your export file, such as product ID, currency in which is paid, unpaid products, ordered products, etc.
Every successful entrepreneur never sleeps on the improvement of service quality while cutting costs simultaneously. WooCommerce Order Export PRO plugin is the choice of many prosperous companies simply because it covers it all and is super easy to use.