The Best Online Audio Cutter – Media.io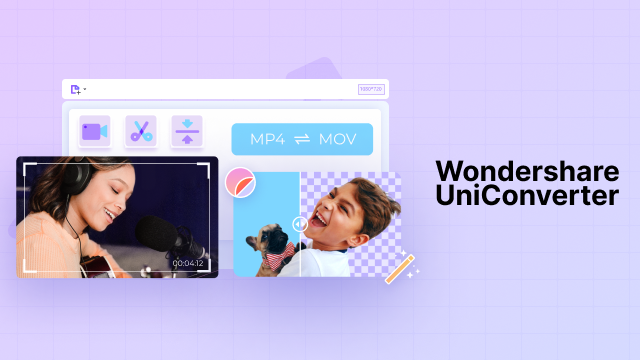 We already know that Wondershare UniConverter is an excellent video converter and video editor product. This article we will talk about audio editing. Audio editing has been around the corner for a while. We have seen numerous content creators realizing the need for audio editing and enhancement at various levels. To cover this up, the use of audio editors was quite common. To make things simpler and accessible to every user, offline audio editors were intermittently shifted to online platforms. The excessive use of online platforms for managing audio is commonly adopted across different levels.
There are multiple functionalities when it comes to an audio editor. These functions can be efficiently used to make significant edits across audios. One such feature is to cut audio off the files. The use of an online audio cutter is advised as the perfect solution for quick and effective results. This article will be introducing Media.io, an online video converter and audio management platform that would help users cut and trim audio along with several edits across it.
Part 1: Introducing Media.io – The Exemplary Online Audio Cutter
There have been several online audio tools under the public's eye; however, they failed to withstand the requirements and needs of the users for managing audios. In dire need of a leader among online audio tools, Media.io, formerly known as Online UniConverter, took charge as an all-purpose audio editor that provides converting, compressing, and editing video and audio files.
Featuring an online platform for free, Media.io enabled multiple functions for its users. With a section of converter tools offering various file format conversion, this online platform serves as an exceptional converter tool. Along with that, users can consider adopting its compressor tool, which covers various file formats, allowing flexibility and usability across a single platform.
Recently, Online UniConverter has been successful in introducing several tools across its portfolio. Users can now add a watermark across their videos, edit them across the online platform, remove watermarks, generate memes from the media content, and utilize the online vocal remove for exceptional results. This article will introduce the online audio cutter offered across this online platform.
Part 2: Why Do We Need to Trim Audio Online
Trimming or cutting audio files involves multiple reasons. While surviving in the professional space, users find audio cutters to be exceptionally important for improving the quality of audios and avoiding unnecessary parts which would disrupt the attention of the viewers and listeners. The following reasons explain to readers why users consider to trim audio online using appropriate tools.
Setting up a Ringtone for Android/iPhone
Tired of using the generic ringtones across your iPhone or Android? The use of online audio cutters makes it exceptionally simple for users to design ringtones of their choice. They can cut out specific audio parts from their favorite season's music or songs, which can be used as a ringtone across their smartphone.
Removing Noise from Audio or Video
Do you have a video or audio with excessive noise in the background? There are times when professional audios are disrupted by unnecessary noises, making things quite difficult to present. The remedy to this problem is straightforward, which inherits an online audio cutter for exempting all noises within the audio or video. This helps users make their files presentable and effective.
Cut Unwanted Parts from Audio or Video
Media.io can provide users with the opportunity to cast out the important part from any video or audio. The online cutting tool available across this platform helps users cut the unwanted parts within an audio or a video, making it presentable to the viewers. Users can consider cutting unwanted parts from their presentation audios or videos to avoid confusion among the viewers or listeners.
Shortening Audio for Saving Space
There are instances where you have limited space across the device. Realizing that the content available across the device is important, you look forth to deleting and removing everything that is extra across the device. Under such circumstances, you could surely look forward to shortening your important audio files to save space across your device.
Part 3: How to Trim Audio Online
Online UniConverter is quite effective in trimming audios for users. The tool has featured exceptional tools which provide users with the opportunity to set up professional-standard audios for their work. For the online audio cutter across this platform, users certainly have several opportunities and options to practice across their audio. Talking about this online free platform, the unwanted parts within a song or audio can be easily removed without compromising the quality of the file.
An exceptional touch of features is available across the online cutting tool in Media.io. If the user is going forth to cut audio across their files, they can easily select the duration they want to work on. Following this, the online platform allows them to set up the mode between "Keep" and "Remove." The significance of these modes can be easily explained by the meaning they portray.
If the user selects "Keep" as their mode, the audio settings within the range would be kept, removing the rest from the file. The converse would occur over the selection of "Remove" in the mode. Users can also fade their selected audio and make changes across it, as desired. The file formats offered across the online audio cutter are quite diverse, which makes it easier for users to manage audios of different formats.
If you are looking forward to utilizing the online audio cutting feature of Online UniConverter, you are advised to look into the following steps in detail.
Step 1: Import Audio across Platform
Users need to proceed to the online audio cutting tool from the official website of Media.io.  Tap on "Upload Files Now" to lead into the next window on accessing the tool. This audio cutting interface is displayed across the next window. Tap on "Choose Files" to upload an audio file to be amended.
Step 2: Cut Audio Online
Once uploaded successfully, the user is advised to cut the audio as required. They can set up the range of time to be removed from the file. Along with that, they can set up different modes and look for fading the audio as required. Before leading to finalizing the process, set up the appropriate output format of the audio.
Step 3: Download Edited Audio
Tap on "Export" to lead to the next window. You can download the file across your device or have it exported across cloud platforms like Dropbox in the next window. Click on "Download" to execute the process.
Part 4: Why Choose Media.io Audio Cutter?
There are multiple reasons why Media.io holds the mantle of being the best audio cutter within online platforms. This tool provides users with an exceptional interface to trim audio online. However, some significant pointers make this platform the primary choice of users within online platforms. The following points explain why users should choose Online UniConverter as the online audio cutter.
Online Ringtone Cutter
This audio cutter helps you set up ringtones of your choice. By allowing you to cut audio files, you can easily set up MP3 ringtones of your favorite songs across the platform. Media.io ensures quality across its platform; it is surely a perfect option for creating custom-rated ringtones for your smartphones.
Cut Any Audio File
The platform caters to all popular audio formats. With support to audio formats such as MP3, WAV, AAC, M4R, FLAC, M4A, MKA, and OGG, Media.io surely holds an exceptional portfolio in supporting file formats across the tool. Users can work on a variety of audios across this online platform.
Free MP3 Cutter
Unlike other audio cutters, Online UniConverter provides a free platform for users to cut their MP3 files within seconds. Users can split their favorite audios and make sustained audios out of them instantly. The platform saves users from working across professional software, which would be quite the same as this online audio cutter.
Extracting Sounds from Videos
While looking to trim audio online, you can consider extracting sounds across a video. This online trimmer can prove to be quite effective in providing results for using the prolific sounds off a simple video file or a YouTube video. Users can consider using video formats like MP4, MKV, VOB, MP4, WEBM, and MTS across the tool for extracting sounds out of them.
Fade-in and Fade-out
Audio tracks can be amended with effects across Media.io. While allowing users to extract audios of their choice, they can use effects like fading in and out the audio by setting up the points across the audio with ease.
Safe and Secure
The platform is perfectly secure for uploading and downloading audio files. Media.io ensures that all uploaded files across the platform are deleted within 24 hours. Unauthorized data access is impossible across this online platform. Users can feel protected with the SSL encryption across the website, preventing users from illegally accessing data.
Wrapping Up
Online audio cutters are quite common among users; however, most have failed to figure out the penultimate tool that can help users trim audio online with ease. Media.io features some of the best characteristics in the online platforms that can help users consider cutting audio as required. This article has presented a detailed review of the online platform and its significant qualities that make it the best in the market.