Top Benefits of SASE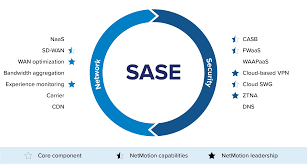 If you're looking for the best way to secure and optimize enterprise networks, you're not alone. In today's world, organizations need to ensure their networks are both efficient and protected from threats. Secure access service edge (SASE) is one of the most compelling new advances helping businesses do exactly that.
SASE addresses the three main friction points associated with networks—security, management, and performance—by combining some of the best products and services available into one overarching service. At its core, SASE is built on top of a software-defined wide-area network (SD-WAN) base. For those unfamiliar with SD-WAN, it's a virtual overlay layer that allows for better visibility and control over enterprise networks.
Beyond SD-WAN, SASE incorporates a wide array of network security tools and protocols. Essentially, SASE is a way for enterprises to get the most out of their networks in terms of performance, while boosting security and making things less complex. Clearly, there are some compelling reasons to consider SASE for your organization.
Here are a few of the top benefits of SASE.
Reduce Costs and Redundancies
When you combine more services onto the same platform, you're generally going to save yourself money. Think about it: Does it make sense to fulfill your needs for SD-WAN and your whole array of network security tools from different vendors? In most cases, the answer is going to be "no."
By opting for SASE, you're getting more within a single package. Due to this, you're likely going to get more competitive pricing than if you were to opt for all these things separately. Every organization should be on the lookout for ways to save money. With SASE, you're going to save by having more services from one vendor, but also due to the fact you won't have a bunch of redundances across similar, but distinct, products.
There are some additional areas where SASE can lead to better pricing outcomes. SASE can make a big difference in network setup and operation costs. With SASE, it won't take nearly as long to get a network ready, while also requiring less hardware and personnel. SASE can also lead to greater productivity, which has cost benefits of its own.
Scalability
Along the lines of reducing costs and not paying for what's unneeded, enterprises should think hard about the benefits of SASE when it comes to scalability. SASE is ideal for scaling networks for a couple of reasons.
First, it's cloud-based, but has hybrid capabilities. This means regardless of your current setup, SASE (Secure Access Service Edge) can help unify your networks on all levels. Being cloud-based has further benefits, as you typically only have to pay for the services you're actually using. You'll only have to pay for things when you're actually ready to use them. You'll also have to worry about few licensing issues with SASE, as everything is cloud-based and handled under the same umbrella.
Better Security
Network security is an area you can't compromise in today's world. Keeping enterprises networks safe from threats has only risen in importance. It seems hardly a day goes by anymore where some new company hasn't fallen victim to a data breach. The consequences of this are all-too real.
On average, a data breach will cost a company about $3.86 million.
By incorporating security features into the WAN framework, SASE is an ideal way for enterprises to take control of their networks.
Optimal Network Performance
Ultimately, you want your enterprise networks to be running as smoothly as possible. This is what you can achieve by adopting SASE. By combining the best of connectivity, protection, and management, SASE is able to deliver vastly better network performance than what has been possible in the past. For enterprises looking to succeed in today's world, this is a necessity, not a want.
There are many things to like about SASE. This technology is totally changing how people think about enterprise networks. These top benefits of SASE should show how it can be a game-changer for organizations.