What Does an ERP System Do for an Organization's Growth?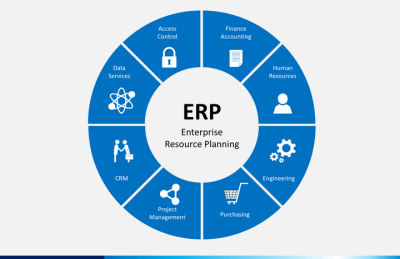 Companies today are facing the challenges of increased competition and customer expectations.
This is why top software developers like Oracle, Microsoft, and SAP are trying to develop more integrated information systems.
These integrated systems are known as ERP software. An ERP is capable of integrating various business applications into a single database, regardless of the geographical location.
So, How Does it Contribute to an Organization Growth?
A company deploys an ERP system when:
they are facing inaccuracy of the data;
the operational structure has become too complicated;
too many front- and- back-end systems are running separately with no integration;
& there is a lack of clearly identifiable and measurable data.
In other words, the best ERP system can help improve the overall performance of the organizations.
For starters, it allows businesses to manage all their activities from a single platform. This gives easy access to information at all levels of an organization.
For example, employees in accounting and finance will have access to the same data as the members in planning and production management for their specific needs.
It streamlines the workflow by increasing coordination and interaction between departments.
An ERP solution is an ultimate weapon for an organization looking to increase their efficiency and profitability.
Many business owners tend to assume that an ERP system works well with large enterprises only. But it is not true.
It can be used by all sizes of businesses across various industries. In fact, software producers are developing dedicated ERP solutions for small business to accommodate their needs.
To understand how it contributes to growth, you must first have a brief of its components.
What Makes an ERP System?
An ERP system integrates multiple business applications that enable it to cater to almost every organization's processes and departments.
Some of its crucial modules are:
Manufacturing and Distribution
It helps with:
Monitoring quality tests
Inventory and warehouse management
Tracking stock level by lot and serial numbers
Order management
Purchasing and calculating overhead costs
Accounting and Finance
It generally includes:
Accounts payable and receivable
General ledger and cash flow
Bank statement reconciliation
Trial balance
Forecasting and budgeting
Human Resource
Some of its related activities are:
Recording employee information
Time and attendance management
Payroll processing
Applicant tracking
Hiring and onboarding
Performance management
Employee learning and development
Service Management
Service contracts
Warranties
Post-sales service
Product lifetime costing
Some of its other functionalities include supply chain management, ecommerce, project planning, document management, and more.
The reach of an ERP system within any organization extends far beyond. It can be customized — adding or deleting modules — depending on the specific business needs.
Now that you know the basic idea of an ERP solution, let's discuss how it helps with business performance.
How Does ERP Help?
An effective ERP solution is capable of supporting both rapid and gradual growth of a business through its flexibility and scalability.
Here are some of the ways an ERP improves business performance:
i. Streamlines and Automates Processes Across Departments
A single ERP solution is an integrated system, which eliminates the need to use multiple applications.
Users don't have to manually enter data and build reports separately for every department.
This centralization of data streamlines the process of accessing and inputting new data into the system. It automates the process of data entering and generating reports in real-time, thus increasing greater efficiency across the whole organization.
It helps avoid duplication of work and also reduces the chance of human-made error.
This automation enables employees to save much time and focus on more important tasks at hand.
ii. Gives Full Visibility Into the Workflow
An ERP solution gives full visibility into the work progress of the organization.
Top executives, managers, and decision-makers have access to business data in real-time. The entire company has access to a single flow of information, thus ensuring that every member gets the updated reports.
This smooth flow of information helps make fast and informed decisions. In this rapidly changing market dynamics, it becomes easy to adapt to customers' demands quickly.
Besides, businesses can smartly react to inventory shortages, order changes, and supply chain bottlenecks.
It gives a full picture of all processes within each department and helps calculate the performance level.
iii. Enhances Collaboration Through Mobility
The advancements in technology like the cloud service have enabled users to access the system on-the-go.
These cloud solutions can deliver business data and functionality from any device with an internet connection. It syncs information across devices in real-time.
Thus, it makes it easy for employees to work remotely while also promoting collaboration. You can access production data and make updates on the go, thereby increasing productivity across the organization.
iv. Lowers Business Operational Costs
As we all know, an ERP solution integrates all the business processes into a unified platform.
It eliminates the need to install various standalone applications for different functions.
Otherwise, having to buy and maintain more than one software can be an expensive affair.
Furthermore, it tracks your production process, customer service, purchasing and sales, and more. With real-time insights, you can have a clear view of how the cost is being incurred.
You can even know how bottlenecks or delays are affecting your cost budget. Accordingly, you can optimize the process if required.
Thus, having an ERP reduces your expense and allows you to allocate the savings into something else in the business.
v. Improves Compliance With Legal And Other Regulatory Mandates
Every business has to adhere to some rules and regulations based on their sector.
Most of the time, it leads to a hefty amount of penalties if failing to stay compliant.
This issue can be solved by having an ERP system. It helps companies track all compliance by monitoring data. In fact, it automatically makes updates in case of any change in the compliance rules.
vi. Maintains Information in a Consistent and Accurate Manner
It can be a major advantage for businesses that are not properly integrated.  Because of it, the flow of information remains inconsistent and inaccurate at times.
An ERP solution helps reduce errors and increase efficiency and accuracy in data entering, making it easy for strategic decision-making.
When all the departments are working as a standalone, and a new department is formed, they create their own system of record-keeping, performance tracking, and more.
This method will only be feasible until a company reaches a crucial size. When a business starts to grow, collecting, storing, and monitoring data in disparate systems across departments can cause confusion.
Today's business models are more agile and less rigidly structured. An ERP solution can help organizations become more adaptable to the changing size and ever-evolving business landscape.
vii. Makes it Easy to Add Advanced Functionality
Another significant advantage of using an ERP solution is that it allows for fast growth and flexible options.
Changes are inevitable in every business. Whether the company is trying to add more product lines or trying to increase their existing production volume, the processes change with time.
Modular ERPs designs easily allow you to add or delete functionality as per your business requirements. Thus, you can easily integrate advanced functionality as your company starts to grow.
viii. Enhances Customer Satisfaction
Delivering products or services on time is critical to keeping your customers happy.
Customer experience plays a significant role in the success of a business. Using an ERP system, you get increased control over inventory levels. Thus, you can ensure your customers that they don't have to worry about the products getting out of stock.
Moreover, it streamlines the production process and increases the coordination of distribution channels.
This results in the timely delivery of products, ensuring a smooth customer experience.
Final Thoughts
An ERP solution has become a necessity for the survival of the business. It gives you better visibility on how your company is performing.
It sets up a roadmap for automating the different processes of a business. It saves you time by running reports in real-time and giving instant access to information from all the departments.