5 Tips To Set Up Your Work From Home Office
Working from home was a luxury for only a marginal set of people could enjoy a year ago, but the pandemic has changed the work dynamic. Nowadays, more people can work from home and enjoy the advantages that come with it. In this new work era, people are saving time they would have wasted in traffic. We can enjoy our breakfast with more serenity and scheduling work in a way that fits our lifestyle.
You can be productive when working from home, but your children, pet, or the television can easily distract you, depending on which one tempts you most. Working from a home office where you can remain focused and productive is critical if you wish to keep your performance level up. The following are five ways you can set up your home office so you can find the motivation to get out of your pajama pants and stay away from temptation.
1. Arm your office with the right gadgets
Sleek, efficient, and top-notch gadgets can make a difference between a productive day and a day spent waiting for web pages to load. Investing in the proper devices is vital, and what's right depends on your profession. So if you are a designer, you may wish to invest in a Bluetooth mouse and a large computer screen, to work on designs with more ease. If you have several online meetings every day, strong Wi-Fi is critical if you want to avoid interruptions and blurred videos.
2. Make your furniture work for you
You may not have the option to decorate your work office, but you have a say in your home office. NPS Office Furniture Townsville says the office furniture you use should work for and benefit you. If you have a bad back or terrible posture, consider setting up a standing desk along with a regular desk to help you keep the aches at bay. A comfortable chair is critical if you are sitting down most of the day, but that doesn't mean you should go for the standard swivel chair. Find one that will make you, or at least your back, feel as if it's on vacation.
3.  Go towards the light
Lighting affects our mood more than we even realize. If it's possible, set up your home office close to a window. Natural light is essential because it promotes focus and enables us to be more productive. People exposed to natural light are happier, and sleep patterns improve when you stay close to natural light during the day.
If working close to a window isn't possible, consider painting the walls a soothing color. Greens and blues are always top contenders for relaxing home offices, while a warm white is great to create a distraction-free room. Consider investing in a reading lamp to help keep your work bright and your eyes open if you are a night owl. Traditional bankers' desk lamps are great to highlight a section of your desk, while fairy lights help make the office more romantic and atmospheric. Another great solution is farmhouse lighting. Many offices today incorporate farmhouse lights to set a soft ambiance, so it would work nicely in your home office too.
4. Remain professional
You might be confined to your home, but it does not mean you throw your professionalism out the window. If you take part in regular online meetings, you must have a professional background that does not cause a distraction for your audience. Your colleagues, employees, or clients can't take you seriously if you have a poster promoting weed (unless you work for a cannabis producer) or childish wallpaper. Keep your background free from distraction. Ideally, nothing should be behind you except for a clear wall in a standard color.
Keep the noise level down during such meetings. If you have a door, keep it closed during the discussion, so other family members don't detract from your work. You can hang a sign on the doorknob, letting them know you are in a meeting and shouldn't be disturbed. Noise-canceling headphones are excellent in keeping everyone in the meeting focused and the background noise away.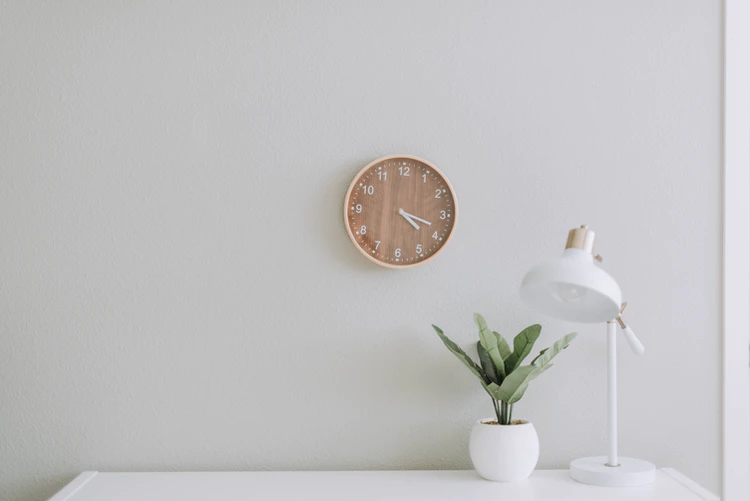 5. Indulge your senses
Undoubtedly, this is a stressful time for many and while working from home has its advantages, it can feel restrictive and lonely. Consider indulging your senses, so you can remain relaxed and keep the tension away. Being surrounded by greenery is one way to remind yourself to relax. If your home office window overlooks fields of greenery and trees, then you are already at an advantage. If it doesn't, you can always buy yourself a few indoor plants to surround yourself with.
Scents are essential as well. Invest in a diffuser, scented candles, or essential oils to create a soothing sensory atmosphere. Choose the fragrance you love or try some of the most popular soothing scents on the market, such as lavender, orange, ylang-ylang, rosemary, lemon, and peppermint, which help ease stress and uplift one's mood.
Conclusion
Working from home is a dream for several people, and you should enjoy this moment while you can, but if it gets a bit much and you are blurring the lines between work and rest, then it's time to put on your shoes and go for a walk to clear your head.