8 Tips for Entrepreneurs to Keep their Business Finances in Order
Before starting a business, entrepreneurs often neglect the importance of finance management. Every business owner's sole focus is on developing, enhancing, and marketing the company, while money management is less of a concern.
Until you find yourself spending hours and hours dealing with the challenge of finance-related tasks!
In order to make your startup successful, proper accounting is vital. You just cannot keep it on the back burner and expect everything to fall into place on its own. Efficiently managing your business finances will help you get an insight into your business health while letting you achieve the desired objectives.
The most important task in business finance management is bookkeeping. It is basically related to keeping a record of all financial transactions. If you are not good at accounts, you can take help of business bookkeeping services. In order to grow your business, it is crucial there are no mistakes in the financial records.
Considering the fact mentioned by the SBA Office of Advocacy that up to 99.7% of businesses in the US today are small ventures, it is more important than ever to stay informed about contemporary accounting for businesses.
Benefits of Staying Financially Organized for Entrepreneurs
Besides ensuring long-term success for a business, keeping the finances organized brings many perks for entrepreneurs.
It helps you avoid debts due to strong financial control.
Better equipped to handle risks.
Assists in cost management and profit planning.
Ability to plan ahead due to a clear-headed view of finances.
Helps in preparing a realistic budget every month.
Facilitates cash flow management.
Encourages saving, helping you with personal finances in the present and future.
Read on to know the eight best tips for entrepreneurs for the better financial management of their businesses.
8 Ways You Can Manage Your Business Finances As An Entrepreneur
Schedule Fixed Hours To Review Your Finances Daily
You must have heard the phrase "consistency is the key to success" many times. Besides the other aspect of life in general, the saying holds true for managing finances as well.
It would be best if you dedicated some time to handle your accounts daily. Start with tracking the expenses, calculating taxes, managing equity, assessing income, and organizing future financial tasks at a scheduled time. It is highly recommended to dedicate the early hours of the morning to overseeing financial matters before the other issues jump in. Not only is the mind fresh at that time, but you will also be much clear-headed for the rest of the day, knowing that you have done bookkeeping for the day already.
If your accounting is managed by a professional, or you use accounting software, even then, reviewing the finances is very important, and you should keep it in check consistently.
Make a Budget and Stick to It
Much of the financial success of any sort of business is owed to mindful budgeting. Not creating a budget may put your business at significant risk. Still, many small businesses make the mistake of skipping a documented budget.
According to a Clutch report, 61% of small businesses did not have an official budget for the year 2018.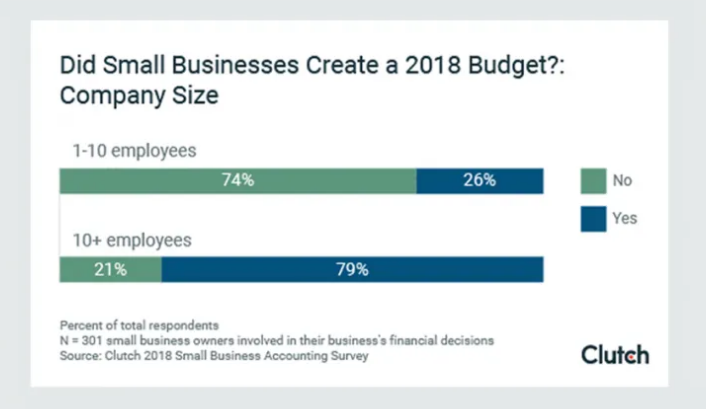 Crafting a business budget means you are planning your income and expenses for the whole year, which results in tighter control of your financial health. You are in the position of making confident decisions regarding future projects. Also, the budget helps you achieve targeted goals in a strategic way rather than making a shot in the dark.
As it is vital to create a budget, it is equally important to stick to it. Rather than making impulsive decisions that may derange your business finances, refer to the yearly or monthly budget before deciding on any new expense.
Tax calculation is a significant part of budgeting that you cannot ignore. After calculating the tax, set enough money aside in your business account to pay taxes on time to avoid any issues.
Digitize Your Documents
Who doesn't hate handling all sorts of paperwork? It indeed is a lot of hassle to categorize, record, and keep all the documents safe. There are several types of necessary paperwork like buying receipts, bank records, permits, licenses, or purchase agreements.
Besides categorizing them in a separate file and maintaining the chronological order, keeping them safe is also inconvenient. There is always a fear of facing significant losses in case you lose any of them. Therefore, the best practice is to digitize all your paperwork using a cloud-based service. Document segregation is one of the applications in accounting that are essential for any business.
Scan and digitize your documents to log them properly. The document management software will help you to categorize your paperwork, saving a lot of your time.
Make a Separate Business Account
Finance experts strictly advise against keeping a combined business and personal account. You may be tempted to pay for a personal expense through your business credit card, but it will cause a lot of confusion and even a potential money crisis for your business.
Keep a separate business account from the moment you launch your business. In this way, the bank statement you get every month will help you track income and expenses for your business.
Choose a Trusted Accounting Software
If you find yourself falling behind the financial management, it is time to turn to cloud-based accounting software to take over your bookkeeping.
According to the statistics by Flexi, companies using cloud-based accounting software end up getting five times more customers than companies that don't use accounting software.
On the other hand, PCMAG in the US Business of Bureau Index reports that 20% of small businesses who don't use accounting software struggle to survive in their first year.  
Trustworthy accounting software will track your expenses, send automatic invoices on time, and calculate taxes for your business. It will also generate monthly financial reports to keep you informed about your business's financial health. Choose a robust software like the Freshbooks Accounting Software to ensure premium quality services at affordable rates.
Send Invoices On Time
A significant part of financial management is receiving money from the clients at the right time. If you don't make a professional and timely invoicing approach, it may hinder the steady cash flow.
As revealed by the MineralTree, professionals can save up to one hour per day by automating their payments and invoices. Therefore, send invoices to clients regularly to ensure you get your money on time through the accounting software.
Plan Ahead With The Help of Revenue and Expense Forecast
Predicting how your business will perform in the future gives you a clear insight into revenue and expenses. It is a great way to estimate any future ventures that you plan to do in your business. It is highly suggested that entrepreneurs take professional help and generate a forecast report to help their business achieve financial success.
Below is an example of a revenue and expense forecast for a small business.
Learn About Finance Reporting
Do you know, almost 60% of small business owners feel that they don't have enough knowledge about accounting and finance? This was reported by Small Business Report – Accounting.
Entrepreneurs must learn the basics of financial reporting in order to catch any discrepancy in the reports generated by accountants or even software. Making the report may be another's job, but it is your responsibility as the business owner to know whether it is correct or not.
Learn how to interpret balance sheets and other financial reports to make informed decisions about your business.
Takeaway
It will be hard for you to climb the success ladder unless you earn the ropes of financial management of your business. Dealing with money matters on time and efficiently will help you achieve objectives at a faster pace. Not only will it ensure smooth operations, but it will also maintain a steady income and a well-planned future for your business.