Learn about the advantages of high school study abroad summer programs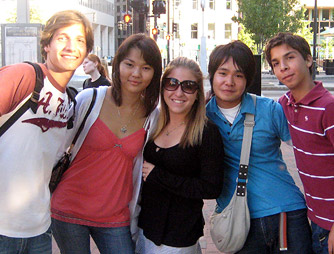 Seeing the sights, trying new food items, and having adventures is just part of the fun of traveling abroad. Studying abroad is preferable because you can learn and earn credits while having fun. But it's easy to feel overwhelmed by the prospect of studying abroad, what with the timing, the possibility of delaying regular classes for a semester, looking for funding, and committing to such a long time outdoors! Enroll in high school study abroad summer programs if you're interested in self-improvement, academic future, or bagging a professional career. Here are a number of the most significant advantages of attending a summer school abroad program:
Self-confidence will increase
Completing a summer school course can be an excellent way to demonstrate that you are a competent, self-sufficient person. According to research, students from lower-income families have a better chance of enrolling in a highly ranked university after participating in a foreign summer school program. Their brief stay abroad provides ample insight into a student's life while also challenging them to think bigger. Taking a summer course will allow you to tap into your full potential, silence your doubts, and give you the courage to follow your goals.
Language skills will develop
Summer school courses will help you improve your language skills in a variety of ways. To improve your verbal and written language skills, enroll in English or another foreign language course. Learn academic terms and build the vocabulary you'll need to finish your international education. You can also try out beginner courses in a foreign language if you're up for the challenge. Even if you don't want to take a language course, most summer schools offer language training as an alternative during your stay abroad.
Pay attention to your unique educational requirements
If your university does not offer a course that you are interested in, summer schools offer various opportunities to fulfill your thirst for knowledge. Even if you have no idea what you want to learn, looking through an extensive list of summer courses can encourage you to try new study options.
Add weight to your university application
Choose a summer course that will help you determine whether or not you want to pursue a bachelor's or master's degree in a specific field. You can also improve your university application by including related academic accomplishments in this way. Enroll in high school study abroad summer programs which will help you prepare for a variety of university entrance exams. Any proof of interest in the subject matter would demonstrate your dedication to excelling in your academic activities in a highly competitive academic setting.
Recognize the importance of independent learning
Students normally concentrate on cramming as much knowledge as possible into their minds during a rigorous academic year in order to pass their exams. Teachers focus more on their objectives than on inspiring students to explore their potential. A summer school addresses these diverse needs by emphasizing skill growth and encouraging curiosity, imagination, and self-reliance.
Improve your qualifications
One of the clearest reasons for a study abroad summer course is to improve the results of your examination. The additional hours of the study will enhance your subject knowledge. Innovative and efficient methods of learning will also provide you with new ideas for approaching learning. Learn practical skills like writing a critical essay or using effective exam tactics to ensure good exam results.
Improve your CV to make it stand out
Like any other extracurricular activity, a summer school demonstrates your dedication to your own growth and ability to go the extra mile. Make a list of the skills you learned at summer school and how they helped you work better in various situations. These benefits would make a good impact regardless of the career path you chose. Better grades and admission to better universities are likely to result from additional training.
A learning experience that is both intense and engaging
Summer school offers a more concentrated academic atmosphere, with smaller classes and fewer learning hours. Teachers normally set particular research goals since the time of the study is restricted. You will immerse yourself in a topic and develop a thorough understanding of it. You would be able to ask teachers for more accurate details and engage in class discussions if you have a higher engagement level.
Studying abroad during the summer is ideal for you
It's natural to be a little apprehensive about the timing of your study abroad experience. A lot is riding on when you want to fly. We understand. Summer study abroad, on the other hand, is a fantastic choice for a variety of reasons. Summer study abroad brings you more sunlight, more friends, and more credits! With less cost, fuss, and stress, you'll get more out of your experience. It's a win-win situation!
And you'll look tan, cultured, and awesome when you return from your amazing summer study abroad experience. So, how long are you going to be waiting? Get out there and enroll in high school study abroad summer programs.