Best Ways to Solve Hard Drive Failed During Diagnostic. Error Code 2000-0142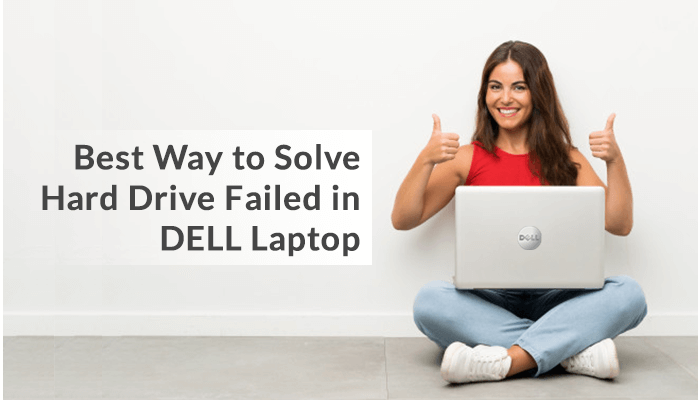 Do you get random messages stating Error code 0142? If yes, then it indicates to users that there is something wrong with the hard drive. Users must take some solid steps to fix this error as later it will be more difficult to handle. Many users don't know how to proceed to fix this error. So, to help those users we are here with this article. This blog will be dedicated to this issue explaining the reasons and different approaches in brief. So, if you want to know more about it, then read this full article till the end.
What is the meaning of Dell laptop error code 0142?
 The Error code 2000-0142 is a serious threat to the user's computer. It makes the user unable to boot their computer, and if by any chance you can, then it will be only for a small amount of time. Generally, this error occurs when the ePSA cannot read the information properly from the hard disk for any possible reason.
Usually, users face the 0142 error on Dell computers. Now, you must be thinking about the reasons that are responsible for Error code 0142. So, let's see the factors that are discussed below-
If the SATA connection cables become loose
If the hard drive MBR (Master Boot Record) gets damaged
When your PC/laptop hard drive fails, then replacing the faulty part is mandatory. The hard drive failure can occur due to CPU failure, crashed OS, etc.
Or, if the hard disk gets damaged in the warranty, then call the manufacturer and replace it.
Or, in several instances it can be due to mechanical damage, overheating damage, reader's head gets broken, etc.
These reasons make the Dell computer unable to pass DST. Here, the term DST stands for a particular hard disk check process. If by any chance it detected any errors, then this test will not be passed and the system will be unable to boot. It is necessary to fix this error code 0142 as soon as possible because the hard disk can permanently get lost.
Thus, users should perform the given steps to resolve this issue. So, the first thing that one does is to examine the SATA cable.
Whenever users face this error, they should check this cable first. It is a very common cause of this error. There are two ways by which one can check SATA cable one by self and the other is taking professional help. If something wrong occurs with your SATA cables like "burned" contacts. Then, replace them with the originals and the user's issue will get fixed.
But, if your SATA cables are perfectly fine, then find other tips and tricks to resolve this error.
Some Manual procedures to fix Dell laptop error code 0142
There are a few solutions that will fix this error with ease. We will discuss this below.
Method 1: Try to Run S.M.A.R.T Test
Some PC/laptop manufacturers offer pre-boot diagnostic tools and methods. These methods assist the user in repairing hardware/software failures. So, run a S.M.A.R.T test on the HDD to perform some basic monitoring analysis. And, to find the reason behind the hard drive failure.
Method to perform the S.M.A.R.T Test
Users must replace IDE/SATA cable. So that users can find the causes of hard drive failure prior to continuing, Run the S.M.A.R.T test. One can run the test by using the following steps:
1: Firstly, restart your PC/laptop, then enter the BIOS Setup utility.
Users of Windows Vista or later versions must repeatedly press the F12 key while the system boots.
Users of Windows XP or previous versions must repeatedly press the F1 key to enter BIOS Setup Utility.
2: Now, select the affected hard drive and press the Enter button. Then, choose SMART Support and press the Enter button again.
3: Choose one out of all from the given device tests:
SMART Short Self – Test: It performs a short self-test on the HDD
SMART Status Check: It inspects the HDD SMART status
SMART Extended Self-Test: it performs an extended self-test on the HDD
4: Finally, when the test gets finished, then press the Esc key.
Method 2. Try Built-in and Online Diagnostics i.e PSA or ePSA Error Codes
Dell provides PSA (Dell Pre-Boot System Assessment) and Enhanced Pre-Boot System Assessment (ePSA) diagnostics tools. These are built-in and online diagnostics tools. To finish the process, these diagnostics need the Service Tag, ePSA error, PSA error codes, and validation code. Moreover, if no issue is detected, then the issue must be with the Operating System. Users can use these given steps to enter built-in and online diagnostics (PSA and ePSA). These are-
Initially, restart your Dell and frequently press F12 to enter the One-time Boot Menu. Then, choose Diagnostics. After that, use the on-screen instructions to accomplish the process.
In case, test get fails, then note down the validation and error code
Now, Browse to the Dell Support site> enter your Service Tag> tap on Submit and Diagnostic (Online diagnostics)
If these methods didn't work, then try these tests to fix this error. These are –
Quick Test: is used to detect common hard drive and processor problems. It usually takes 10-15 minutes and if the error is detected. Then, it by default fixes it or advises alternative steps.
Custom Test: used to test either a particular device or multiple devices to repair hardware problems. It will take a maximum of 20 minutes as it depends on the chosen devices.
Full Test: it takes 35-40 minutes to completely analyze your Dell PC/laptop.
So these were some manual procedures, users are advised to use it with care. If the process doesn't go well, then it must be due to corrupt BKF files. Users should fix these files first by using third-party tools.
They can go for the BKF Recovery tool to recover data from a corrupt and damaged Windows BKF File. The software can support all the versions of Windows such as Windows 10, Windows 8, Windows Vista, Windows 2003, Windows XP, and Windows 2000
Conclusion
Users now know the different solutions to repair error code 0142. They can use these following procedures for fixing this error. If there are some corrupt BKF files, then try fixing them by using the automated solution given above.