Build a Mobile App without Coding with these 6 Platforms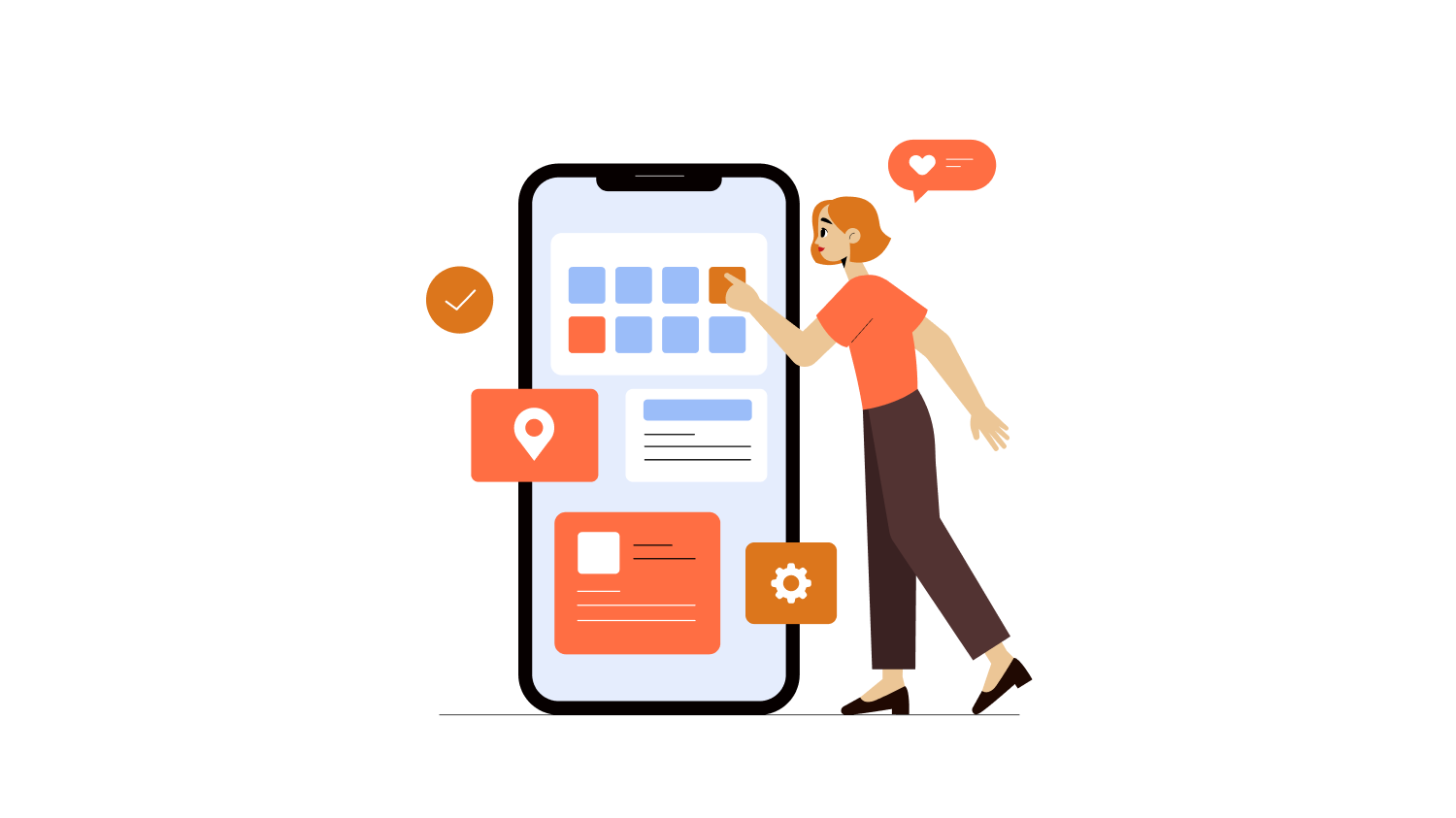 Evaluate the following deliberations when considering developing a mobile application for your company: And, for the most part, those considerations revolve around cost and strategy. Even if you employ a developer with less-than-professional expertise to design an app for you, it will not be inexpensive to pay someone to do so.
Fortunately, software technology is expanding at such a quick speed that designing your smartphone application without prior coding skills is becoming increasingly feasible.
Furthermore, the more complex a mobile application you require, the more expensive it will be in the long run. As a result, exploring options for developing your mobile application on your own time may be a viable solution.
In the past, you needed to be a programmer to create an app, which may take weeks, months or even years to complete.
Now, however, there are a plethora of app-building tools available that allow you to design an app in minutes. We've compiled a list of some of our personal favourites just for you.
The evolution of mobile app builders
A few years ago, relying on app builders to create mobile applications was not the most dependable method of developing mobile applications. This is because you couldn't make anything more than a static application; you couldn't include dynamic features.
This is no longer the situation today. This is because the most recent generation of mobile app builders supports extensions, dynamic widgets, and optimised real-time features. Moreover, as a small business owner, you don't require much more than that in most cases.
And, of course, there are a plethora of other advantages and features that may be incorporated. So, to understand more, we'll look through some of the top mobile app builders available on the market right now. The capabilities of such builders and the number of millions of individuals who use this method to create mobile applications may astound you.
Let's take a closer look.
6 best app building Platforms for non-coders
Technological advancements and the growth of coding solutions make it possible to create applications without code! Take a look at these application builders available on the market for those who do not have technical experience and who want to make their application:
1. AppyPie
AppyPie has assisted more than 3 million developers in creating a complete working mobile app using just visual building blocks, according to the company. AppyPie provides complete PWA (Progressive Web Apps) capability on top of its support for Android and iOS devices. As a result, your mobile application will be available on a web browser, just like a standard website would be. The fact that this addresses two concerns at the same time is significant.
This is an obvious explanation of how AppyPie works. Your application concept begins with you, and then you shift your attention to the "features" that AppyPie has to give you. The functionalities mentioned above serve as the building blocks for whatever application you desire to create with them.
There are many more capabilities available if you choose the Social features package. Each feature may be tailored to the needs of certain pages within your mobile application.
To top it all off, AppyPie provides free support with getting your apps published on Google Play or the Apple Store. It's convenient and provides a centralised dashboard for managing your app requirements.
2. AppMakr
AppMakr is the ultimate dream come true for any tech-savvy business owner. It is cloud-based, and there are no limits on the number of apps you can develop or the number of changes you can make to the apps you've already made. If you want to build a mobile application without code, this guide is for you. It is also free to use.
Again, AppMakr surprises with a slew of useful features, including galleries, push alerts, real-time updates, live music and video streaming, and interfaces with Google Maps.
Furthermore, you will be able to manage and monitor all of the free apps that you have developed from a single, centralised dashboard!
However, make sure to read the tiny print! Even though AppMakr is regarded as one of the most excellent free app builders, you will be required to make a one-time payment before your final app can be published.
3. Adalo
How do you react when you hear that you create your mobile applications without coding skills?
Incredible, isn't it?
For the most part, the days of hiring a developer just for planning and developing are over. Adalo accomplishes just that by assisting you in creating new apps and implementing such apps in a few simple stages. By utilising the drag and drop components, you will modify your design and appearance.
With Adalo, you have the flexibility to add database settings and interactions as you need them automatically. If you already have an API in place, Adalo will be able to interface with it as well. A single click will allow you to publish the genuine version of your mobile applications on the Google Play and  Appy Pie's app builder Stores for Android and iOS, respectively.
Among the many things you may accomplish with Adalo are the following:
The first step is to form and develop a real-world application using spreadsheets and databases.
Dragging and dropping functional building components to create the app's interface is supported.
Weaving all of the pages together seamlessly and without skipping a beat
Card lists, essential lists, custom lists, and picture grids are options for creating your listing.
Including forms, calendars, payment choices, and plenty of other features.
Aside from all of this, you may create a dashboard that will automatically refresh the data for each user. Additionally, you may use navigation bars to include icons to make it easier for consumers to navigate. Icons, buttons, photos, and other graphics may be created in various forms and sizes, and text can be added.
Also include push notifications for particular users, user authentication, and device activities in addition to the existing features. Apart from that, Adalo allows you to establish links between items and manage users' data effectively, and it even allows you to create equations. Last but not least, you may link numerous apps to a single shared database, which is convenient.
Alternatively, you may pick an existing subscription beginning at $50/month to start creating your mobile applications.
4. GameSalad
GameSalad is dedicated to developing and distributing gaming applications for the Android, iOS, HTML5, and macOS platforms. To work on this platform, you do not need to have any prior programming experience, and you may do it by dragging and dropping elements on the screen.
Its operation involves the editing of characters in a scenario, the design of their features, the creation of sound effects, and the switching between characters.
GameCircle APIs and drag-and-drop components are included in this builder. In addition, the platform provides a forum where you may solicit feedback from other users, which might be helpful in the development of your program.
Starters are given it for free, but they must pay $299 every year after that.
5. GoodBarber
Create an app for mobile devices using GoodBarber's App builder, which will make your job more accessible and easy for you and your clients. GoodBarber makes advantage of the most up-to-date technologies to let you construct any app rapidly, whether it's an eCommerce app, a content management app, or anything else.
You may provide a high-quality experience to your users/audiences by utilising a variety of design options and capabilities. With a single URL, you may grant access to anybody who wants to use PWA from any browser. Also available is the ability to construct a PWA (Progressive Web App) compatible with all devices.
In addition, GoodBarbar provides sophisticated features such as push alerts, offline mode, and other similar options. When it comes to the benefits of utilising App Builder, you may save money by only paying a single membership fee rather than receiving a large invoice amount from developers.
500+ features, such as a CMS (which allows you to make images, videos, and more), universal links (so you can link to any website), one-click payment (so you don't have to log in again), and more, are included. Additionally, you may create your own chat channel to facilitate communication with other users.
User-Generated Content (UGC) is a feature that allows your users to participate in the development of resources inside your app. They may, for example, email videos, articles, and even photographs directly from their phones to their friends and family. Make use of this feature.
Choose the plan that best suits your needs and take advantage of a 30-day free trial without providing any credit card information.
6. AppInstitute
AppInstitute has developed from a hopeful startup to a fully-fledged brand that serves more than 150,000 consumers in over 100 countries across the world today. Their easy-to-use mobile app development services are designed exclusively for small company proprietors and entrepreneurs. The AppInstitute offers a variety of appealing features to assist you if you're a busy business owner who doesn't know much about coding but who needs a mobile app developed.
One of AppInstitute's many accomplishments is the ease with which you may create a mobile application for your company's demands. The entire procedure is simplified into four simple phases, yet there is plenty of room for personalisation along the way.
While selecting a template for your project, you may use a pre-built template to quickly and easily create a fully complete application. Among the topics covered by AppInstitute are sporting events, dining establishments, and other service-based businesses.
After you've created a template, you may go all out with the branding aspects you want to incorporate into your design—for example, a bespoke logo, social media connections, photographs, and various other elements.
Make the material more personalised. – Everything, from the page arrangement to the text, should be edited. All modifications may be made via a bespoke app builder interface.
Publish your work immediately. – Apps are available anytime you require them. Additionally, you can easily publish your apps on the major mobile app stores with a single click using this method.
Most importantly, you will not be charged until you decide to launch your freshly generated application on AppInstitute's platform. The most affordable premium plan starts at around $40 per month, the most affordable option.
Creating mobile applications without coding
Is it possible to create functioning mobile applications without understanding how to code? Absolutely.
Several of the applications described in this post are excellent examples of this mentality. And the good news is that this technology will continue to advance in the following years. Expect to see an increase in the number of mobile app builders that enable third-party connectors, making it easier to design dynamic apps in future.
Understand your financial alternatives for the foreseeable future, as well as your current financial situation. Finally, know what features you're searching for in a mobile application before developing one. This will assist you in narrowing down the mobile app building platforms that will best meet your requirements.