Diamond Painting Supplies and Accessories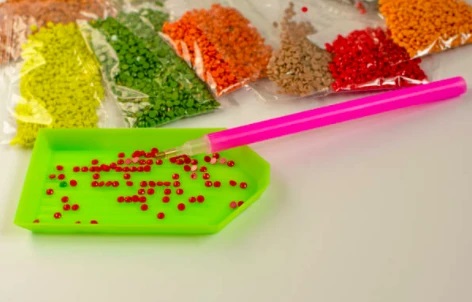 Diamond Painting Supplies and Accessories: 
Diamond painting is one fantastic way to unleash your inner creative self even if you and your artistic self haven't met yet. With the use of an applicator tool and wax, you scoop up some diamonds and set them on a sticky canvas which shows a color-coded chart. When you're diamond painting you feel a sense of happiness, relaxation and that has contributed to the best ways of therapy.
Now as a beginner in painting diamonds, you'll need some Essential Diamond Painting Tools to start this pleasing new hobby, here are some tools listed below.
Diamond Painting Supplies:
Drills and Pens
Light Pad
Glue or Wax
Drills and Pens:
This major tool plays a very crucial role in the process of Paint with Diamonds, it's an applicator pen. There are two applicator pens from which you can choose; drill pens and wax pens. Let's study how each of these types is applied for use.
Diamond Drill Pens: 
Drill pens are more of a conventional option and they're included within each diamond painting kit. What you can do with this type of pen is simply dip it into wax or glue and then select/pick up the diamond. Afterward, you drop it into the position of the canvas.
Diamond wax pens:  On the diamond piece, the wax is directly applied by the wax pen which eradicates the extra step. When your pen runs low on wax you can simply sharpen it and quickly get back to completing your task.
Diamond Drill Wheel Picks Up-Pen:
A wheel pick-up pen provides you with an adhesive wheel on one end that gives you the approval to easily grab diamonds by simply rolling them across the tray. Rolling it across can also let you place the diamond down or even remove them.
Light Pad:
Another helpful, yet significant accessory is the diamond painting light pad. It can not only brighten every diamond from beneath but it can lower the possibility of an eye strain for you. A light pad assures that every diamond piece is positioned in its respective spot which gives you the advantage to prevent accidents and mistakes and that way you will quickly know where the drill needs to go.
Some advantages of a light pad would be that it is not battery operated which means you don't have to stress on keeping batteries with you, instead it is simply connected by a 3-foot USB cable which is accessible to devices like PC, phones adapter, or power bank.
Another advantage of the light pad would be that it is a LED lamp that is flicker-free! That means there's a lower chance for eye strain and headaches. This is important for people who suffer from migraines.
The light pad also has a long life span which includes 50,000 hours of continuous use. That's plenty of time for you to spend on your artistic beautiful-looking diamond painting. And lastly, it delivers you one year warranty if, for instance, anything happens to it
Glue or Wax:
You must remember the fact that each diamond painting kit will include some sort of material that would be needed for sticking purposes whether it is glue or wax. With the use of your pen's hollow nib first, you scoop up the glue and then the diamond drill. The purpose of this is to make it easy to transfer each colored gem to its destination without the risk of dropping. Once you locate the area, you switch the drill to the sticky canvas with no need to re-apply the glue.
Additional Diamond Painting Tools: 
Besides the basic accessories, you should have a few additional tools too for the completion of your setup. Given below are a few appliances you can keep for your diamond painting studio.
Extra Diamonds:
Sometimes, diamonds can go missing and there's a certain possibility that accidents might ensue. So you may want to keep some extra diamonds just in case. But whatever shape you're going to prefer either round drill or square drill, be sure to order extra ones in the same shape for your creation.
Let's study the types of diamonds further:
Round Diamonds: This type of diamond is easier to use especially for kids and fast too.
Square Diamonds: This type of diamond is a Mosaic style tile diamond that snug nicely edge to edge.
Aurora Borealis (AB diamond): The AB diamonds are found in select paintings, it gives off a more rainbow effect.
Storage Compartments: 
Coming towards the storage compartments it's very beneficial for you as it helps you keep your diamonds neat and organized. It clears out the hassle and you can just dive right into it without having to spread it or clean out the previous mess.
Foldable Magnifier:
A hobby that requires eye-hand coordination, having a magnifier as an appliance provides you with clear size and maximizes the view to show you where you are heading off with the diamond piece. And a foldable magnifier is an excellent tool for those who have trouble seeing the minor parts or are farsighted. But using a magnifying glass with LED light? Even better! You can focus more to make your own masterpiece of Diamond Painting.
Big Diamond Trays:
While some people have smaller trays to keep their diamonds close and intact, few of them also prefer having larger trays. You can always locate a more spacious tray with a bigger pour spout which allows you to line up your gems for a more organized system. Most of the diamond trays are included with stainless steel tweezers to shuffle tiny diamonds without the risk of scratching them.
Ergonomic Chair: 
Apart from having a table or workspace, consider getting a good-fashioned comfortable chair. Sitting for numerous hours could affect your posture if you think about it which will cause neck and backaches. So to save yourself from the after-effects get a comfortable ergonomic chair that you can sit on for hours and enjoy your time creating your masterpiece.