5 Best File Repair Software for Windows & Mac
You have just finished your work and are about to save it. Suddenly a dialogue window appears saying, "Can't Save Corrupted File." Oh no! What will you do now? All your hard work is lost.
File corruption typically occurs when there is a problem during the saving process. Moreover, your computer may show "The file is corrupt and cannot be opened" if the file is corrupted. Another possibility is that viruses and malware are present in damaged areas of your hard disc or storage media.
But don't worry, several file repair software and programs are available to repair your file, so your hard work isn't lost.
5 Best File Repair Software for Windows & Mac
A computer file, whether it be a picture, a video, or another type of working file, is merely a collection of data that has been formatted so that software can read and access it. The file becomes unreadable, corrupted, or damaged if any data is out of order or entirely missing. However, these files can still be fixed. To your rescue, we have compiled a list of the 5 best file repair software for Windows and Mac.
Best File Repair Software to Fix Damaged Photo/Video/File (Win & Mac Supported)
1. iMyFone UltraRepair
In this case, the iMyFone UltraRepair is an all-arounder. It is the best way to quickly fix damaged, unplayable, blurry pictures, videos, and files. The best part is that you can get all the following features on a single platform without spending money on several software programs.
Restore images that are important to you that are pixelated, broken, or blurred.
Fix and improve damaged, low pixelated, corrupted videos.
Restore damaged and inoperable Word, Excel, PowerPoint, and PDF files.
In combination with these exciting features, the iMyFone UltraRepair is super easy to use. You won't need any expert skills. Even as a beginner, you will be able to recover your damaged file in just three steps,
How to Repair File with iMyFone UltraRepair?
Step 1. Add your file to the working space.
Step 2. Start file repair.
Step 3. Save and check your files. The broken file will be repaired successfully.
File Repair Software to Fix Damaged Files on Windows
2.  SFC Tool 
SFC (System File Checker) is one of the best built-in damaged file repair tools in Windows. It's the simplest and quickest way to assess the stability of your computer, spot installation and update issues, and, where feasible, locate replacements for lost or damaged files. All protected system files are scanned, and damaged files are replaced with a cached copy.
To get your damage file repaired, follow these three steps:
To launch Command Prompt as administrator, enter Windows + R, input cmd, then press Ctrl + Shift + Enter.
To bring all the files needed to repair system file corruption, enter the command exe /Online /Cleanup-image /Restorehealth and then press Enter.
After that, use the command sfc /scannow. This command will check all protected system files on your machine and replace any potentially damaged system files. Depending on your computer hardware, the whole scan might take anywhere from 15 to 60 minutes to complete.
3. System File Checker
The embedded System File Checker is the best solution if a system-level file becomes corrupted or damaged. What exactly does it do?  Well, it is basically a Microsoft Windows Software tool that allows users to search for and restore faulty Windows system files. It can fix several other issues, such as Windows 10 errors and incorrect system configuration stop codes, through the process of restoring corrupted and missing system files.
File Repair Software to Fix Files on Mac:
4. Photos Library Repair Tool
If you are having issues with your Photo Library, such as it won't open, freezes, or if the images are corrupt, you definitely need file repair software.
The good news is that Apple offers an integrated repair tool to resolve a corrupt photo library. The database of the library is examined by the repair tool, which fixes any problems it finds. If your Photos library won't open, or if Photos acts unusually, the Photos library repair tool can help fix this bug.
How to Use Photo Library Repair Tool?
While Photos is open on your Mac, press the Option and Command keys.
To begin the repair procedure, click Repair in the dialogue box that pops up.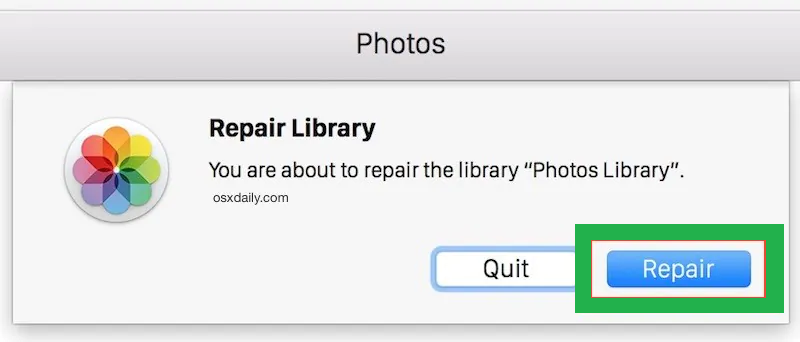 After it's finished, Photos reopens the library with all of your files present.
The entire procedure could take some time, depending on the size and scope of your collection. Additionally, since it is a relatively basic picture management tool by default, it won't be able to do any expert help with your images if they are seriously damaged.
5.   Stellar Video Repair Software for Mac
Stellar Video Repair Software is another good option if you want to fix your priceless videos on a Mac. It is an easy-to-use interface that allows you to repair your video almost rapidly. It can fix files in the MP4, MOV, M4V, F4V, and 3GP formats and works with a vast range of multimedia layers, including frames, video sliders, and audio components. For beginners, this software is quite simple to use.
How to Use Steller Video Repair Software?
Add files into the workspace by dragging or browsing from the folder.
Click on "Repair" to get your videos repaired.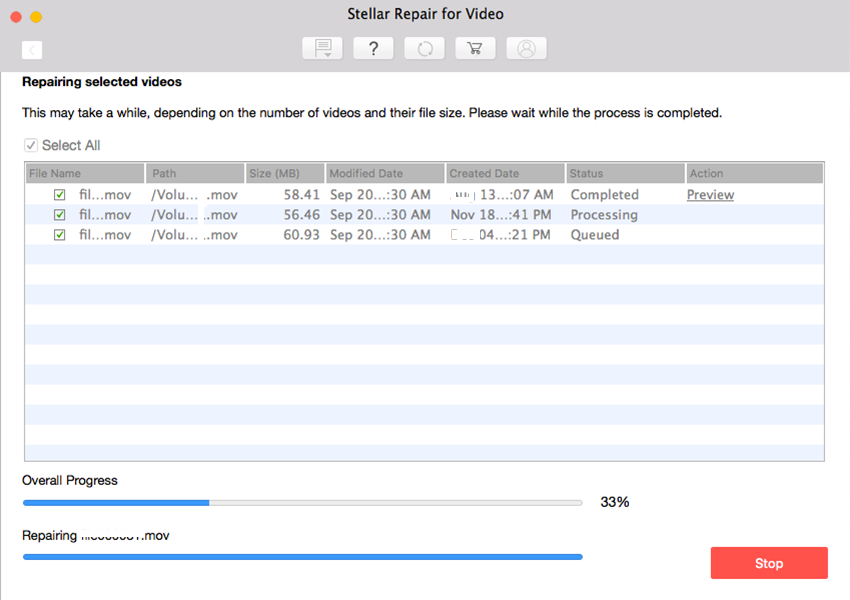 Save the repaired files in your desired folder.
Ending Note
Losing images, movies, or other important documented files may be a nightmare, and in the past, retrieving them was almost impossible!
But thanks to technical advancement, it has now become simple to recover and reuse your damaged files. We have analyzed and selected some of the top file repair software in this article for you to choose from.
Among all of them, iMyFone UltraRepair is the one that caught our eye. Because of its ability to restore photographs, movies, and other damaged data, this one software outperforms all others. If you are having trouble opening a Word document, PowerPoint presentation, or video file format is not supported, use iMyFone UltraRepair. It will instantly make the necessary repairs, so your workflow is not disturbed.