HOW TO ACE VIRTUAL INTERVIEWS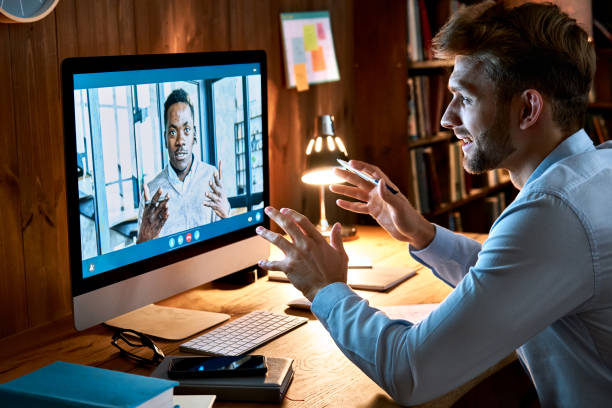 Video conferences can be held with anyone in the world, at any time, anywhere. There is an increase in the frequency of this scenario. It's becoming commonplace in the interview process for companies to hold virtual meetings as part of their daily operations. A strong ability to communicate effectively online – including the Fourth Industrial Revolution – is critical to advancing your career. In addition to enabling employers to expand their talent pool, this process saves them money on travel expenses.
A GUIDE to prepare for a digital interview
MAKE SURE YOU HAVE THE BASICS READY
Make sure your technology is working before you agree to a virtual interview. Ascertain the state of your internet connection and the functioning of your camera and microphone.
A recruiter will provide specific training about your interview through Google Hangouts. Verify that your equipment works and that you are familiar with its controls.
So that your audio can be heard clearly, consider wearing headphones or a headset. Ensure that your computer is plugged in and has full power.
As long as your camera does not cause a lag, you should always keep it on. To solve this problem, you could either sit next to your device or connect directly to your router.
Prepare for an interview by arriving early, same as if you were going to a job interview in person.
GETTING YOUR DIGITAL HANDSHAKE RIGHT
An introduction and a strong first impression can replicate the feel of the handshake in a virtual meeting. Introduce yourself enthusiastically to the interviewer. Instead of looking at the screen, look directly into your camera. Your body language should reflect your excitement – lean in and keep your arms crossed as much as possible.
THE INTERVIEW SHOULD BE TREATED THE SAME AS ANY OTHER
In addition to on-site interviews, online interviews can be conducted using the following best practices:
Ensure that you are able to demonstrate the skills and experience required for each job.
Check professional networking sites and learn about the background of those who will attend the interview. Formulate questions based on experience and interest. Practicing your presentation is a must if you are doing a panel interview!
DRESS FOR SUCCESS
Your bed might be nearby, but you shouldn't look like you've just gotten out of it. Imagine yourself as someone who is interviewed face-to-face. Those might be button-up shirts, blazers, and chinos for men, while dresses and skirts and blouses might be good options for women. Dressing professionally will demonstrate your dedication to the job.
DON'T LET OTHERS DEFINE YOU
In addition to understanding your fit for the company's culture, recruiters must also assess your qualifications. Online interviews present a challenge because there is no physical connection. If you're answering questions through a computer screen, the interviewer may have difficulty understanding your enthusiasm. Ensure you're articulate when answering questions. By highlighting how you can help the organization, you will be able to move on to the next round of interviews.
BE PASSIONATE ABOUT WHAT YOU DO
First impressions are crucial in interviews. Don't be afraid to demonstrate your enthusiasm. Trust is built through authenticity.
You might be tempted to read your notes inside your computer screen in an attempt to nail the pitch you practiced. However, this may affect the way you deliver your message, as well as your ability to interpret emotional cues.
Honesty will help you to remember what you like and dislike, what you can contribute, and what your long-term goals are. Transparency can help the Hiring Team ensure a positive fit.
FEEDBACK IS IMPORTANT
You should thank your audience for their feedback. Take feedback into account and demonstrate a learner mindset. It shows your interest and observations if you can also provide feedback.
FEEL FREE TO ASK QUESTIONS
In spite of your extensive interviewing experience, there is always something new to learn. Don't be afraid to ask. Furthermore, you will demonstrate your interest and willingness to learn about the team you could potentially join. Before each stage of the process, it may benefit you to prepare a few questions.
Take advantage of these online interview tips to succeed. It is important to prepare properly for a virtual interview in order to succeed. Getting to know your computer before the meeting, checking if your technology is working, and conducting research before the meeting will help you stand out from the competition. You should thank the interviewers for their time in a brief email following your interview.