MilesWeb Dedicated Server Review – Get Incredible Features
No matter what kind of website you have, whether a blog or an eCommerce store or a big business, choosing the correct hosting server is essential.
Most importantly, selecting the correct web host is essential.
Many companies offer web hosting services. You will find thousands of web hosts providing expensive and low-quality hosting. In the race of doing business, some best web hosting providers look over the quality they offer.
So, how do you find a genuine hosting provider who also provides quality hosting servers? Well, you can do some research about any company website you visit. If you do some homework, you can expect better results.
We have curated this article to review MilesWeb's dedicated servers. From our experience and research, MilesWeb is the top leading hosting provider in India. It has thousands of active clients who started as a small business and have grown big.
One of the best qualities of MilesWeb is that they are cheap. You will find their hosting plans too decent, yet high-quality.
Plus, dedicated hosting is something that does a lot of good to your business and growth. But, not much famous for its expensive cost.
However, MilesWeb offers dedicated servers at affordable prices.
What is a Dedicated Server?
A dedicated server hosting is a high-end hosting service. Mainly for big and heavy traffic websites.
The dedicated hosting permits you access to an entire server. It is like an apartment, where every flat is in your name. That means, not only the server but also the resources are wholly yours.
You can enjoy the maximum benefits of the resources you get, such as RAM, CPU, storage, bandwidth and more. They will be committed to your website and help you achieve more success.
When the websites grow and receive heavy traffic, upgrading to better hosting service is essential and dedicated servers work best in that case.
If you look at MilesWeb's dedicated hosting plans, you will get some great features. The entry-level plan only costs Rs.6,999/m, which is the cheapest.
Receiving great features at a low cost is never a bad idea, am I right?
Here is an outlook of all dedicated server plans –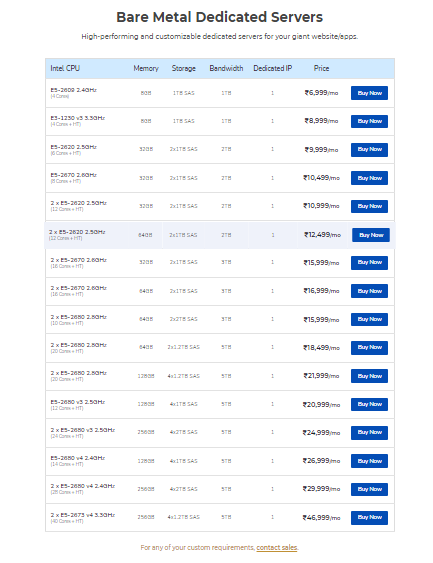 Pros of Having A Dedicated Server –
Expect more growth
Manage heavy traffic
Control over the entire server
More and better security
Advantage of personal space
Hassle-free configuration and customization
Why Choose MilesWeb Dedicated Servers?
Here are some reasons to choose MIlesWeb –
High Reliability – MilesWeb dedicated servers are highly reliable. Plus, you don't share the server with anyone, so reliability increases even more. MilesWeb also offers 99.9% uptime.
Security – You will experience a higher level of security with dedicated servers. Since there's more privacy, the risk of getting scammed or attacked is less to zero.
That also passes a message to visitors that browsing your web pages is safe. Their information is private and secure.
Security is one essential part of every business and, dedicated servers can help you become more authentic. It will also improve brand safety and security.
High Performance – A dedicated server helps boost performance. As the server is in your control and no one is sharing, you receive superior performance on your apps/websites.
Customizations – Dedicated servers let you run applications hassle-free and without complications. You can customize and monitor the activity of your website easily. MilesWeb lets you have the entire control allowing you to customize the server as you want.
Host Multiple Websites – You can host unlimited websites. You are allowed to move all your websites as well, from VPS to a dedicated server. If you are a developer or designer, you can let your clients rent hosting on the server. It will give you an extra income source.
99.99% Uptime (Service Level Agreement) – MilesWeb promises 99.99% uptime with dedicated server hosting plans. 99.99% is the highest uptime provided by any company. Your website will be available all time and may not experience as many downtimes.
Operating Systems – You can choose from a wide range of Operating Systems for the MilesWeb dedicated server. You can select the latest Operating systems as MilesWeb offers multiple Linux and Windows-based OS.
SSH Root Access – MilesWeb gives control to its users and root access. You have the freedom to install any web application you wish on the server.
Conclusion –
Dedicated servers are great if you want to take your business to greater heights. You can browse MilesWeb dedicated plans, which are inexpensive and come with good features.
You can expect 99.99% uptime and have full control over customizations.
MilesWeb allows you to install custom applications on the server, and manage it as per your preferences.
There will be high reliability, security and privacy along with the server. It is a good selection for high-traffic websites and eCommerce sites.