Introducing the best NFT crypto games in 2022 and how they're changing the gaming industry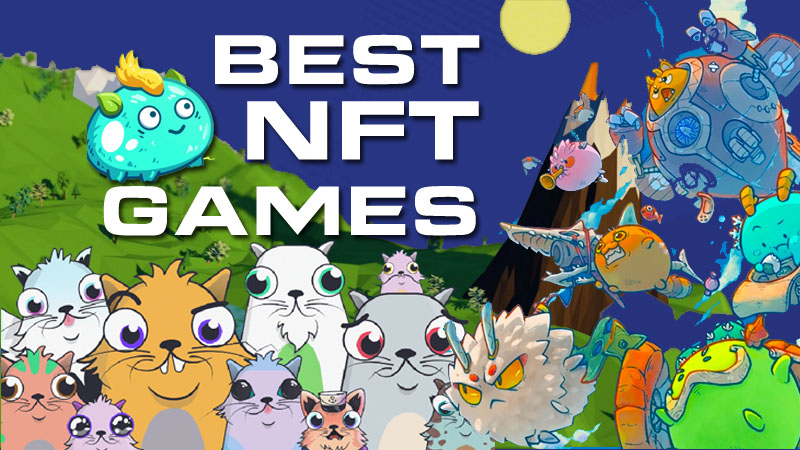 NFT games allow you to win rewards in the form of cryptocurrencies. You will also have the opportunity to acquire one-of-a-kind digital items that have value within the game itself. These items might be associated with characters, clothing, or even individual plots of land.
This article examines some of the market's most popular non-fungible token (NFT) games. We also provide a concise rundown of how they influence the gaming industry's evolution. We'll also look at some of the most exciting and upcoming NFT games scheduled to be released later this year.
A Deeper Dive into the Top Games That Allow You to Earn While You Play
When looking for the greatest NFT games available on the market, you first should ensure that you will love playing the title in question. The next step is to explore the available in-game awards and the types of NFTs you can get. Some even provide NFT giveaways.
In the following sections, we review the finest play-to-earn games that 2022 offers.
To begin, let's define NFT Games.
Before comprehending how non-fungible token games operate, one should first brush up on their knowledge of non-fungible tokens. Non-fungible tokens, also known as NFTs for short, are digital assets distinct in character when reduced to their most basic form. That is to say, no two NFT tokens are identical, ending each digital support with its unique value in the real world.
NFT has an almost infinite number of applications and possibilities. For instance, the well-known NFT game Decentraland allows players to purchase digital land, which they can put toward developing actual homes. It is possible to sell this real estate on an NFT marketplace, and many sales in Decentraland have surpassed one million dollars since then.
When we talk about games that NFTs drive, we're talking about titles that allow you to earn money in two different ways. You can earn crypto in the form of the platform's in-house currency when you complete certain gaming tasks, such as advancing to a specific level. This is the first and most crucial point.
For example, the in-game currency of Decentraland is called MANA, as was mentioned earlier. Because most in-game currencies are traded on public exchanges, you can convert your in-game earnings into a currency that can be used in the real world. Playing games that award real money is one of the many reasons these games have become so widespread.
Minting or purchasing one-of-a-kind NFTs is the second way you can make money in a crypto game. You will be able to do this if you obtain an NFT from the respective game that represents something of value that can be made there. You could, for instance, play an adventure game in which you are required to win battles against other players.
In addition, if you can acquire an NFT with the highest strength and power, you will likely be able to sell it for a desirable price in the open market. The fact that many of the best NFT games are entirely free to play is something else that should be mentioned about these games. This indicates that you still have the potential to earn money in the real world without having act risk any of your own money.
1.
Calvaria
– a card battle game with staking, a decentralized autonomous organization (DAO), and a scholarship system
Calvaria is one of the few games available that targets an audience that isn't interested in cryptocurrency, but it does just that. The narrative experience of the game is one of its most intriguing qualities, with a great cast of people that have been thoughtfully designed and set in a world meant to symbolize the hereafter. The team has stated that the project's mission is to be an ambassador between the real world and crypto. The vision is to create a fun and accessible game that rivals the gaming industry giants with a sustainable and rewarding tokenomics model. 
It was a primary design goal to ensure that anyone, regardless of cryptographic knowledge or background, would be able to enjoy and participate in the game. This is why there are two types of games: ones where you can earn money by playing (called "Play-to-Earn") and ones where you can play for free (called "Free-to-Play"), with the latter having no blockchain-based features. Unlike many P2E games, there is no requirement to install a wallet or purchase any assets to get started. It will be accessible on desktop computers, Android, and iOS.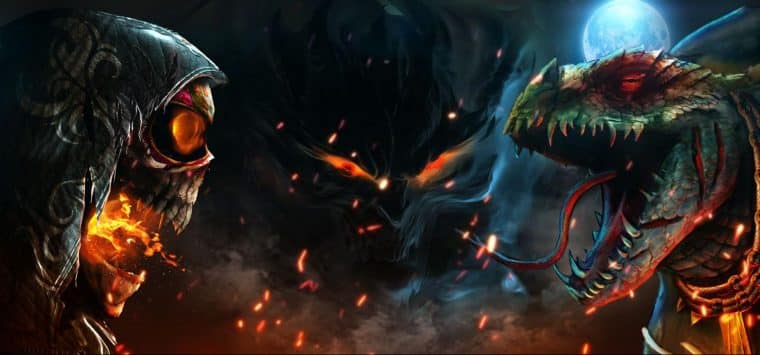 Taking a peek at the project's homepage will also reveal several valuable tools for participants. The team wants the community to steer the game's development. They're implementing a decentralized autonomous organization (DAO) where players can stake the network's native token and exercise governance over the platform. Minigames, a Scholarship program, and a Shop are also available.
The initial releases of Calvaria's NFTs are scheduled to take place in the following few months, and subsequent releases are planned to appear more regularly in the coming years. These non-fungible tokens can be traded on marketplaces such as OpenSea and Rarible.
RIA is the project's native token, and there are one billion in circulation. On the other hand, an additional token known as eRIA may be used for both the P2E mechanics and the in-game transactions. During the pre-sale of the RIA token, a total of 300 million tokens will be sold at prices ranging from $0.01 to $0.0325 each.
Several significant updates are planned for the coming year, suggesting a promising future for Calvaria. However, listing the token on centralized exchanges in Q4 2022 is the most significant upcoming development. Integration with KuCoin, Gate.io, and XT.com are also on the way. But in 2023, more content will be added to the game, and the Calvaria virtual reality experience will debut.
2. Silks – Popular P2E NFT Game
Silks was selected as our top option for this year's most fantastic NFT play-to-earn game after we researched and evaluated dozens of other NFT games from various categories. It is the first derivative play-to-earn Metaverse ever created, modeled after thoroughbred horse racing in the real world.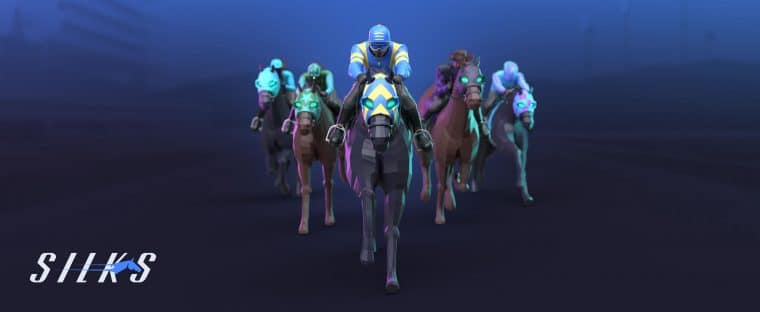 Silks is a reflection of the $11 billion horse racing industry, which has historically performed well regardless of the state of the economy, including while it was through a downturn. There is no reason to believe that 2022 will also set a new benchmark for Thoroughbred Horse Sales and purses.
Silks Horses is one of the most anticipated NFTs of 2022 and brings publicly available data and statistics relating to real thoroughbred racehorses onto the blockchain. These statistics include bloodlines, training progress, and racing results. The next Metaverse game is loaded with play-to-earn capabilities, which give it a massive advantage in the highly competitive market for video games.
Silks will now be managed by a group of highly knowledgeable persons with backgrounds in equestrian racing. For instance, one of the founders is Troy Levy, a successful businessman in the horse racing industry. Levy is the proprietor of Circle 8 Farms and the Chief Executive Officer of Tropical Racing, a multifaceted thoroughbred horse breeding, and racing company. Silks maintains a close working relationship with these firms as a strategic partner.
Silks Avatars, Silks Stables, and Silks Land are the three NFTs most important to the Silks economy and Silks Horses. Each of these non-fungible tokens plays an integral part in the platform's game mechanisms, which are driven by the platform. For instance, you will receive a reward when the real-world equivalent of your Silks Horse triumphs in a competition or successfully produces progeny.
You can stake them in Community Horse Farms for the chance to win NFT staking rewards if you need more time or the ability to take care of them yourself. On Silks Land, you have the option to construct Horse Farms in exchange for a one-time fixed cost and a portion of the rewards produced by Silks Horses.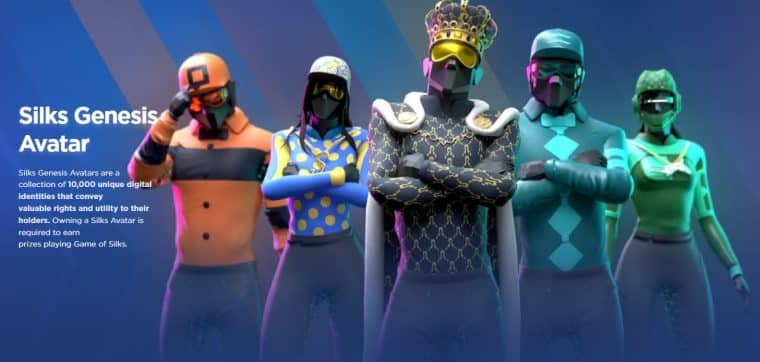 Silks Avatars are essential to play the game and represent your identity inside the Silks ecosystem. Late in April, the first 5,000 Silks Genesis Avatars were produced. They shot straight to the top of the list of the 15 best-selling ETH Sports NFTs of all time and have since been included on the Nansen.ai Gaming 50 Index.
The team has decided to release 5,000 more Avatars NFTs due to the high demand. The collection has now sold over 65% of its items. There has been a fourfold increase in Silks Avatars since its introduction three months ago. It quickly became one of OpenSea's top 10 sports NFTs.
Silks has developed a function known as Horse Syndication to broaden the audience that can use their platform. You can participate in Horse Ownership Pools and buy fractional NFTs. In addition, the risks associated with thoroughbred ownership can be reduced through equine syndication.
The whole world of thoroughbred horseracing could be opened up to a novel P2E game like Silks. The clever emulation of real-world racing will entice new players to join the ecosystem as soon as possible to capitalize on its riches. This unusual game is worth checking out if it sounds like your cup of tea.
3. Tamadoge – The Best Metaverse NFT Game With A $19 Million Pre-Sale
Unlike other tokens in the doge ecosystem, Tamadoge serves a unique purpose. In addition to being fun, it provides a means of financial gain for players. In the Tamaverse, this crypto game rewards pool for which players can compete.  While the total number of Dogecoins in circulation has increased dramatically, the number of Tamadoge in circulation has decreased because 5% of all Tamadoge spent is permanently burned.
However, Tamadoge is not simply the same as every other NFT game. After earning $19 million, the presale was wholly subscribed. Still, the developers are forging partnerships to turn it into a Metaverse game and preparing to list the coin on centralized exchanges to increase its visibility.
20% of Tamadoge tokens will be set aside for use in exchange listings, while the remaining 30% will become available for minting after ten years. Listing on OKX is scheduled for September 27 at noon British Summer Time (BST). On Tamadoge's Telegram channel, investors can obtain further information on the listing (admins never notify subscribers before other users). 
This non-fungible token initiative contributes 65 percent of the total Tamadoge tokens spent to the prize pool. Players battle against one another to see who can climb to the top of the leaderboard. They accomplish this by purchasing NFTs for their pets to give them food and toys. The growth of the pets is directly related to how well their owners care for them and interact with them through play. Therefore, players who take the best care of their pets will be rewarded with the most loot from the pool each month.
The Tamaverse platform has set itself the goal of developing as much as possible, which means that gamers will soon have access to the app for this game. In addition to that, it is going to expand to include a variety of P2E arcade games. Tamadoge has already been audited by Solid Proof, and CoinSniper has confirmed its legitimacy. Investors have no choice but to take action immediately because there is nothing else they can do.
4. Battle Infinity – 2022's Overall Best NFT Game
Battle Infinity is our choice as the best NFT game of the year. Battle Infinity aims to incorporate NFTs into a deep metaverse enticingly, and it does so while providing a potential income stream via P2E mechanics. In Battle Infinity's metaverse, known as the "Battle Arena," all the primary items are organized as NFTs, making them very liquid and easy to trade.
The native token of Battle Infinity is called $IBAT, and it is used to make trading easier. The ecosystem will come equipped with its very own built-in NFT marketplace, which will be known as Battle Market. Users can exchange in-game stuff, mint digital artwork, and sell their creations here. There will be a wide variety of products available for purchase, including adornment items that players may use to customize the appearance of their avatars.
The fact that NFTs will be integrated into the platform's fantasy sports league is one more reason why Battle Infinity has the potential to become one of the most exciting NFT initiatives of the year. Users can build their own sports teams and compete in leagues based on real-world results if they sign up for the "IBAT Premier League," All of the participants in this fantasy game are set up as non-profit organizations, which makes it possible for a secondary market.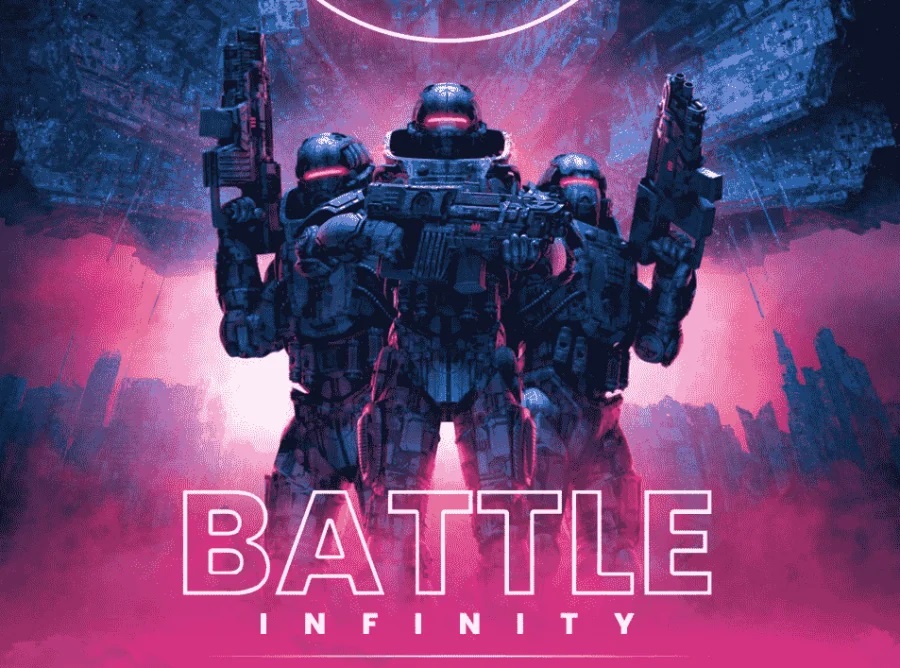 In addition, users will be required to purchase NFT passes to participate in fantasy leagues and acquire the capacity to create rewards in $IBAT. Before the beginning of the presale for the Battle Infinity token, the whole Battle Infinity ecosystem was checked over by SolidProof.io, and CoinSniper was responsible for providing KYC verification services. Because of the potential of this initiative, prospective investors who join the project's official Telegram channel will be able to monitor any important announcements.
Due to the success of Battle Infinity, the IBAT presale was completely sold out in just twenty-four days. The next move for IBAT is to get listed on PancakeSwap.
5. Lucky Block – the Number One NFT Game with Daily Jackpot Drawings
The NFT game Lucky Block is yet another contender for the best game in 2022. The Lucky Block platform is among the most eagerly awaited within the primary cryptocurrency sector. It allows users to participate in daily prize draws through a smartphone app. This crypto prize draw platform is decentralized and housed on the Binance Smart Chain (BSC). This configuration ensures that rewards are doled out in a manner that is both fair and transparent.
Owning a Lucky Block NFT increases your chances of winning the daily jackpot and gives you a chance to win two jackpots daily. These NFTs grant their holders perpetual access to NFT prize draws, the winners of which could receive $10,000 on average. Interestingly, once all NFTs have been sold, there will be a second draw where the winner will receive a brand new Lamborghini, and all NFT holders will be entered into a $1 million prize draw.
Lucky Block's commitment to charitable causes is reflected in its consistent giving. Lucky Block users can choose the charity that receives 10% of each daily jackpot. There will be four causes for users to choose from, and the top cause will receive 70% of the total funds raised, while the other three reasons will receive 10% each.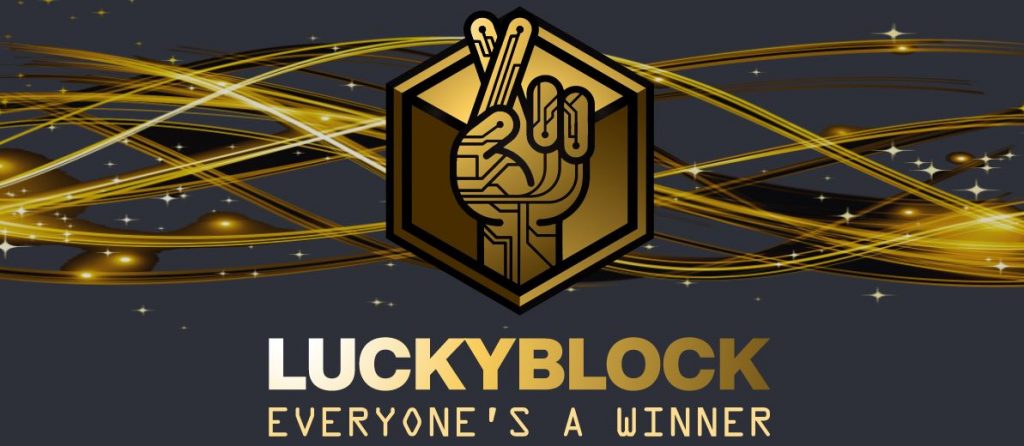 The Lucky Block platform kicked off its prize draws on May 15th, and its Telegram group is already excited. This, along with the other reasons given, is why we think Lucky Block is the best NFT game out there.
6. Girls, Robots, and Dragons: Excellent Uses and Advantages
The Girls, Robots, and Dragons (GRD) NFT card collection is a premium fantasy and sci-fi NFT card collection. It consists of 9,000 NFTs on the Ethereum blockchain, each depicting one of 15 different characters (five girls, five robots, and five dragons).
Their illustrators have worked on World of Women NFTs, Star Wars NFTs, Hearthstone trading cards, and other projects.
The GRD NFT collection comprises two distinct series: 3,000 NFTs that are now up for auction for 0.07 ETH (or 0.06 ETH during the presale for early bidders) and 6,000 cards that are locked away in vaults. Utility tokens worth $DUST can be used to make the purchase, or one can receive them as a loyalty reward by holding an Ether Card Founder NFT and purchasing a GRD NFT during the main sale of the tokens.
In addition, the GRD NFT drop will include a collectible card game. This game will have four cards: common, rare, epic, and legendary. Players will collect these four types of cards to complete a book containing all 15 different characters and become eligible for incredible prizes.
In addition, the GRD collectible card game's prize pools will consist of 20% of total sales and 25% royalties, with a maximum redemption of 3.5 ETH per book.
In addition, the first 3,000 NFT cards come with Galaxis utility qualities, which give the card's owner the ability to acquire various products and perks. Examples of utilities are physically redeemable, autographs, and virtual meetings with the artists and other fans.
Additionally, Girls, Robots, and Dragons NFTs are proofed, which means that you will receive several DUST tokens equal to the price of the NFT.
7. Decentraland – a Potentially Massive, Fun, and Free NFT Metaverse Game
Decentraland is one of the top non-fungible token games to play in 2022. Because Decentraland is both an NFT and a metaverse inventor, this platform provides users with the advantages of each sphere of activity. In its most basic version, Decentraland requires users to begin by developing their unique avatars, which they are then free to modify. Many investors are keeping a close eye on it since they believe it to be one of the top metaverse NFT ventures.
Your character will then be transported into the Decentraland virtual world, where you will be able to interact with other users and explore the environment. It is common knowledge that Decentraland enables users to purchase parcels of digital land, which may then be developed into residential or commercial properties. To complete the cycle, this piece of property is then converted into the form of an NFT token, which can then be traded on the open market.
You can win land and real estate holdings and a wide selection of NFTs that allow you to customize your gaming experience in Decentraland. MANA, the native token of this platform, is used to purchase every NFT made available for purchase within the Decentraland ecosystem.
You can purchase MANA tokens via eToro, regulated by the SEC, for under $10 per trade in less than five minutes using a debit or credit card or an electronic wallet.
Decentraland, regarded as one of the best platforms for playing NFT games, frequently releases fascinating new NFT games, so there is always something novel to try.
8. Axie Infinity – Among the Most Rewarding Play-to-Earn Games for Virtual Pets
The next game on our rundown of the best card and board games to play using NFTs is Axie Infinity. The popular GameFi crypto token, built on the Ethereum blockchain, allows users to create digital pets resembling monsters and call themselves Axies. Your Axies can be used for various activities, including exploration, combat, and breeding. You can earn rewards in crypto tokens by completing essential tasks, such as winning battles against other Axies.
We appreciate that fights can be fought against the game's artificial intelligence bots, whose integrity is ensured by a smart contract, or against other players. Attempting to profit from Axie Infinity by minting or purchasing an NFT of a rare in-game creature is yet another strategy. If another player in the game is looking for the NFT that you own, you may try to sell it to them for a profit.
Remember that to participate in the Axie Infinity play-to-earn game, you must have a predetermined amount of AXS tokens. 
9. My Neighbor Alice, a Leading NFT Game Virtual Items
My Neighbor Alice is up next on the agenda. At its most fundamental level, this top-rated NFT game allows you to purchase digital land and set up a fictional farming operation. Each player is represented in the game by a digital avatar, and your farm's value can be increased by adding various in-game assets.
This encompasses everything, from domesticated animals and dwellings to edible plants and adornments. ALICE is the name of the native token used in this NFT game, and having some on hand is necessary if you want to buy or sell virtual items. You should look into the secondary market at Binance if you're going to give yourself the best chance of minting ultra-rare NFTs in this game. If you do this, you can maximize your chances of success.
10. CryptoKitties, a Pioneer in the Genre of Play-to-Earn Video Games
CryptoKitties was one of the first play-to-earn games to be released on this platform, published toward the end of 2017. The fundamental premise behind CryptoKitties is strikingly similar to the one behind the original Tamagotchi game. This is because CryptoKitties is a virtual pet website where users can breed their digital kittens.
In CryptoKitties, like most other play-to-earn games, each kitten is 100% unique and represented by an NFT token. You may have a rare NFT, which you can then sell on the open market, depending on the characteristics of your CryptoKitties. To this day, NFT number 40, a part of the series known as "Gen 0," has since been sold for more than a million dollars.
11. Gods Unchained – Among the Best Free NFT Games
Gods Unchained is the only free-to-play game you need to consider if you want to earn rewards. This particular title focuses on skill-based trading in strategic NFT card games. Each card will have specific advantages and disadvantages that will affect how essential battles turn out.
In addition, if you complete important in-game objectives, you will have the opportunity to produce an uncommon NFT card, resulting in high demand from the other players. Gods Unchained is home to a sizable NFT marketplace where players can buy and sell collectible trading card game (TCG) cards. The value of an individual is based on several factors, including the tribe and god they belong to, as well as metrics connected to their health and ability to attack.
12. Pirate X Pirate – Among the Finest New NFT  Games 
Pirate X Pirate revolves around the concept of pirates, a brand-new game that allows players to compete against one another to win prizes. Players are obligated to construct crews, which necessitates the creation of both characters and ships. Since this NFT game did not become available to the public until March 2022, it is currently considered one of the newest NFT plays to earn titles on the market.
The game's primary objective is to sail around the digital ocean with your crew and win battles against other online players. You will gain the in-game currency known as PXP due to your actions. In addition, just like all of the best NFT games currently available, PXP tokens can be bought and sold over the internet, which means they have value in the real world. Pirate X Pirate users can also mint their own one-of-a-kind NFTs, such as improved ships.
Advantages of Taking Part in NFT Games
Consider the advantages outlined in the following paragraphs if you still determine whether you would benefit from playing NFT games.
Suitable for All Budgets
NFT games, first and foremost, are developed so that anyone, regardless of their background or circumstances, can participate. At one end of the spectrum is the possibility for players on a tight budget to participate in their preferred NFT game without actually spending or risking any money.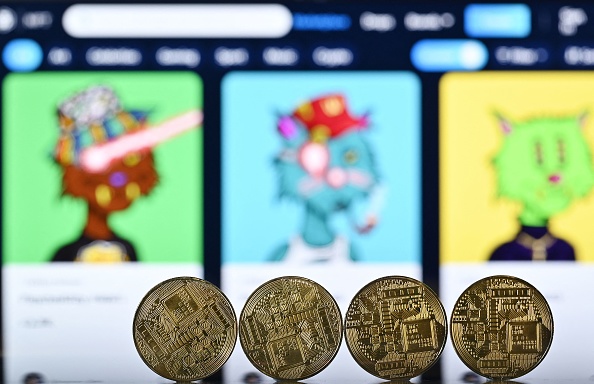 The more time a player invests in the game, the more rewards they are eligible to receive. If a player wants to give themselves the best possible chance of making progress through the game, for instance, they might decide to buy a weapon upgrade that an NFT supports.
The potential for future expansion is enormous.
It should not come as a surprise to learn that the potential for future growth in the NFTS gaming space is substantial. From an investment point of view, the underlying crypto asset that underpins the NFT game will have value in the real world. The demand for it and the supply of it will determine its value.
As a result, the game's value in earning cryptocurrency could increase as the project's popularity grows. For instance, investors in MANA, the cryptocurrency that supports the Decentraland metaverse, have seen returns of more than 20,000% since the token's initial public offering.
Even better results have been seen with Axie Infinity, with peak gains of over 100,000%. This is one of the reasons why new cryptocurrency projects in the NFT gaming space, like Tamadoge and Battle Infinity, are gaining popularity among value investors.
Possession of in-game items and properties
The fact that you are the sole owner of any in-game content you earn or purchase is arguably the most significant perk of NFT games.
This contrasts centralized games, where you pay for virtual goods but never acquire them.
The blockchain ledger stores all of your acquired items safely and transparently in the case of play-to-earn crypto games. Moreover, a unique NFT token can be used to confirm the authenticity of any given item in the game.
Real Money can be exchanged for in-game currency.
You will be motivated to complete specific objectives, such as advancing to higher levels, to earn the game's in-house currency, yet another significant advantage associated with playing the best NFT games. You can then turn around and sell these virtual items at an online cryptocurrency exchange.
Some of the most popular play-to-earn games, such as Decentraland and Axie Infinity, have achieved market capitalizations in the multiple billions of dollars.
This indicates that it will be easy to exchange the virtual tokens you earned in the game for cash. Playing NFT games gives you access to this, one of the most appealing aspects of doing so.
You can earn NFTs by selling rare plays.
The best NFT games will allow you to earn NFTs in addition to the in-game tokens you collect. For instance, the video game Axie Infinity enables players to acquire rare monsters through in-game purchases.
These monsters have certain qualities that make them appealing to players, not the least of which is that they can significantly improve your ability to earn AXS tokens while you are playing the game.
The more AXS tokens you acquire, the greater your potential earnings upon selling them on an exchange.
The use of blockchain technology ensures that gaming results are both honest and transparent.
Centralized operators are responsible for the creation and maintenance of traditional gaming titles. This indicates that there is no way for you to determine whether or not the game's results are fair.
Most of the time, this isn't an issue when using cryptocurrency to play for prizes, especially since a smart contract predetermines the results of each game. All games are guaranteed to be completely random, thanks to the immutability and openness of smart contracts.
Upcoming NFT Games
Keeping an eye out for new NFT games is a valuable strategy if you want to increase the amount of money you can earn from playing these games. As an illustration, most NFT games will present their in-house token to the general public before their launch.
In most instances, if you buy the relevant token in the beginning stages of its sale, you will have the opportunity to invest at a very advantageous entry price. In addition, you can get a head start on other players if you concentrate on upcoming NFT games that are still in their early stages.
You will be able to strengthen your in-game character and give it a better chance of completing objectives if you do so. When it comes to the most anticipated new releases for the NFT in 2022, you should give some consideration to the two following projects:
– RaceFi is an NFT game that, as the name suggests, lets you compete against other players in car races. If you win a race, you will be rewarded with some of the virtual currency used within the platform's games.
– Rainmaker – If you trade cryptocurrencies and stocks, then the Rainmaker platform appeals to your sense of style. You can rack up in-game rewards by managing portfolios that perform exceptionally well and making accurate market forecasts.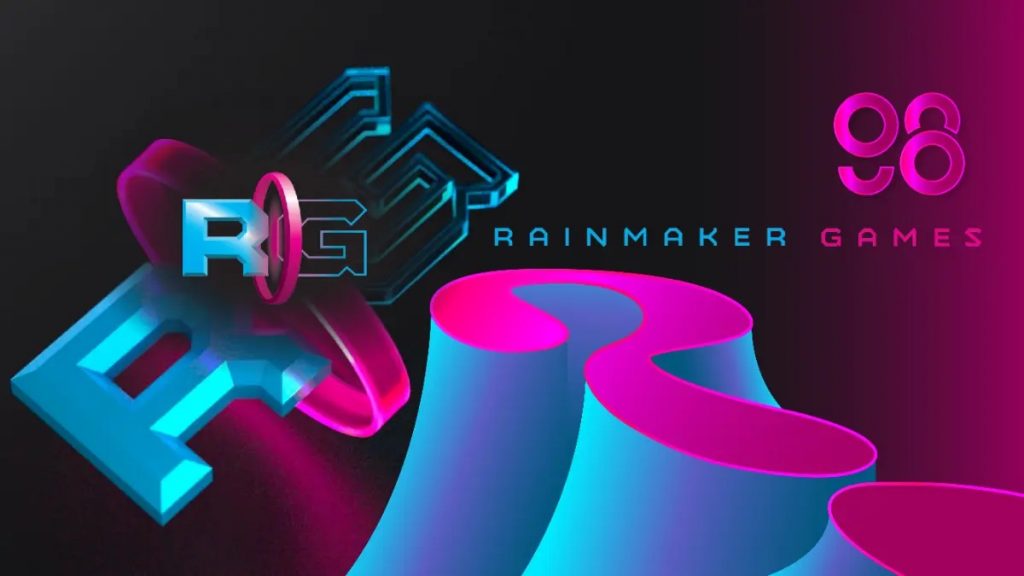 STEPN app – This is a move-to-earn game in which you buy NFT sneakers and then earn crypto rewards when you jog out with your mobile phone and a GPS connection. This app is for you if you are into health and fitness, especially running.
Always research before getting involved with a new NFT game, which is especially important if you consider purchasing the project's native token.