OneDrive Migration Best Practices – Everything You Ever Need To Know
Summary: Are you looking for OneDrive migration best practices? Are you searching for a cost-effective solution for OneDrive migration in Office 365? If yes, then your search would end here. In this write up we have come up with the best solution to perform this operation in the lowest time possible.
User Query:
"There is approximately 370 GB of database saved in my Personal OneDrive account. Because of some professional necessities, I want to move the entire data to my OneDrive account. But, I would like to do this without incurring 500+ GB of network traffic. What are the best practices for OneDrive migration?"
Brief Intro About OneDrive
OneDrive is a personal cloud storage place for users, to securely store their data and users can access them from any internet-connected device. Signing up for a free Microsoft account gives users 5 GB of free OneDrive storage. Hence, it can be said as OneDrive is Microsoft's solution for storing user's personal files online.
There can be circumstances where users need to migrate their data from one account to another. However, Microsoft does not provide any direct approach for this type of data transfer, which makes it challenging to work for users.
What are the best practices for OneDrive migration?
There are two ways to carry out OneDrive data transfer projects in Office 365. The first one is the traditional manual method and the second is using a modern automated utility. Depending on the user requirements both ways may come into use. But it is recommended by many IT experts to use an automated professional utility over a manual method for this type of data transfer. Let's discuss the best practices for OneDrive migration, one by one, with their procedure.
Manual Method for OneDrive Data Transfer
The OneDrive manual migration method is very simple. Users just need to log in to their source account and download all the data to a local system and then log in to your destination account and upload all the data to that account and in this way, migration can be done. But, wait there is a catch, users can use this method only for small amount of data.
But, what if you have a large amount of data in your OneDrive account in that case manual method is not feasible.
Automated OneDrive Migration Best Practices
It becomes a cumbersome and daunting task to perform the migration projects manually, if having large amount of data in it. Hence, it is suggested to use the Office 365 OneDrive Migration tool. This utility comes with advanced features that make it one-stop solution for OneDrive migration projects. This utility ensures 100% data protection and keeps the data intact during the migration process. One can easily perform OneDrive migration without any technical knowledge in the minimum time possible.
Steps to Migrate OneDrive Data Best Practices
Step 1. Download and run the utility.
Step 2. Now from the screen select Office 365 as the source platform as well as the destination platform.
Step 3. This utility can carry out multiple types of data migration in Office 365. In order to migrate OneDrive data, check the document option from the screen and also enable migrate document permissions and also use group mapping. In this software, users can transfer data selectively by applying the date-based filter. After all this click on Next.
Step 4. Here, log in with Office 365 source Admin ID & Application ID for permission validation and then, click Next.
Step 5. Following the last step now login with Office 365 destination Admin ID & Application ID and then, click on Next.
Step 6. Now, Create mapping by opting for any three given options; Fetch Users, Import Users, and Download Template.
Step 7. Once the mapping is created. Then, click on the validate buttons to validate permissions. Now, Click on the start migration button from the screen in order to start migration.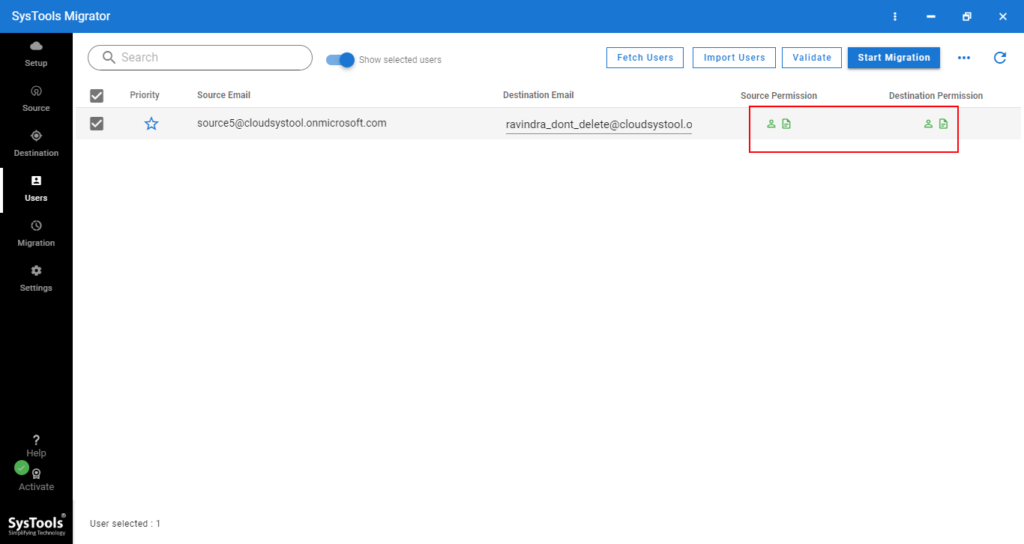 This Software also Provides Us Three Types of Re-Run Migration:-
Run Full Migration: By using this facility, one can migrate those data. Which may have skipped in the previous migration.
Delta Migration: Using this feature, one can transfer newly arrived data of OneDrive to the destination account without creating duplicate files.
Retry Failed Migration: Using this facility, one can transfer those items that may have failed in the initial transition process.
Final Words
Transferring OneDrive data to another account can be an easy task. If we follow the right approach for it. Nowadays, the world is moving towards AI, automation, and machine learning, they must have to consider the long-term implications of any migration process they choose.
Therefore, in this article, we have shown OneDrive migration best practices, using the above-mentioned tool. This utility keeps the data safe and intact throughout the transition process.