Best platforms to create your first online course 
The power of the internet can't be underestimated. It uncovered plenty of possibilities for users: information in free access, limitless communication with friends, movies online, etc. It has even modified traditional education and encouraged students to study online. Over the last two decades, the need for online learning has risen steadily. People enrol in online learning to get new knowledge and skills, take college lessons, discover new profitable professions, and more. People worldwide prefer online education for different reasons. Some prefer technological advancements, and others want to access the classes in their free time.
COVID-19 provoked an even greater growth in the popularity of online courses and requests for them. Since students couldn't visit events offline, many businesses lost their sources of income. So they needed to adapt. They started developing online training. As a result, students have an opportunity to study at their own pace, in their own time, and from anywhere they wish.
To create outstanding and engaging online lessons, companies need a learning management system. With its help, you can develop courses, create tests, and issue certificates. Course builders allow you to design registration forms and schedule the start of the course. In this article, we'll review the 5 best platforms to provide a smooth learning experience.
SendPulse
SendPulse is a multifunctional service that empowers you to develop online courses and promote them through bulk email, chatbots, SMS, and web push. The service is a perfect choice for HR managers, business schools, marketing agencies, industry experts, colleges, and people who want to teach. You can develop online training and instantly promote it through the most effective channels within one place.
SendPulse's online course builder allows you to create interactive courses adding various videos, audios, texts, files, and tests. Lesson builder enables you to develop media-rich lessons that will capture your audience's attention. You can add as many multimedia elements as you need. Afterward, you can split up your lessons into sections to let your students perceive information better. Once students finish a lesson or a section, you can create a test to check their knowledge. The service allows you to add questions and multiple answers.
If you don't plan to design the whole course by yourself, you can invite additional users. Instructors will help you keep an eye on students' progress, enhance lessons, design tests, create certificates, answer students' questions, etc. 
With SendPulse, you can customize your online course's domain. For this purpose, you need to edit subdomains from SendPulse or add your domain. Once you connect your domain to your company name, your page will be personalized and easier to find for users.
Have a look at how to develop a lesson in SendPulse's course builder.
Free plan: 200 students, 3 courses, 1 instructor, and 1 GB of storage space.
Paid plan: From $42 per month for 1,000 users, unlimited courses, 10 instructors, and 15 GB of file storage space.
Mighty Networks
Mighty Networks is a platform that helps design courses, communities, and memberships. The service enables you to design courses and shape communities of like-minded people.
Mighty Networks allows you to upload different content types to your course, including audio files, videos, and forms. If you decide to add a video to your lesson, your students will see the playback options from the provider, such as closed captioning and playback speed. Moreover, you can insert videos from YouTube, Vimeo, and Facebook Video.
You can assign different roles to different users. There are hosts, moderators, and instructors. Hosts control everything about the course, moderators edit posts and comments inside the course, and instructors edit individual lessons. 
The platform enables you to manage completion and unlocking settings. When you set up unlocking settings, you can make the course available for students all the time or choose a specific time and date.
Below you can see how to design a lesson in Mighty Networks.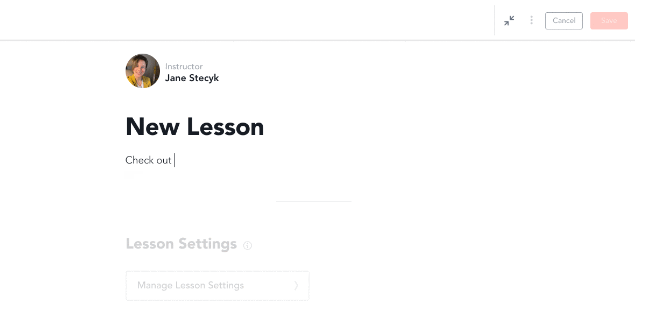 Source: Mighty Networks
Free plan: 14-day free trial.
Paid plan: From $119 per month for online courses, live cohort course creation, events, and Zoom integration.
Thinkific
Thinkific enables you to create courses without code knowledge and share your expertise with others. The platform offers templates and a drag-and-drop editor to design self-paced online courses and live classes. The service lets your students decide when to take a course or schedule it on a specific date and time. Thinkific empowers you to diversify the learning experience of your students with live lessons. Users can ask questions, communicate with experts, and have discussions with other students.
With the platform, you can create effective multimedia lessons. The service allows you to add various content formats such as video, audio, text, and files to catch customers' attention. To promote your online course, consider creating a website with Thinkific. It offers ready-to-go templates and themes.
Thinkific offers you to develop quizzes, assignments, and exams to gauge students' learning progress. After they complete all lessons, provide them with certificates. You can design them to your liking in the service.
Below you can see how to create a lesson with Thinkific.
Free plan: Limited courses, unlimited students, 1 site admin account.
Paid plan: From $49 per month for unlimited courses, students, and content, and 1 site admin account.
LearnWorlds
LearnWorlds is an outstanding solution for people creating professional training, enhancing education, and employee onboarding. The platform lets you design engaging and interactive lessons by allowing you to add videos, ebooks, assessments, surveys, and more.
The service provides exceptional attention to video learning. If you decide to add videos to your course, LearnWorlds will automatically create transcripts, quizzes, and content. To sell your online school or course, you can design a website. The process is simple because of the platform's drag-and-drop editor and professional templates.
The platform empowers you to integrate with essential tools like Zoom, Zapier, MailChimp, Cisco Webex, Zendesk, and more. Available integrations will help you increase efficiency and boost sales.
LearnWorlds' flexible pathways enable you to set users navigating freely, sequentially, or make your own restrictions. The platform's drip-feed allows you to schedule the date and time for the start of your course. Once students access the course, they can read your materials, take notes, and highlight essential sentences on the slides.
Assess students' knowledge with quizzes, tests, and assignments. After users finish with the tasks, you'll receive the results and will be able to evaluate the progress. At the end of the learning process, provide students with digital certificates that confirm that they completed your training. 
Below you can see how to organize your lesson in LearnWorld.
Free plan: 30-day free trial.
Paid plan: From $29 per month + $5 for each sale for unlimited paid courses, 1 admin, custom domain, 2 popups, and 4 payment getaways.
Kajabi
Kajabi is a multichannel platform that allows you to create websites, landing pages, communities, podcasts, send email campaigns, and design online courses. You can develop, market, and sell online training from a single dashboard and turn your knowledge into revenue in no time. The platform offers you to use customizable templates and intuitive design tools and create a mini-course or a signature program fast. If you want to design your course from scratch, you can also do it. The service's effective tools will help you with promotion. Use email campaigns, landing pages, CRM, and other tools to deliver the information and increase engagement.
Kajabi mobile app increases the number of students participating in your course. They have the opportunity to join the course from wherever they are with one click. 
Use drag and drop editor to organize your lessons. You can add video, audio, text, and other content to interest your students. After the lesson, your instructor can develop quizzes and surveys to assess students' knowledge. The tests will be the requirement to advance to the next lesson. After completing the tests, users will get grades, and you'll be able to evaluate their learning process.
Kajabi enables you to receive payments from users seamlessly. The platform has PayPal and Stripe integrations.
Below you can see how to create a lesson in Kajabi.
Source: OnlineCourseHost.com
Free plan: 14-day trial.
Paid plan: From $149 per month for 1,000 active members, 10,000 contacts, 1 admin user, and 3 products.
Congrats, now you know the platforms and can choose the most suitable one for your company's purpose. There are many other online course platforms to consider, but these seem the most balanced. If you are just starting a business, consider paying attention to the price and usability. You can start small and go for the platform that offers the biggest bang for the buck. 
The bottom line is that if you want to create an insightful course, you need to do it or leave it. The world is full of people who will tell you it can't be done, but don't listen to them! If there were one piece of advice we would give, it would be this: just go for it! It may take time and effort in the beginning, but once your course is live on the site where people purchase access to watch educational videos or read informational materials; then all your hard work will pay off. You will feel great knowing that so many people have benefited from what was once just a dream—but now a reality!
About author
Alex usually writes about tools and marketing strategies for small business development and helps companies come up with engaging content. In his free time, he goes cycling and or takes care of stray dogs and cats in his hometown.