Review The All-in-One PDF Editor – Wondershare PDFelement
PDF editors have become quite common among people of diverse professions. We see people looking for efficient and effective editors who would provide extensive services across the platform. While searching for an editor that would serve the user's need, several platforms come into interaction. One option that can be considered in the quest for a PDF editor is an across-platform PDF editor.
A detailed discussion would undergo for this review article across the all-in-one PDF editor, PDFelement. Users will get to know more about the tool and understand the features they can enjoy across this exceptional PDF editing service.
Part 1: Introducing PDFelement – An All-Platform PDF Editing Solution
There may be many solutions if you start looking for a PDF editor across the internet. With saturation in the options, Wondershare PDFelement has displayed an ecstatic touch of  PDF editing across its platform. While providing a diverse opportunity for users ranging from Mac users to iOS, Windows, and Android to different cloud users, PDFelement is an exceptional choice in all-platform PDF editors.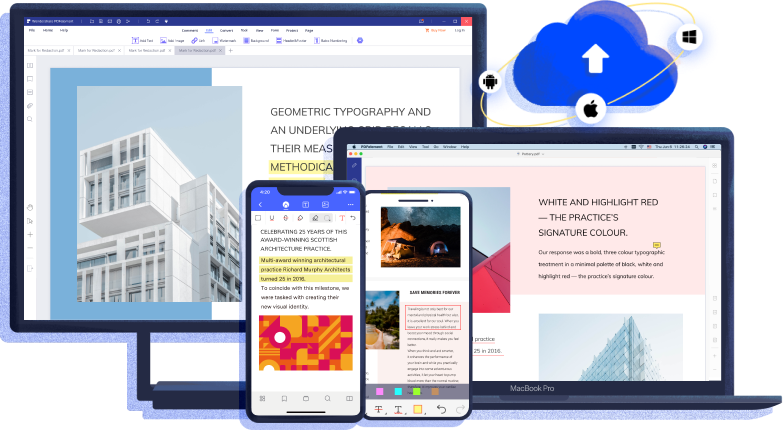 Wondershare PDFelement has supported a wide range of tools for PDF editing across its platform. Whether it is a mobile or desktop tool, PDFelement features a descriptive touch of PDF editing with conversion, annotation, and sharing across different cloud platforms. A wide variety of features can be looked into while using PDFelement for PDF editing. This article would be focusing on PDFelement and introduce the PDF editing tool to the users in detail.
Part 2: A Detailed Overview of PDFelement
This part would provide users with an overview of the PDF editor, Wondershare PDFelement. This in-depth discussion would guide the readers on what to choose at the time of PDF editing.
Introducing the Interface
PDFelement is an all-in-one solution, usually comprehended as a tool that would not feature many solutions across the platform. The system for PDFelement is quite the opposite. PDFelement poses an exceptional distribution of functions across its homepage. With a divided set of tools available across the home page, it is not difficult for users to work through the interface for editing their PDF as required.
Using PDFelement is extremely simple, with no difficulty associated with the online PDF editor. Users can easily go through their file and have the content, structure, or format edited, as desired.
Important Functions of PDFelement
Wondershare PDFelement is a collection of exceptional tools and functions. Unlike other  PDF editors, the tool has many functions that are among the top-notch PDF editors. The tool surely presents competition to many PDF editors across the ecosystem. However, since you need to know more about the functions of PDFelement, look into the following discussion to understand the dynamics involving the PDF editing tool.
Compress PDF
The compression tool across Wondershare PDFelement offers one of the easiest methods to reduce the size of a PDF file. Without compromising on the quality of the PDF document, PDFelement helps users reduce the size of their PDF files. As the user completes the task without paying any assorted payment for PDFelement, they are quite satisfied with the approach and quality of the platform.
PDFelement ensures the security and safety of the document as it is loaded across its server. Along with making the file size equal to the bare minimum, this PDF editor can be used by developers as it provides them with an API for compressing files.
If you want to convert PDF with PDFelement, the tool provides an exceptional free experience of converting PDF files all patform. While looking into different options for converting PDF files, users can change the format of their document in perfect quality. You can even consider attaching your online cloud drives with PDFelement to download and upload files across this PDF editor.
Multiple conversion options can be looked across this exceptional tool. While converting your file to the generic Office formats of Word, Excel, and PowerPoint, users can consider converting their PDFs into different image formats,or html.ect.
Merge PDF
Several creative tools are available across Wondershare PDFelement that cover different functions apart from editing PDF files. One such option is merging PDF files, which is quite easy and simple across PDFelement. Users can have their documents merged across this online solution with ease. Under no additional charges, merging PDF is possible across all basic operating systems.
PDFelement also features its PDF merging tool for developers, which can be consumed as an API for combining multiple PDF files into one.
Edit PDF
One of the most general functions across any  PDF editor, the PDF editing tool across PDFelement is unique and exceptional in terms of quality. Multiple editing tools are available across this function, which guides users to manage text, shape, and images of the PDF document. As these elements make up a complete PDF document, Wondershare PDFelement understands the need for these tools, thus including them all within the platform.
While protecting the user's privacy during PDF editing, users can utilize this PDF editor without any discrepancy.
Password protection is extremely important when it comes to accounts. However, this is also applicable across documents, equally important within the professional space. To keep the files safe and secure, users are advised to protect their PDFs through password protection cases. It is quite an ideal option in protecting PDF documents.
This PDF editor also provides users with unlocking PDF files. As password-protected documents cannot be opened across PDF readers, the use of this tool helps users access the original document after putting in the password to unlock it.
Pros and Cons of Wondershare PDFelement
There are multiple advantages and disadvantages associated with this online PDF editing tool. However, to allow the selection to be more effective for the users, this article has divided the advantages and disadvantages of this online tool in detail.
Advantages of Wondershare PDFelement
This is one of the easiest PDF editing tools to consider for utility.
Users are provided with a variety of PDF management features and tools to work with.
Provides Cloud access functionality for versatility. It offers different cloud storage such as Dropbox, OneDrive, and Box.
Supports Optical Character Recognition (OCR) along with all document formats for effective editing.
Users can work with batch functionality for covering PDF tasks in a short time.
It is quite intuitive, robust, and feature-rich for users to enhance their work across PDF documents.
Provides a free trial version and can be used on any platform including Windows, Mac, iOS, Android.
Disadvantages of Wondershare PDFelement
The advanced features of PDFelement are accessible after an associated payment of a plan.
Conclusion
This article has exceptionally introduced Wondershare PDFelement as an PDF solution to the readers, which can be utilized across desktop and mobile, as desired. This tool is quite effective in editing local documents, annotating, and converting them instantly. Users should definitely try this option if they wish to manage PDF documents as easy as possible.