Systweak VPN Detailed Review, Features, Pros, Cons and Pricing
Whether you want to hide your IP address, or you want to surf the internet anonymously, or you want all your online activities safe and secure or you also want to access all the entertainment content without regional restrictions. Then all you need is a single tool, a VPN that routes your internet connection through a private server.
Now when you look around the internet to search for a VPN, you find lots of options and you may get confused which to pick. So in this article we would like to introduce you to a VPN tool, Systweak VPN that not only promises your online anonymity but also delivers it.
So, without further ado let's discuss its features, pricing, pros and cons(if exists any).
Features of Systweak VPN
Although Systweak VPN is relatively new in the market when compared to other VPN tools, it still provides some exciting features and a cutting edge technology that has already helped it to earn a lot of satisfied customers from every part of the world.
1. Speed
No one wants to compromise with his Internet speed, so first we run a speedtest while using Systweak VPN and find that it is one of the fastest VPN  for Windows PC. We even tried accessing the content in full HD and still the speed was streamlined and constant, with no lags.
We are also surprised to see that Systweak VPN was effectively able to reduce overall lag that may occur due to ISP throttling. It does not have any slow vpn connection issue as other vpn have.
2. Security and Privacy
One of the prime objectives of a VPN tool is to secure all your online activities and give you a complete secure experience while browsing the internet. And Systweak VPN is undoubtedly the best VPN tool that provides you with a secure environment where you get complete online anonymity.
Now talking about the specifications, it uses OpenVPN with TCP/UDP protocol along with AES-256 encryption to establish a secure connection. Besides this Systweak VPN provides you an option of Kill Switch, this basically helps when your connection drops due to any reasons. Apart from drop in connections the Kill Switch feature also helps when you toggle between two VPN servers. This offers the strongest protection against the hackers that try to breach your security while a network drops or changes. Other security features provided by Systweak VPN are:
DNS leak protection
WebRTC Leak Blocking
Strict no log policy.
3. Compatibility
Systweak VPN is compatible with Windows version 7, 8, 8.1 and 10 both 32 and 64 bit. So if you are a Windows user looking for a VPN tool then Systweak VPN can be a good choice.
4. User Friendly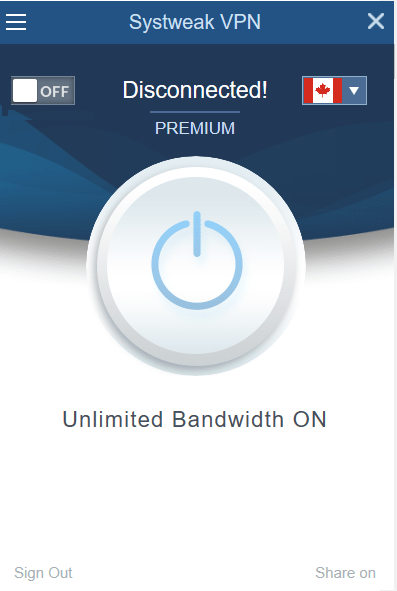 This amazing VPN tool is designed in a way that even a novice user can use it with ease. From the process of signup to its use all is quite simple. Once you purchase the product you will get all the details from the download link to username and password to access your VPN.
After downloading the product, you need to just follow the onscreen instructions to install the product.
If you have already purchased the products, then you have already received the login details, Use the same to sign in to the product. Once signed in, move the slider from left to right to ON position from the top left corner of the product screen and select the country of your choice.
That's it. You can now go online without the fear of compromising your identity while surfing the internet.
Pricing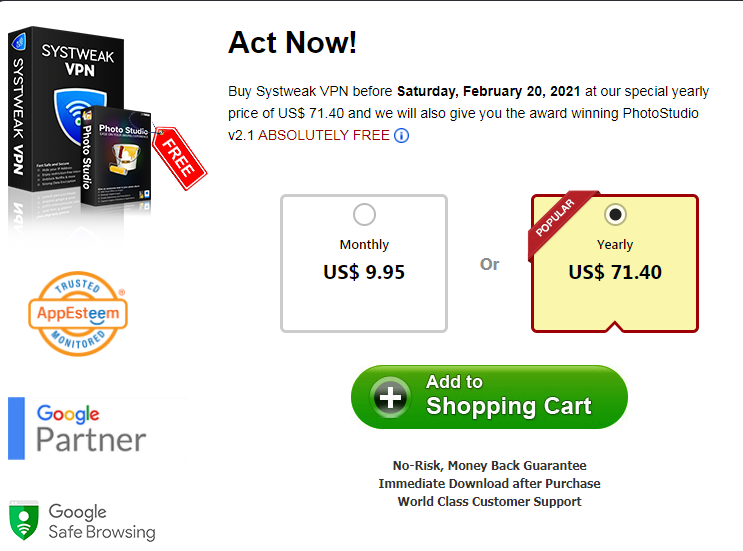 We are quite sure that you are impressed with all the powerful features that are provided by Systweak VPN and you are excited to know more about the pricing of the tool. So here it is.
The monthly plan of Systweak VPN will cost you 9.95 USD. However you can save more by going for an annual price instead of a monthly price that costs you just 71.40 USD. However, one thing that we find a bit disappointing is that Systweak VPN does not provide you a trial version. But it offers a 30 days money back guarantee, which means you can give the product a try, and if it doesn't suit your requirements then you can go ahead and claim a refund under the 30 days money back guarantee.
Pros and Cons of Systweak VPN
So you have now the list of features that Systweak VPN offers, you know the pricing for both monthly and yearly plan, you know about money back guarantee. Now just quickly get through the pros and cons of Systweak VPN.
Pros of Systweak VPN
Strong AES 256 military-grade encryption to provide complete privacy while browsing the internet.
Supports OpenVpn protocol.
Bypass throttling if imposed by your ISP over certain websites.
Kill Switch for protection while server switch or connection loss.
Secure Servers
Unlimited access to content without geographic boundaries.
Complete protection against DNS and Webrtc leak.
Public Wi-Fi Security while browsing the web on public hotspot.
Competitive Pricing
No questions asked money back guarantee if not satisfied by the product.
World class and dedicated customer support service.
Cons of Systweak VPN
Along with lots of prons we find some cons with Systweak VPN, that are as follows.
Unavailability of the trial version to test the product before purchase.
Not available for Mobile devices.
Connection drops on few servers(although it is quite common with VPN tools).
The biggest con that we find with Systweak VPN is that currently, it is limited to the Windows Operating system only, however the company is already working on it and promises to soon release it for other platforms like Mac, iOS and Android.
Conclusion
So folks, if you are really concerned about your security and privacy while browsing the internet then you should consider getting a VPN tool, in case you haven't used one yet. Also, our thorough test results showed that no matter, Systweak VPN is relatively a new tool in the market but it is manufactured by a company that is developing world class system utilities from the past two decades. You can surely consider going for Systweak VPN and hide your online presence with ease.