TUNESKIT iOS SYSTEM RECOVERY: THE BEST REPAIRING SOFTWARE FOR iOS
Since everything is digitalized, sometimes even our device systems fail to work due to a heavy workload. System failure usually leads to data loss, bugs, and other such things. Therefore, some software helps you to repair and recover your device.
Tuneskit.com is one such software developer that offers top-notch data recovery software. It provides the ultimate solutions to iOS and Windows-related issues worldwide.
About Tuneskit
Tuneskit's team consists of a highly trained professional R&D team who provide prompt and best solutions to the customer's problem. Besides ios system recovery and data recovery, Tuneskit also consists of products such as video editor, video cutter, video repair, video converter, screen recorder, etc.
Tuneskit is used in over 200 countries across the world, with over 5000 users and 1000+ downloads per day. Tuneskit has also received awards and recognitions from professional organizations and websites such as Yahoo!, Softpedia, CNET, etc.
Tuneskit iOS System Recovery
Over 150 ios issues on iPhone, iPod touch, Apple TV, and iPad can be repaired and resolved easily. Most importantly, you don't need to seek help from Apple customer service or technical experts.
Tuneskit ios system recovery can repair iOS problems such as device stuck in while Apple Logo, DFU Mode, recovery mode, or when your screen turns black, blue, frozen, and disabled.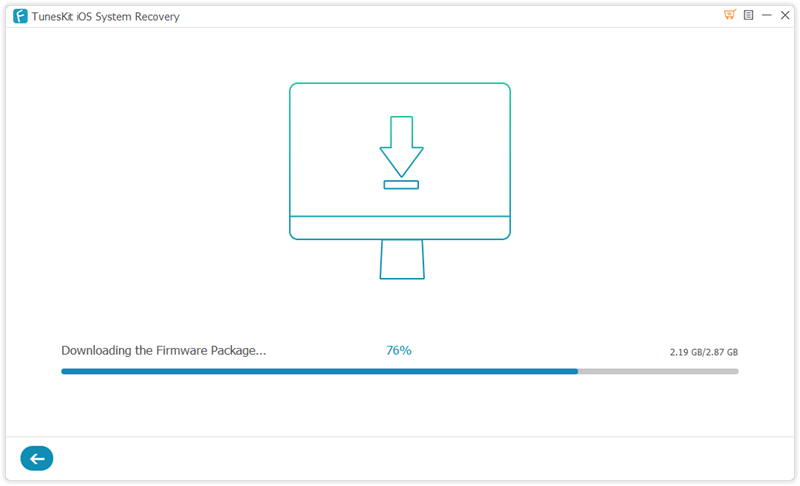 Features of Tuneskit ios System Recovery
Tuneskit ios system recovery comes with great and advanced features. Here are some of the important features of Tuneskit iOS system recovery-
TunesKit iOS System Recovery provides two modes to fix iOS and tvOS issues. The two modes are- standard mode and advanced mode, and both modes can help you fix the problem with data loss.
Tuneskit is very safe to use, and there is zero chance of losing your confidential data while fixing the problem.
You can recover the system in three simple and easy-to-do steps. First, you need to choose the appropriate repair mode. Second, you need to download the firmware package, and lastly, it will automatically start to recover. Thus by following these three simple steps, you can easily fix your iOS/tvOS system.
Not only system recovery, but you can also do other things with Tuneskit system recovery. Such as, you can easily downgrade the ios to the previous version.
You can fix the iTunes errors as well with this tool.
With just one click, you can get your device into or out of recovery mode when it gets stuck.
The best feature of Tuneskit ios system recovery is that it is fully compatible with all ios including the latest ones, such as ios 14 and iPhone, iPod touch, and iPad.
Besides, Tuneskit provides free software update for a lifetime to its paid users.
Other good software products by Tuneskit
Ios/TVOS system recovery is not the only product that Tuneskit provides. It has other cool software products such as iPhone Data Recovery, Video Editor, Video Cutter, and Video Repair.
Tuneskit iPhone Data Recovery
With three simple recovery modes, you can recover all your lost and deleted data from your iPhone and iOS devices. The three secure recovery modes provided are- scan data directly from iPhone or iDevice mode, extract from iTunes backup mode, and download from iCloud backup mode. You can retrieve over 20 types of iOS data such as photos, videos, WhatsApp data, Viber data, call history, and many more all at once using this Tuneskit software.
Tuneskit Video Editor
This is perhaps the best and easy-to-use video editing that helps you turn your imagination into reality. You can now pour down your creativity and imagination easily. The Tuneskit Video Editor is loaded with video editing tools like Rotate and flip Crop and Zoom, Split and Merge, Add Audio, Add Text, Filters, and Speed Control. With these powerful tools, you can edit any type of video. Again, this video editor is not limited to video editing only. You can also screen record and make slide shows with this video editor.
Tuneskit Video Cutter
Tuneskit has a software product called Video Cutter for Mac that can trim and merge videos and audios without losing the quality. Besides, it can also save and edit video clips and provide some cool effects to enhance those clips. You can also save the edited videos and audios in any format you want, such as MP4, MP3, AVI, MKV, 3GP, MPG, AAC, WMV, and many more.
Tuneskit Video Repair
With Tuneskit Video Repair, more than 25 types of corrupted video and audio files in a single click. You can repair sluggish videos and audio, out-of-sync videos and audio, no sound video and audio, choppy or blurry video and audio, and many other such corrupted videos and audio.
Tuneskit Video Repair can help you repair the corrupted videos and audio in three quick steps- select broken videos, click repair, and finally, preview and save the repaired file. More importantly, this video repair software can repair videos and audio recorded from any device or operating system, like DSLRs, iOS devices, Android devices, Surveillance cameras, digital cameras, and many more.
Besides, you can repair multiple corrupted video and audio files simultaneously and save those in multiple formats such as MP4, 3GP, ACC, MP3, and many more.
Why Tuneskit?
Tuneskit offers a wide variety of software products that makes your digital life secure and easier.
Tuneskit has perhaps the most easy-to-use software products that can get your work done in just one or two clicks.
Most of its products are compatible with all types of operating systems and devices.
Tuneskit software allows you to save the repaired or edited files in multiple formats.
Tuneskit is perhaps the best solution to digital issues for iOS users.
It provides free updates to its paid users.
Tuneskit software products are compatible with both old and latest versions of devices and systems.
Tuneskit products are available worldwide in over 200 countries.
Final Takeaway
If you are looking forward to making your digital life easy and less complicated, Tuneskit software products are here. From repairing, and recovering systems and devices to editing videos and audios, everything can be done with ease using the Tuneskit software products. So if you are looking for good software to repair and recover your device and systems, you should opt for Tuneskit software.