Top 5 CleanMyMac X Alternative to Clean Your Mac
It is a normal tendency for any Mac machine to become slow and sluggish with the time and use. However, if we clean the browser cache, user and app data, junk and redundant files from time to time then we can optimize its performance. Now to optimize your PC, you have two options either manually cleaning it or cleaning it automatically with a mac optimizer tool. The only problem with the former option is that it takes a lot of time and patience, therefore it is always advisable to use an optimization tool that can speed up the performance of your PC with just a few clicks.
Few years back, when any mac user thought about a mac optimization tool, the very first tool that came to his mind was CleanMyMac X. Its advanced scan engine, its user friendly design, ease of use and many more such features has made it an unanimous choice between mac users for several years. But with other optimization tools coming into the market, people start feeling that there are better CleanMyMac X alternatives that they can try.
So if you too are looking for some best alternatives to CleanMyMac X then you have landed at the right place. In this article we have curated 5 best alternatives to CleanMyMac X to clean your Mac.
Why to Look for CleanMyMac X Alternatives
Before discussing CleanMyMac X alternatives, let's quickly discuss why to go for CleanMyMac X alternatives when it is one of the best tools to optimize your mac. So, first and foremost thing is if you are satisfied with CleanMyMac X performance then you can continue using it. However there are several users for whom CleanMyMac X doesn't go well or doesn't go as intended.
There are several users who feel that CleanMyMac X is a bit expensive as compared to other optimization tools in its category. For some it is a resource consuming app that consumes a lot of resources while running and optimizing the system. And for others the cluttered navigation is a problem.
So if you have any of the above mentioned or any other problems with CleanMyMac X then here are some alternatives that you can try.
Please note that before making this list we have tested these tools on various parameters that includes but not limited to pocket friendliness, ease of use, performance and features offered.
5 best CleanMyMac X Alternatives
Here are top 5 CleanMyMac X alternatives that you can use to keep the performance of your Mac up and running.
We all know that like any other machine, Mac is also prone to slow downs due to piling of system and user cache, large unneeded files, unmanaged startup items and unwanted applications. This slowdowns sometimes further extends to crashes and make the overall situation critical. However, fortunately TuneupMyMac is a perfect solution for all such problems.
It's one click optimization feature performs an automatic scan and helps you remove the unneeded items from every nook and corner of your Mac and provides it better stability.
TuneupMyMac also helps you to remove all types of junk from your Mac, that includes temporary files, user cache, app cache, and much more. And what more to clean this junk all you need is a single click.
TuneupMyMac also has a dedicated Uninstaller module that removes all the unnecessary applications from your Mac along with its associated configuration and other supported files.
Apart from cleaning the cache and removing the unnecessary applications TuneupMyMac also helps you to recover a huge amount of space on your hard drive by removing all types of duplicate files from your Mac with its module named as Duplicate Finder.
Further this amazing tool takes care of your internet security by cleaning your browsing history and other privacy traces that may put your identity at risk.
Other salient features of TuneupMyMac are as below:
Removes all the duplicate and large files to recover space on the hard drive.
File Shredder to remove the deleted files permanently with no restoration possible by any means.
Effective cleaning of internet and privacy traces.
Disable unnecessary startup and login items for faster bootup of your Mac.
Multilingual product support.

When we talk about powerful yet easy tools for optimizing our Mac then CCleaner really doesn't need an introduction. For years this tool was quite common between Mac users.
Its ease of use, simple user interface, and powerful scan engine all makes it a best CleanMyMac X alternative.
This amazing app scans your computer to remove all types of junk files that are responsible for slowing your Mac effectively. CCleaner also helps you in deleting your browsing history, cache and cookies so that you can browse the Internet with complete privacy and minimum probability of identity breach.
Moreover CCleaner also helps you to repair broken permissions, curb the background process from automatically starting, and uninstall unnecessary software and more.
CCleaner also helps you to securely delete the data with a complex overwrite pass starting from a single pass to 35 passes, and make it almost impossible to recover any of your deleted confidential data even with a file recovery software.
Salient features of CCleaner application are as follows:
Removes unwanted programs.
Manage Startup items for faster bootup.
Deletes junk and other types of trash from the mac.
Protect identity by removing cookies and browsing history.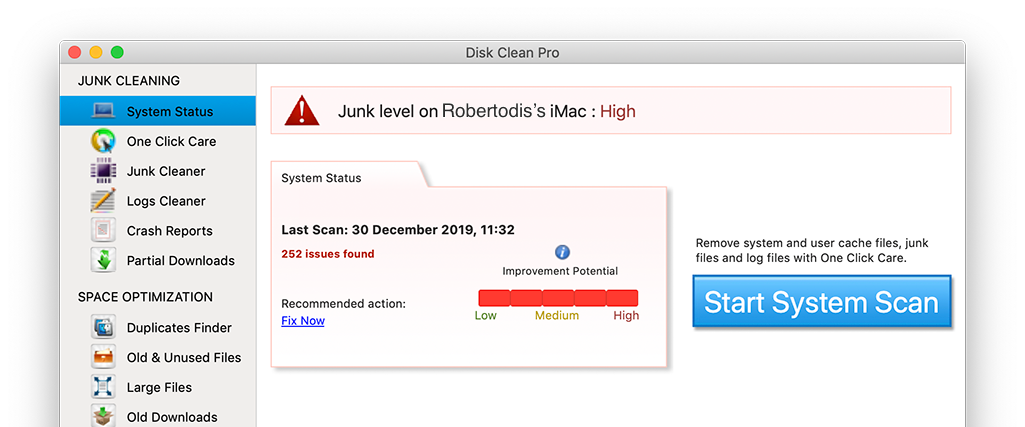 Disk Clean Pro is another amazing CleanMyMac X alternative that can perform an overall cleaning and optimization of your Mac. So whether your Mac is slow at startup or slow in responding this amazing tool can help you to fix all such and many other common Mac problems with ease.
The one click cleaning offered by Disk Clean Pro comprises four different disc cleaning modules that help in deep cleaning of the Mac.
Junk Cleaner: It helps you to completely remove all redundant and junk files that your Mac is occupied with.
Log Cleaner: It helps you to scan and remove all system and user logs to make space on the hard drive.
Crash Reports: It locates system generated reports from all the apps that have ever crashed on your Mac. And once located it effectively cleans them to recover space.
Partial Downloads: It identifies and removes all partially downloaded files which are unnecessary occupying space.
Moreover, Disk Clean Pro also helps you in removing duplicate files and other data that could drastically degrade your computer's performance.
Another noticeable feature of Disc Clean Pro is Misc. Cleaning that removes old iTunes backup files, downloaded email attachments. Also it offers one click cleanup of Trash bin to regain space.
Salient features of Disk Clean Pro application are as follows:
Duplicate File Finder to delete all types of duplicate files.
Junk cleaner to remove all types of junk from every corner of your Mac.
Internet Privacy Protector Module to clean browsing history and cookies that can expose your identity.
User friendly interface and easy navigation.
MacBooster 8 from Iobit is another CleanMyMac X alternative that you can use to boost the performance of your Mac.
MacBooster 8 claims to clean more than 20 different types of junk files which is more than any other mac optimization tool. Apart from removing the junk files this tool also helps in removing old and large files, duplicate files and make the performance of your Mac more stabilized.
Mac Booster 8 also effectively manages the startup items and optimizes your RAM that can further improve the response time of your Mac.
This tool also has a small standing-by at the menu bar that can be thought of as a mini MacBooster. It shows you the real time memory usage and the status of firewall and network. Also this mini standing-by menu offers you one click feature to clean trash, memory, cache, trash along with optimizing DNS.
Moreover, apart from optimizing your Mac, this amazing tool takes care of the  security of your mac with its dedicated module that protects your mac with malware and other infections.
Salient features of MacBooster 8:
One click optimization to remove more than 20 vivid types of junk.
Real Time protection from malware, and other infections.
Duplicate file finder module to recover space by cleaning duplicate files.
Removes cookies and browsing history to protect personal information from being misused.
AVG Tune-up is yet another mac optimization tool that can be used to free up space on your mac and optimize its performance. Its advanced scan engine cleans the hidden junk even from places a user didn't even think of.
So, whether it is temporary files, browser caches, log files, trash or obsolete downloads, AVG Tune-up cleans it all. Moreover, the tool helps you to remove all types of duplicate files like images, audio, documents, videos with just a few clicks and within a few minutes. And removing these duplicates files not only make enough space on your mac or also make it lighter and faster.
Apart from junk cleaner and duplicate cleaner AVG TuneUp also has an inbuilt module that is powered with Artificial Intelligence and helps you to detect and clean blurry and low-contrast photos. Moreover, it identifies the best available option from similar photos or burst shots and helps you to remove the remaining ones.
Main features of AVG Tuneup are as below:
Deep cleaning to remove all junk files from your mac,
Duplicate finder to effectively remove duplicate files.
AI powered tool to manage Photo library.
Wrapping Up
So readers, these were the 5 best CleanMyMac X alternatives for mac that you can use to optimize the performance of your Mac.