Top 5 Coolest Car Gadgets For 2020
Whether you consider yourself as a car enthusiast or not, you might have thought of ways to make your car rides much more efficient and cool. There are tiny gadgets that can transform your entire driving experience. From your daily office commute to impromptu weekend drives, every ride can become enjoyable with the right accessories or gadgets for your precious car.
Are you looking for the coolest car gadgets? Well, your search ends right here. Read on to find the must-have electronic gadgets to make every driving experience enjoyable. having cool gadgets might even increase the value of your vehicle.
Best Gadgets For Your Car In 2020:
The markets today are brimming with handy and efficient accessories for your car. From a sturdy roof rack for long travel plans to tiny electronic gadgets, these car accessories can enhance the driving experience.
Here are some of the latest devices that can give your car a modern and high-tech feel:
1.  Anker Quick Charge USB Car Charger:
Is your phone often running on a low battery? If yes, then a car charger is exactly what you need. When it comes to electronics, Anker is one of the top brands. It can help you charge your phone up to 80% of the battery within half an hour. The 3.0 USB charger comes with an 18-month warranty and is compatible with almost every android and iOS phone.
The charger will save you from dealing with the embarrassment of asking for a charger or the stress over your phone dying. You will always have a fully-charged phone with this car charger.
2.  YI Mirror Dash Cam:
The efficient and straightforward YI Mirror Dash Camera can transform your rearview mirror into a dashcam easily. It comes with two cameras; one is front facing with a recording quality of 1080p, and the other is a cabin facing having 720p quality. Besides that, you get an LCD touchscreen to adjust the settings.
The built-in Wi-Fi setting connects it to your phone automatically, and you can send all recordings to preferred storage space. It is an expensive device that offers better visibility and makes your driving experience safer. Even in case of theft, the dashcam can help you with insurance claims.
3. Cooluli Mini Fridge Electric Cooler:
Almost everyone has dreamed of having a fridge in their car, and you can make it a reality with this mini fridge electric cooler by Cooluli. Whether you want to keep your drinks chilled for a road trip or keep your lunch warm on the way to work, this gadget can do both. With only a switch, you can turn the settings and use the fridge to keep your food hot.
The USB port helps you connect it to your car. But you can also place it on the counter and use it with the AC/DC adapter that comes with it.
4.  Lanmodo Night Vision System:
Whether you are a cautious driver or not, there is always a risk in driving at night, especially during adverse weather conditions. If you want to up the safety by a notch, you can invest in the Lanmodo Night Vision System. Once you install the device in your car, it can help offer you an enhanced visibility view of the road ahead.
It comes with a monitor that can go on your dashboard and a high-sensitivity night vision camera that operates in 1080p and helps you see 984 feet ahead. You can enjoy your night drives much more, without the stress about your safety.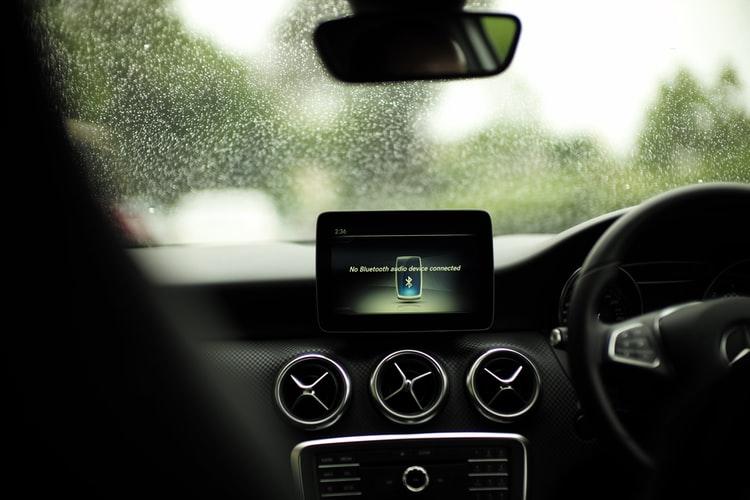 5. Tile Mate:
The habit of forgetting can end up costing you a lot of money if it is the car keys that you are forgetting. In case you keep misplacing the keys to your precious car, the Tile Mate can be a god-sent help for you. The tiny little tile comes equipped with Bluetooth technology, and you can slide it easily into your keychain.
With the tile mate, you can track the location of your keys at all times using a mobile application. Whether you left the keys in a café or they are locked inside the car, you can know it in an instant. If you lost your phone by any chance, you could press the button on Tile Mate, and it will ring your phone, even though it is silent. It can be quite a handy device for forgetful people.
Final Thoughts
For a car owner, it is not just a vehicle but more of a prized possession. If you fall into the same category and your goal is to optimize the car to get the most of it, a few car gadgets can improve your overall experience. Investing in these small devices will help you stay safe on the risky roads, save up in the long run, and enhance your car. If driving in your car has become a dull experience for you, it is time to revamp your vehicle with these cool gadgets and enjoy riding in it.
Reference links:
https://www.digitaltrends.com/cars/cool-car-accessories-gadgets/
https://www.pocket-lint.com/cars/buyers-guides/152608-best-car-gadgets
Author's Bio:
Rebecca Siggers is a passionate writer & guest blogger. Writing helps her to improve her knowledge, skills & understanding about the specific industry. She loves writing & sharing her knowledge mostly in the Travelling Industry. She believes traveling is the key to a peaceful life & wants to spread her belief across the world. Apart from writing, She loves Traveling and Reading.