What Is SEO and How Does It Fit into Digital Marketing?
You probably already know a little bit about Search Engine Optimisation (SEO). In the modern digital landscape, SEO is impossible to avoid if you're building websites and brands online. Of course, you've also heard of digital marketing, and in some cases, you've probably heard SEO and digital marketing used interchangeably.
But do you know where SEO starts and digital marketing ends, and have you thought about how SEO fits into a broader digital marketing strategy?
These are the sorts of questions we're here to answer in this article. We'll look closely at Search Engine Optimisation, digital marketing, and how the two interact to enhance your online presence.
What Is Digital Marketing?
The idea of marketing has been around ever since the first salesman said "have I got a deal for you!" And since the beginning, marketing has been propelled by technology. In ancient Pompeii, advertising and branding were found in the form of mosaics, and when Gutenberg bought the world moveable type, print advertising was born.
Today, the internet is our most dominant form of communication, and that is reflected in the dominance of digital marketing. Highrise Links allows businesses to capitalize on this trend, offering a suite of online tools to help companies reach their target audience.
Digital marketing is a form of marketing that helps you connect with customers, market your brand, advertise your services, and generate more business online. There are many experienced digital marketers like https://bettermarketingresults.com.au who can help you achieve these goals.
Digital marketing campaigns are delivered through websites, search engines, social media, email, Pay Per Click (PPC) advertising, and apps – to name just a few. Digital marketers utilize many tactics to deliver results, including content marketing, online public relations, email marketing, social media marketing, and of course, SEO.
Your digital marketing strategy will be multifaceted, being built around your business, your products and services, your audience and how they use the internet. Your campaigns might utilize all of the channels and tactics above, or you might only focus on one or two.
But no matter which direction you take, SEO will be a central element of your digital marketing success.
What Is SEO?
SEO – or Search Engine Optimisation – is all about optimizing the off-page and on-page factors of your website. This enhances your online presence and helps you climb the rankings in organic search engine results on sites like Bing and Google. The result of effective SEO is more targeted traffic, more customers, more sales, and a better online brand overall.
The on-page factors you'll be looking to optimize include the content on the frontend of your website and the HTML source code running behind the scenes.
Off-page optimization focuses more on building links and promoting your website. This increases your website's authority with search engines as well as existing and potential customers. Click here to get more information about it
Why Is SEO Important in Digital Marketing?
As you can see, SEO is just one of the many levers you can pull in your digital marketing efforts. As well as complementing your digital marketing campaigns, SEO can also standalone in producing benefits for your brand.
This is because of how prevalent search engines, and in particular, Google has become in our everyday lives. If you're looking for a 'café in Richmond', you Google it, and if you want to buy movie tickets, you will probably just Google them.
Googling has become so relevant to our behaviors that the Oxford English Dictionary officially recognized it as a verb in 2006.
Statistically, the same story is being told about the impact of SEO. Research by SEO software provider BrightEdge shows that more than half of all web traffic is driven by organic search, while 40 percent of revenue is the result of organic traffic.
On the local front, a research study co-authored by Google itself revealed that 80% of consumers look for local information using search engines.
These statistics reinforce the importance of Search Engine Optimisation and the impact it can have on its own. When considered in the context of other digital marketing strategies, SEO can strengthen and complement your entire campaign.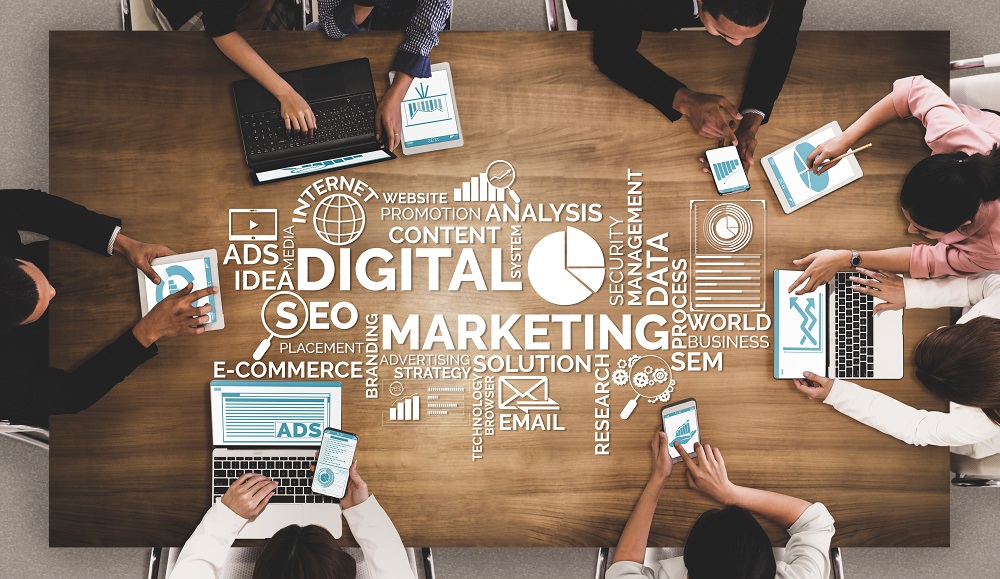 3 Ways SEO Is Crucial to Your Digital Marketing Efforts
SEO Optimises Your Content Marketing and Email Marketing Campaigns
Content marketing is the process of building your brand and engaging with customers through the creation and distribution of useful online content. This includes blog articles, infographics, videos, podcasts, and even the content on your web pages.
Content creation is also central to your SEO efforts. On-page SEO optimization is driven by researching relevant keywords and building quality content around them to help your webpages to rank.
When creating content for your marketing efforts, you can harness the same keyword data, meaning those articles, eBooks and whitepapers are more likely to rank. In this way, your SEO strengthens your content marketing and your content marketing strengthens your SEO.
Sharing your great content through social media, email marketing campaigns, and other channels is also a key aspect of content marketing. If you need relevant content to share in your next email, you can always pull from the high-quality, optimized content you have created for SEO. This is another way SEO makes content marketing and email marketing easier.
SEO Powers PPC Campaigns (and Vice Versa)
The way SEO and PPC interact is one of the most direct examples of the broader advantages of SEO. This is because both of these digital marketing techniques focus on increasing exposure and rankings on search engine result pages (SERPs). The difference is that SEO focuses on organic results while Pay-Per-Click advertising is about appearing in the paid ads that show up in SERPs.
One way that SEO directly benefits PPC campaigns is by lowering your cost-per-click. An SEO optimized website will result in better quality scores and page ranks for your website. These factors can result in lower costs and a more effective PPC campaign overall.
SEO and PPC campaigns both involve gathering a lot of data. Taken together, these datasets can give you insights into customer behaviour and help you refine the keywords and strategies you use in both campaigns in the future.
When Search Engines Love You Your Customers Will Too (SEO & UX)
User Experience (UX) is all about making your website a natural, positive and seamless experience for your visitors. In the old days of SEO, where keyword stuffing, thin content, and spam were rife, it was laughable to think that SEO and UX could work together.
But in the modern landscape, optimizing your website for SEO will result in better user experience. Things like quality web content and fast loading webpages are crucial to both SEO and positive user experience. In fact, 40% of people will click away from your website if it takes more than three seconds to load, according to Neil Patel.
Another key factor of SEO is ensuring that your website is well structured both on the frontend and behind the scenes. Being able to navigate and access a website easily and logically is also key to UX.
As you can see, optimizing your website for SEO will go a long way to optimizing it for your customers too.
SEO: The Centre of Your Digital Marketing Strategy
Taken together, the information above tells you one thing. If you're dedicated to growing a brand online, you need to be dedicated to Search Engine Optimisation. But that's just scratching the surface.
Social media marketing can spread your SEO optimized content further and increase your chance of earning all-important backlinks. You can also foster links and brand mentions through online public relations. For example, businesses like Hatched Media and Supple Digital have earned press mentions on websites such as Mumbrella thanks to industry award wrap-ups and feature articles. These external Hatched and Supple reviews are not only great for online PR but for off-page SEO optimization too.
If you're still not convinced about the importance of SEO, consider one final point.
At the end of the day, all your marketing efforts are about building credibility and trust in your brand. And when people are looking for products and services they can trust, they go straight to Google. With less than 1% of searchers clicking on results after page one, your brand can't afford to be on page two. And this means your digital marketing can't afford to operate without SEO.
Also Read: Local SEO: How to Optimize for Multiple Locations