10 Things You Should Do In Mobile App Development
Want to develop your mobile app for your business, stuck from where to start?Lack of technical assistance? Here are the things you should practice before making your desired Mobile App.
Put on Research:
Research on some of the apps that are related to your app idea, download and play around them for more knowledge and notice what you can do with your mobile app in comparison to others. The time you spent on researching comes back in tenfold. Around 8000 apps are launched daily, but very few are able to reach the expectations. In order to introduce a new mobile app, you need to consider some vital aspects that are you solving the real problem? Is your app truly making your user's life better? The ground-level research is done in order to create your dream app.
Audience and Platform: 
Audience Awareness is important to target the right audience, even before creating an application. You can develop a good interface that satisfies customers and meet their expectations by knowing your consumers, which helps in improving the performance ratio of the mobile app. One can have their own choices for app store platforms and mobile channels depending on the goals. For wide market share, build android applications, else iOS is the best choice for high-priced users.
Go for Innovative Team:
Without being experienced in technical and graphical skills you need to hire a development team so that various elements can be included in your app.
A software developer is an unquestionable requirement and can ideally be an algorithm breather. A graphic designer, similar to any individual who controls sound and music, is likewise critical. Hire a professional and expert team if your want to get out of the race.
Make it Simpler and Handy:
In case you want that your customer should know about your app instantly, you have to keep your app understandable while designing your app, it will satisfy them to try it. User Interface is the prime component for the development process because no user will accept the problematic product, user-friendly is expected in order to make their lives simpler. The actual design of your application should be transparent and convenient to users.
Make it Customized:
Make it a customized application in order to make it attractive to your consumers. For making your app adaptable one should make choices for a design that ought to be sound yet ought not to confuse the users such a lot that they remember that the essential utilization of the mobile application. Incorporate choices like skin change, shading change, and so on.  Users should have the option to change the shade of the presentation, text styles, and surprisingly the application's security settings.
 Make it an online media flick:
Interface social media stages into your product to make your mobile application fun and reasonable. The benefits: cell phone clients can rapidly suggest/post what their loved ones have done. Instagram, an application for a photograph and video sharing that not just empowers its users with the capacity to sign in by means of Facebook, yet in addition to posts photographs sifted on Instagram on other social destinations, like Twitter, Flickr, Tumblr, and Facebook.
Paid and Non-Paid Versions:
Obviously, you need to profit from your application, so it is as yet a smart plan to give a free version to customers. It is the speediest way for a solid user base to be made. You can either begin the two forms all the while or start the free version before the paid membership starts. A further decision is to import and utilize the application free of charge yet add explicit usefulness to which customers should pay. A few applications are allowed to be utilized infrequently, however they should be charged until they are ordinarily utilized. Most users will burn through cash on the application at this stage since they have contributed a nice arrangement of time seeing the benefits in genuine situations.
Keep Monitoring your App:
Most 80% of smartphone users give up because of glitches, failures, or some other problems. So you are not done after creating and launching your app. Your app shouldn't malfunction and glitches should be cleared as soon as possible. Using application monitoring services frequently makes sure there is no problem with your software.
Be updated on your App:
The innovation scene is constantly moving, and your application should do likewise. There are yet arising developments and patterns, so benefit as much as possible from this in the event that you truly need to drive your application ahead. The successive consideration of new functionality is an incredible method to do this. It supports the contribution of purchasers and produces an application that is ideal at empowering further downloads.
Earn from your App:
Decide the approaches to bring in cash on the application. You should discover choices to pay for your application prior to making a mobile phone application. There are not many choices to get paid per click or pay per view for private promotions inside the accommodation. You should likewise choose whether you can download users or consolidate a buying plan. Beginning applications are accessible free of charge. You should utilize your promotion code in the accommodation, and you can utilize associate advertisements to get it.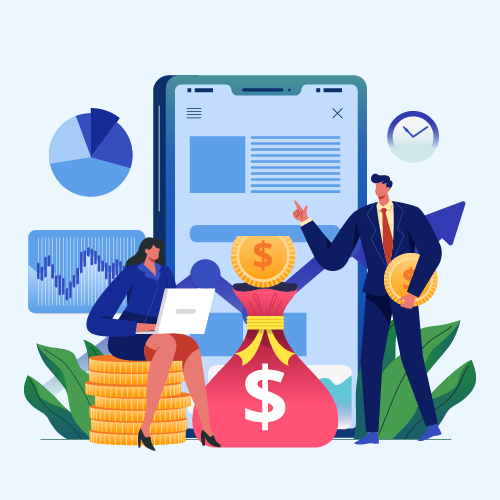 Bio: Hy, I am John Smith working as a mobile app developer at Frantic Infotech, having 2+ years of experience in the respective field with experienced and professional team members. From origin to conveyance and then some, we'll take you there flawlessly and effortlessly.