12 Trends to Consider When Developing eCommerce Store in 2022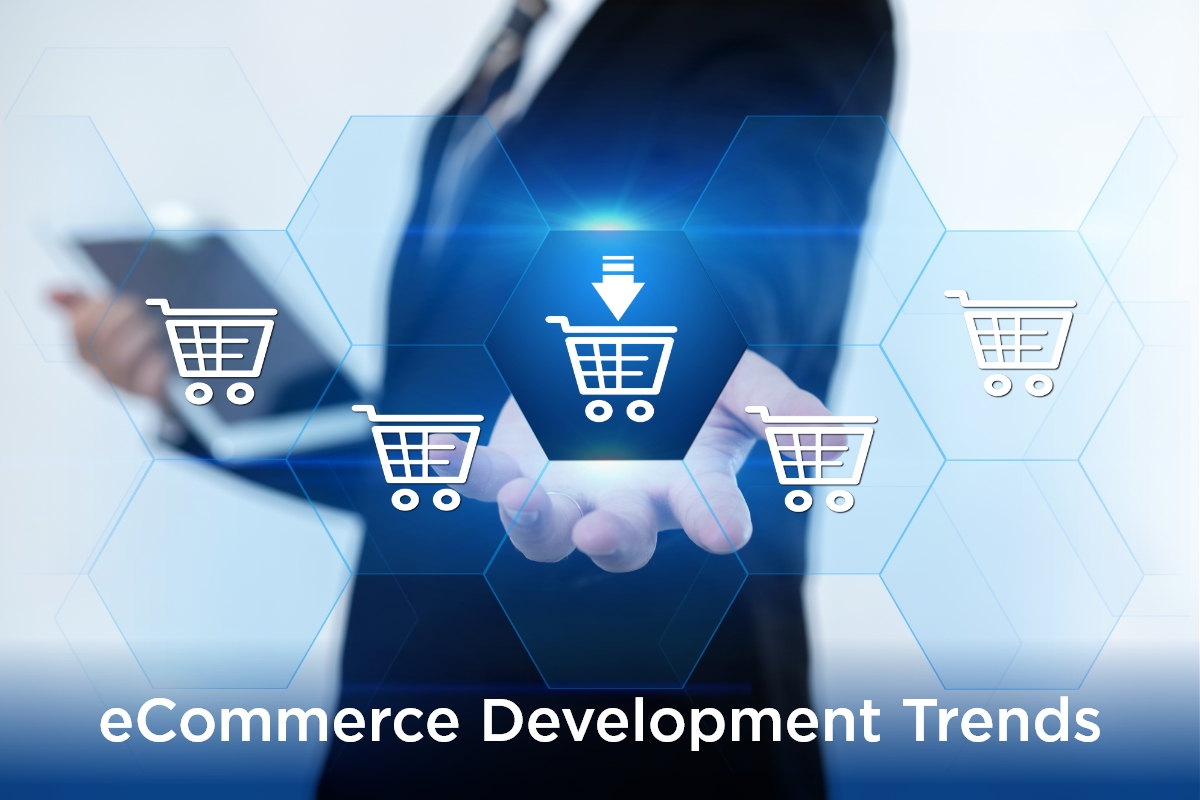 When the world was having a tough time because of COVID-19 and every sector of modern economics was affected, the eCommerce industry got certain benefits. Several businesses that were not aware of the trend were interested in integrating eCommerce and started selling online. With the evolution in technology, they are required to build a strategy that would be beneficial for your business in 2022. 
Whether a new one or an established eCommerce store, every online shop needs to have a powerful strategy including all great functionalities in place. eCommerce has notable significance in businesses, and before getting started with the trends for 2022, we will know its significance. 
Significance of eCommerce in Businesses
As mentioned above, the eCommerce industry has experienced remarkable growth worldwide in recent years. The growth of this industry has enticed many sellers towards selling their products online, and it is enticing more with each passing day. This increased demand for eCommerce development services since it has become a great source of income.
Furthermore, it offers several benefits that include: 
The facility of dealing with consumers 24*7. 

Taking your business to a global level easily. 

It enables you to expand your business to a great level with a low budget. 

Offers an easily accessible medium of transaction. 

It helps provide several different kinds of marketing solutions. 

Helps provide a more customized and convenient shopping experience to consumers. 
Now that we know it is just the right time to get started with the eCommerce business if you are yet to leverage the benefits of this industry. Professional eCommerce web solutions will be of great help! 
Top 12 eCommerce Development Trends for 2022
The popularity of smart speakers is increasing worldwide at a rapid pace, thereby increasing the trend of voice commerce. With the increase in online shopping, smart speakers will soon help you shop for your favorite products online. That said, when considering the development of an online store, you should choose to integrate voice commerce in your website too, and it will further help you fetch increased ROI. 
One of the key eCommerce trends that you cannot afford to miss. People are nowadays more into social media channels these days and this will help you attract more consumers from such platforms. Also, such channels help them grab on the best possible deals. Online ads on social media channels help businesses attract more and more consumers and they easily become aware of the products. There is no denying that social commerce will remain one of the hottest market trends impacting the industry to a great extent. 
Multichannel Customer Support
Whether past, present, or future, customers may want to contact your business at any point in time for assistance. However, each consumer's preferences vary, and some may prefer live chat, whereas others may prefer emails or calls. To provide valuable support in any way, you can take help from live agents who make Amazon connect technology-based interaction with a high level of security. This will ensure well-rounded customer service, improving the customer retention rate.
Most people across the world are today acquainted with AR/VR technologies. AR is Augmented Reality, whereas VR is Virtual Reality. The evolution of such technologies has revolutionized several industries, and they are a boon, especially for this industry. One of the biggest hurdles of viewing clear images of the products is removed with the help of AR/VR, and this will help them decide whether or not the product is suitable for you. 
On the contrary, VR technology helps people connect the real world to the virtual world since it helps them gain a practical experience of the product. It helps online stores provide an in-store experience to enable consumers to make the right decision. 
The trend of omnichannel selling is becoming essential with each passing day since nowadays, online shopping is not limited to a single channel. That said, when shopping online, you can buy products on eBay, Amazon, Facebook, and several other similar online platforms. Hence, it is becoming essential for businesses to leverage the benefits of multichannel selling. 
Artificial Intelligence is a popular trend of the eCommerce industry since it helps in product recommendation. With better algorithms, the technology has risen. The trend was prevalent in the last year and is expected to rise more in the coming years. This technology helps eCommerce businesses make smarter product recommendations and enhance customer experience. 
AI is believed to assist eCommerce businesses with several aspects that include analyzing sales channels, trends, and buyers' behavior. This will further help them ascertain the best price, time and place. Further, it will help boost certain businesses' marketing efforts and sales. 
One of the most significant trends of the eCommerce industry is the use of Progressive Web Apps. Businesses with an online presence are always on the lookout for techniques that would help them enhance the customer experience in online stores. PWA refers to a website that is developed in the form of a mobile app. 
eCommerce businesses can provide enhanced mobile experience to their consumers with the help of cost-effective PWAs, instead of getting a high-cost native app developed. It is one of the robust eCommerce web solutions. 
Chatbots have nowadays become critical for eCommerce businesses since it helps establish a streamlined conversation between users and businesses. To ensure efficiency in operations and customer engagement, adequate customer service is essential. Chatbots enable businesses to provide a customized experience to their consumers, and they are always available to assist your consumers. 
Wallets integrated into online stores are no longer a trend; instead, they are necessary. eWallet is more like an electronic card linked with your app and enables your users to send and receive money easily. Integration of eWallets makes transactions through an eCommerce store easy and convenient. Besides the ease of making payments, eWallets provide several other benefits that include exchange, returns, reward points, easy credits, etc. 
Sustainable is not just a buzzword, but eCommerce businesses must focus on these elements to make the most of this industry. Governments and consumers are now shifting their thoughts on sustainable environmental practices and long-term sustainable thinking. Consumers are ready to pay dollars for robust, sustainable practices, and many businesses prefer the same. When hiring eCommerce development services, ensure that they focus on sustainability. 
More Personalised Marketing and Products
When we talk about personalization, we mean more than just saying "Hello [Firstname]" whenever a new consumer logs in to your website. Consumers are nowadays expecting a seamless omnichannel experience, and it requires personalization. Machine learning enables businesses to provide smart website features and online tracking technologies that further help them provide a highly personalized and customized experience. 
Growth in Mobile Shopping
Consumers are becoming more reliant on digital devices these days, and therefore, there is no denying that mobile shopping will soon become one of the undeniable trends. Keeping that in mind, no online store will ignore the need to have a mobile-optimized website. We live in a mobile dominant world, and the number of mobile users is increasing with each passing day. 
The trend of creating mobile-optimized websites has been here to stay for a long time, and its significance will also be more. 
How Can We Help You? 
With trends changing every year and robust ones evolving, the eCommerce industry is expected to get bigger and better in 2022. As an eCommerce business owner, you can leverage the benefits of these trends in your online store. For eCommerce web solutions, you should always contact experts since they know the recent key trends. 
Hiring an eCommerce development company will help you build a strong foundation for establishing a business. You can choose to hire our experts and embrace our services to meet the ever-changing demands of your consumers and their preferences. 
Wrapping Up
The world of online shopping is reaching new heights since consumers feel more comfortable shopping online. To get a cutting-edge mobile app and website built for your eCommerce store, you should choose to hire an experienced eCommerce development company. They will help you provide an enhanced consumer experience and also maximize your revenue from the retail industry at the same time. 
Author Bio:
Arjun Solanki is a Business Growth Strategist at a Leading Software Development Company USA. He has experience in developing and executing digital strategies for large global brands in a variety of business verticals. Apart from working on a long-lasting relationship with customers and boost business revenue, he is also interested in sharing my knowledge on various technologies and its influence on businesses through effective blog posts and article writing.