4 Ways to use metal as a wall decor piece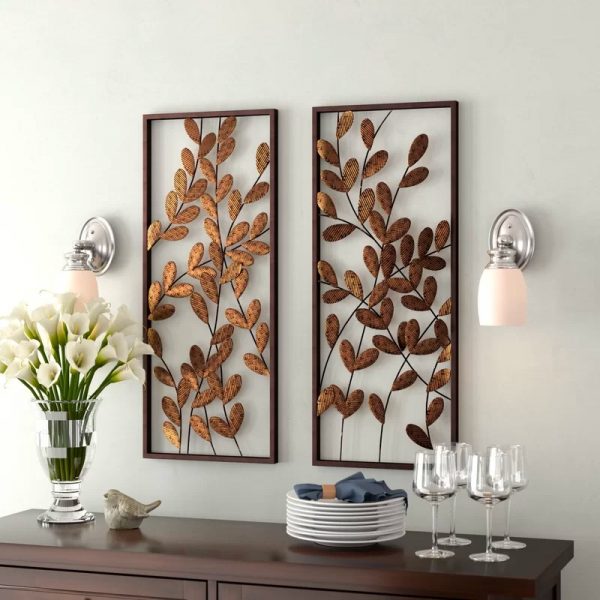 Metal wall art is the most impressive way to decorate your home. Beautifully crafted metal pieces on the walls entirely enhance your house's interiors and make it an attractive place to be in. The art decor is available in different types of metals; aluminum, copper, stainless steel, and carbon steel. You are also offered different shapes like metal in circle, square, rectangle, ring, triangle, angle, and many more. The perk you receive using metal as a decor piece is its high durability and strength, which complements the room in which it has been attached as a decor piece. Installing a piece of art in an incredible way requires carefulness. You should seek professional assistance for this and not go for a DIY as it might have consequences. There are plenty of options for you in metal shapes, sizes, colors, and designs. A massive metal piece can make your house gorgeous in the following ways. Take a glimpse before adding one.
Metal wall art 
Metal wall art can make your visitors fall in love with your interior decor as it gorgeously adorns your wall. You have a variety of structures to choose from; wall art, tapestries, photo frames, clocks, and so on. These incredible art pieces can energize your room's interior and if done well you can attract the attention of people and expect genuine compliments as well. You can also add a beautiful piece of art to the four walls of the room, just make sure not to overdo it.
Kitchen wall art 
The kitchen is also a good place to display some creative metal pieces. These mental pieces can portray a cooking theme or some quotes related to food. Otherwise, add whatever you wish for. You can also upgrade your kitchen cabinets with some attractive metal pieces to enhance your home decor.
Metallic photo frames 
Metallic photo frames are the most versatile metal pieces to add to your wall. Photos could be a portrait, a beautiful destination, your family photo, paintings, and many more. If you are passionate about photography you can get some of your remarkable clicks framed and add them to your wall. A beautiful photo frame in your drawing room adds some light and acts as a focal piece for the people gathering there. Fix it with the right anchors to keep it secured on the wall.
3D Metal wall art 
A geometrical shape, birds, animal, a portrait, or a painting can act as the best piece of 3D wall art. 3D art is the most magnificent piece of all the metal art pieces that can form a positive impression at first glance.
If you love experimenting with your creativity, then there are plenty of decor pieces through which you can transform the entire look of your house. Before doing that consider the following things
Choose the right size 
The metal piece you choose should match the size of the wall. If the piece is too small or large it won't look good on the wall. Wall art should fill adequate space and not leave the wall plain and unattractive. If your wall art is small consider grouping multiple pieces together to create an attractive collage.
Decorate more walls 
Adding a good number of wall art pieces can turn the ambiance positive in the room. When you see something beautiful at a particular place, it becomes hard to forget. These magnificent art pieces can give the same feel to your guests. While, blank walls give empty feels and create n opposite effect on people.
Explore variety 
Using the same kind of decoration in all the rooms can bring the overall look down. A nicely put-up art piece in one room and the second one in the other will reflect the uniqueness of each and attract larger attention. The variety adds a glittery touch to your house and makes it a beautiful place to stay in.
These are some of the ways you can enhance the interior or exterior of your house with metal art pieces. The right metal art pieces set the tone of your home walls. There are unlimited themes you choose for your house. Use your creativity to the optimum and experience the advantages of metal art pieces to the fullest.