5 Best Security Gadgets on the Market
It is almost impossible to guarantee total security for your house. Burglars and the likes are constantly evolving and have undying motivation. However, this does not mean you give up. You see, security is mostly psychological warfare. If you're worried that someone is spying on your iPhone, or trying to compromise your privacy in any way, then these tools are for you.
Having no security apparatus like fences or cameras at your home is an open invitation to thieves. In this article, we show you the 5 best simple and ingenious security gadgets without breaking the banks.
Fake Security Cameras
Yes, you read it right! Fake security cameras are one of the best and cheapest ways to deter thieves. Personally, they are my favorite. Fake security cameras work on the principle of power in numbers. They almost look as if they are real and often scare thieves. You can get a pack of ten or twenty depending on your property size. There are many models on Amazon. Some are fully dummy, while some have features such as power LEDs. They are easy to install and can be done as a fun weekend project. No professional installation or setup required.
Ring Video Doorbell Pro 2
Ring crowns the Doorbell Pro 2 as their best-in-class wired doorbell camera. The device comes with many cutting-edge security features. First is the Video Doorbell Pro 2 enhanced Head-to-Toe HD+ Video. It also features the first of its kind 3D Motion Detection system. Many customers marvel at the built-in Alexa Greetings that answer the door for you while recording events such a package delivery. Children have also wowed the internet with passionate messages they leave for their parents. This is because the camera can instantly alert you on your phone when someone approaches it.
Wired Home Security Camera
Investing in a professional-grade surveillance system is a great insurance policy. Having the ability to record burglars in action is key for tracing them later. Different cameras have different features ranging from simple to advanced. We recommend purchasing wired home security cameras with motion sensing, sound recording, and night vision. These might be a bit pricey, however, they give you a 360-degree surveillance system. There are also simple cameras that do daylight recording. These are often relatively cheap and get the work done, however, you might miss out on important information, such as sounds and conversations. There are also wireless outdoor security cameras that can be used professionally. Check out this coverage by PCMAG for some great recommendations.
Motion Sensor Smart Lights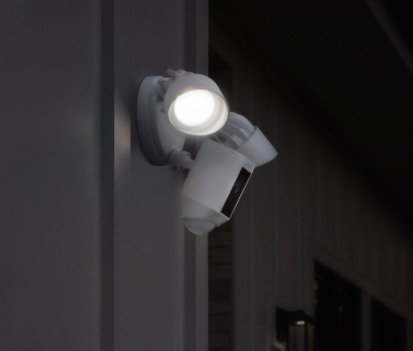 Lighting is very important when it comes to security. If you are planning to run simple cameras without night vision, good lighting is a must! These two systems work in tandem. On their own, lights are very important for scaring away thieves. First, they indicate human presence. Secondly, modern smart LED security lights have many built-in security features. Motion sensing is the most common. Thieves do not like surprises and nothing surprises them other than a light they didn't anticipate. Some lights have configurable blinking patterns to scare or alert you of events. This means your security system works on your behalf and your home as well as yourself remain safe.
Remote Security Cameras
Thieves get smarter by the day. Most are aware of doorbells as well as wired-in security cameras. What many do not expect is a remotely installed wireless camera. Remote security cameras are often robust and feature-packed. Nearly all like the new Blink XT have IP weather- and dust-resistance ratings, to guarantee longevity in the elements. Other features include motion sensor activated or 24/7 recording, smoke alarms, and CO2 alerts, and many more. Remote Security cameras are great for rural or urban properties. They can also be monitored online via apps allowing you to react quickly to any incident. According to THE VERGE, this new camera is making quite a name for itself.
Conclusion
Whether you are looking for something simple or advanced, there are a ton of great new home security gadgets out there. Most are easy to use and maintain while making your home a safer place to be.