5 Common Recruitment Mistakes: How to Avoid Them for a Flawless Hiring Process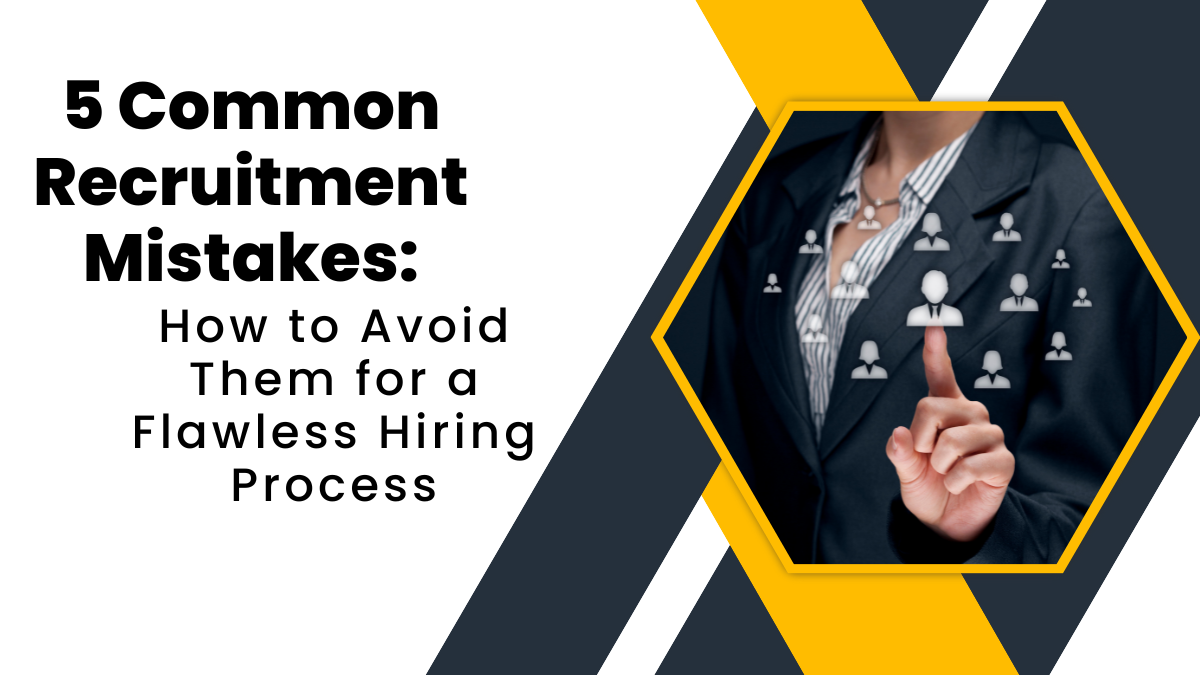 The process of hiring new workers is challenging. It involves going through several steps. It's common for hiring managers and recruiters to be under a lot of pressure during this process. They must ensure that they fill vacant positions to avoid workflow delays.
Companies need to know how to identify recruitment mistakes. They also must be familiar with recruitment tracking tools like multiposting and how to effectively use them. It will ensure a flawless hiring process.
Using a Multiposting Tool for a Seamless Recruitment Process
Multiposting tools let users post to different networking sites at the same time. Anyone who shares information on these networks can save time with this app. A multiposting tool allows companies to write and share one post on many sites. Using a multiposting tool for hire can have several benefits.
Broader Reach: A multiposting tool can distribute your job openings to many online resources. You'll be able to

reach more potential candidates

. And you can fill more positions with this method.
Save Recruitment Time: Posting job openings on websites and social media networks can take time. Multiposting software reduces recruitment time as it automates this process.
Cost-effective: Posting job openings on different websites and social media outlets could cost a lot. Using an applicant tracking system UK to post job openings can save you money on recruitment advertising.
Quality Consistency: Companies must ensure they provide quality job postings to be noticed. A job distribution software like a

multiposting tool

lets you post opened jobs on all relevant job boards and channels. This way, all applicants get the same message about what the job requires.
Easy Management: A job posting tool makes it easier to post jobs on more than one site. You can see how people are responding to your job ads. It is also easier to make any changes you need.
Accurate Data Analysis: Companies can learn much about the performance of their job ads. This information can help a company hire the right people. It lets you focus on the most effective networks to post and improve job ads.
5 Most Common Recruitment Mistakes
The hiring process is complex. For some, it will take time for a company to find qualified people to fill open jobs. Managers and the hiring team should know how to do things right. Here are the top five mistakes to avoid when hiring people:
Rushing the Hiring Process: Managers should not be in a hurry to fill open jobs. Rushing might hire the wrong person for the job. Or no missed opportunities of hiring the best candidates.
Focusing Only on Technical Skills: Assessments of new hires are essential. When hiring people, look at more than how well they can do their jobs. When hiring, it's easy to lose sight of the big picture. They end up putting technical skills ahead of interpersonal abilities. They should also consider the cultural fit and room for growth.
Neglecting Company Branding: A company's brand is how people think of the business. Finding the best employees is easier if you take into account company branding. Branding is crucial to ensuring the right people apply for the job opening.
Not Considering Diversity and Inclusion: Consider hiring people from different backgrounds. And this can lead to more creativity at work. And in turn, you make better decisions for the company. Diversity and inclusion are necessary and can lead to hiring the right people.
Not Providing Recruitment Feedback: Candidates put in work when they fill out applications. So they should get answers about why you hired them or not. Recruitment feedback could help the image of your business. It can make it harder to hire the best candidates in the future.
Avoid Recruitment Mistakes for a Flawless Hiring Process with Multiposting Tool
Avoiding common recruitment mistakes can help a business. Business managers and recruitment staff can improve the hiring process using smart recruitment services. It gives me peace of mind knowing that they are hiring the best candidates. Here are some things to remember to make sure that your hiring process is seamless:
Be Clear with Job Requirements: A clear idea of the job requirements is essential. You must know the skills, experience, and personality traits required for a job. It will help you find suitable applicants and avoid hiring mistakes.
Establish a Screening Methods: Determine your goal standards for the interview process. You should set a screening method for reviewing applications. Avoid making hiring processes depend on age, gender, or ethnicity.
Learn How To Use Behavioral Interviews: Behavioral interviewing can help foresee how an applicant will be in the future. The process involves asking candidates how they handled real-world situations. These questions must be all related to the job they are applying for.
Conduct Background Checks: Verifying a candidate's work experience, education, and lack of a criminal record is a must. Checking references and conducting background checks can help the hiring process. This way, you can reduce the risk of hiring someone with a questionable past.
Provide a Positive Hiring Experience: Talent attraction is a must for a business. Yet it requires establishing a clear and transparent employment procedure. You must learn how to respond to candidates. And treat everyone fairly and with respect.
Hire People Using Multiposting Tools for These Reasons
Finding the best candidate for the job is easier using multiposting tools. And hiring only the best and most-qualified individuals is crucial. It brings many benefits to the company, including:
Boost Productivity: The right employees to hire are productive and motivated. And this will help a business grow since they'll be better at their jobs.
Reduce Employee Turnover: Hiring only the right workers through job application tracking reduces staff turnover. If the employees fit the role, they are more likely to stay.
Encourage Teamwork and Collaboration: Employees who work well with others can collaborate. And this can lead to positive results for your organization.
Increased Company Profitability: Profits can increase if your employees are the right people for the job. A skilled and motivated team helps your business reach its goals.
Conclusion
For a business to grow, hiring the right people using job applicant tracking is crucial. And to find the best out there, use every bit of help you can get. You can improve your recruitment strategy by using a multiposting tool. It will help you reach more people with your job postings. It saves you time and advertising money. In return, it lets you handle your recruitment tasks from one platform.