5 Reasons Why Your Instagram Followers Are Decreasing Gradually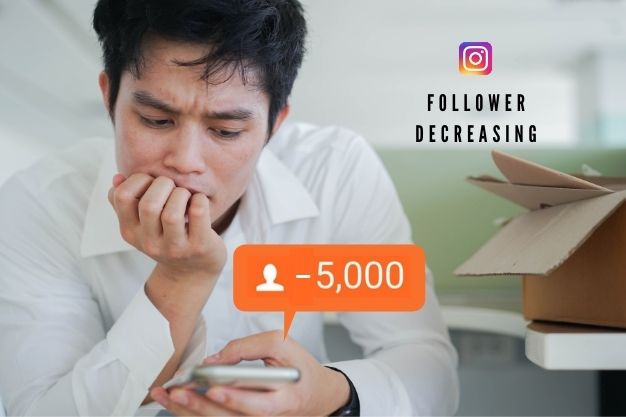 Being an Instagram influencer is a trending career option for many millennials. As a social media influencer myself, I understand how troubling it must be when you suddenly lose your Instagram followers. But is it random, or is there any specific reason behind it? We will give you all the possible answers to this in today's article.
But, before that, let me tell you, you are not alone in this journey. I have talked to many people who faced the same problem. Even some of my friends lost thousands of followers overnight, and it crushed them completely? So, let's not lose your hope because we will give you the solutions to increase your Instagram followers once again in this article.
Why Are My Instagram Followers Decreasing?
Firstly, let me tell you that you will lose some, and you will gain some in this social media marketing world. As a social media expert myself, I can assure you that losing Instagram followers will continue for many coming years. So, stop overstressing, and look at these few possible reasons that may cause losing your Instagram followers.
1: Too Much Promotion Is Not Good
If you treat Instagram as your billboard, you are making a huge mistake. If you constantly try to sell your products to your audience, it will frustrate them. Will You ever follow someone who always promotes their products? No, right?
Then, apply the same logic for yourself also. Make creative and engaging content to interact with your customers. They must not think that you are talking to them just for the sake of selling something. Instead, just pitch for some products in between your actual content, and that will sustain your followers.
How To Fix It?
Since Instagram is a social media platform, you also have to be more social to gain followers. So focus on creating engaging content 80% of the time, and you will automatically get back 20% of the return.
Read More: How To Use Instagram Reels To Promote Your Brands
2: Don't Post The Same Content Over, And Over Again
We can advise you to be consistent with your posts, but that doesn't mean you will post the same content over and over again. If people find repetitive images on your feed, they will unfollow you in no time. They will get bored if they come across the same photos, and you don't want to bore them, do you?
In some situations, you may feel that you have to post an image repeatedly to raise awareness. But, in that case, you must mention the cause of posting the same thing over and over again. Otherwise, people will simply lose interest in you.
How To Fix It?
You have to mix up your content. You can post your workspace scenario, behind-the-scenes, lifestyle shots, product unboxing, and your images from time to time to spice up your Insta feed.
Also Read: 7 Ways To Increase Your Instagram Likes
3: Some People Will Always Unfollow You
Yes, as simple as it sounds, some people will always unfollow you, and that's one of the reasons behind losing Instagram followers. Some people simply want to get your attention, and that's why they follow you and unfollow you repeatedly.
You can be sure that these people have no interest in your content. Instagram is trying to find these people and limiting their follower count to don't irritate you anymore. Unfortunately, you can't really do anything about it because it is human nature to be so fickle.
How To Fix It?
When you use more generic hashtags, it becomes easy for people to find you and follow you. But, when you follow them back, they unfollow you because their purpose of gaining followers is accomplished. So, you must up your hashtag game to fix this issue.
4: Your Posting Schedule Is Inconsistent
No matter how many times I repeat this, some people still don't understand the importance of consistent posting. When you don't stop for a few days, people lose interest in you. You forget that it's an image-based platform, so you have to post at least once a day to retain your followers.
It's just like any other duty in your daily schedule. If you don't eat one day or sleep one night, won't it impact your health? The same thing happens when you don't post on Instagram at least once a day. People lose interest in you, and you lose your Instagram followers.
How To Fix It?
You can create an Instagram calendar to make sure you remember to post every day. Then, if you become consistent with your posting schedule, you won't lose any more followers.
5: Instagram Deletes Fake Accounts
If your follower base has a significant list of fake/ghost accounts, you will lose many Instagram followers. For example, suppose someone who follows you has not posted in a long time. Now, Instagram will think that account has been ghosted so that the authority people will delete it.
You might get disappointed with the losing follower count, but it is a good initiative. Those ghost accounts wouldn't have increased your engagement quotient, so it's better to steer clear of them.
How To Fix It?
If Instagram authority deletes fake accounts, you can't do anything about it. So, stop stressing, and focus on creating more content.
Conclusion
I know that the social media marketing world is thriving, and everyone wants to make the most of it. That's why people get stressed when they start losing Instagram followers. We have given you some probable reasons why your Insta followers are decreasing, and we have provided you some solutions for them accordingly. So, apply these quick fixes, and be the Instagram Influencer you always wanted to be.
Author Bio
Ronald Johnson is a passionate blogger with years of experience in the marketing field. He loves to show his creativity through his writings and inspire people at the same time. Besides, he is also a freelance content writer at Global Business Diary & Small Business Journals