5 Things to Know Before you Apply for a BAMS Program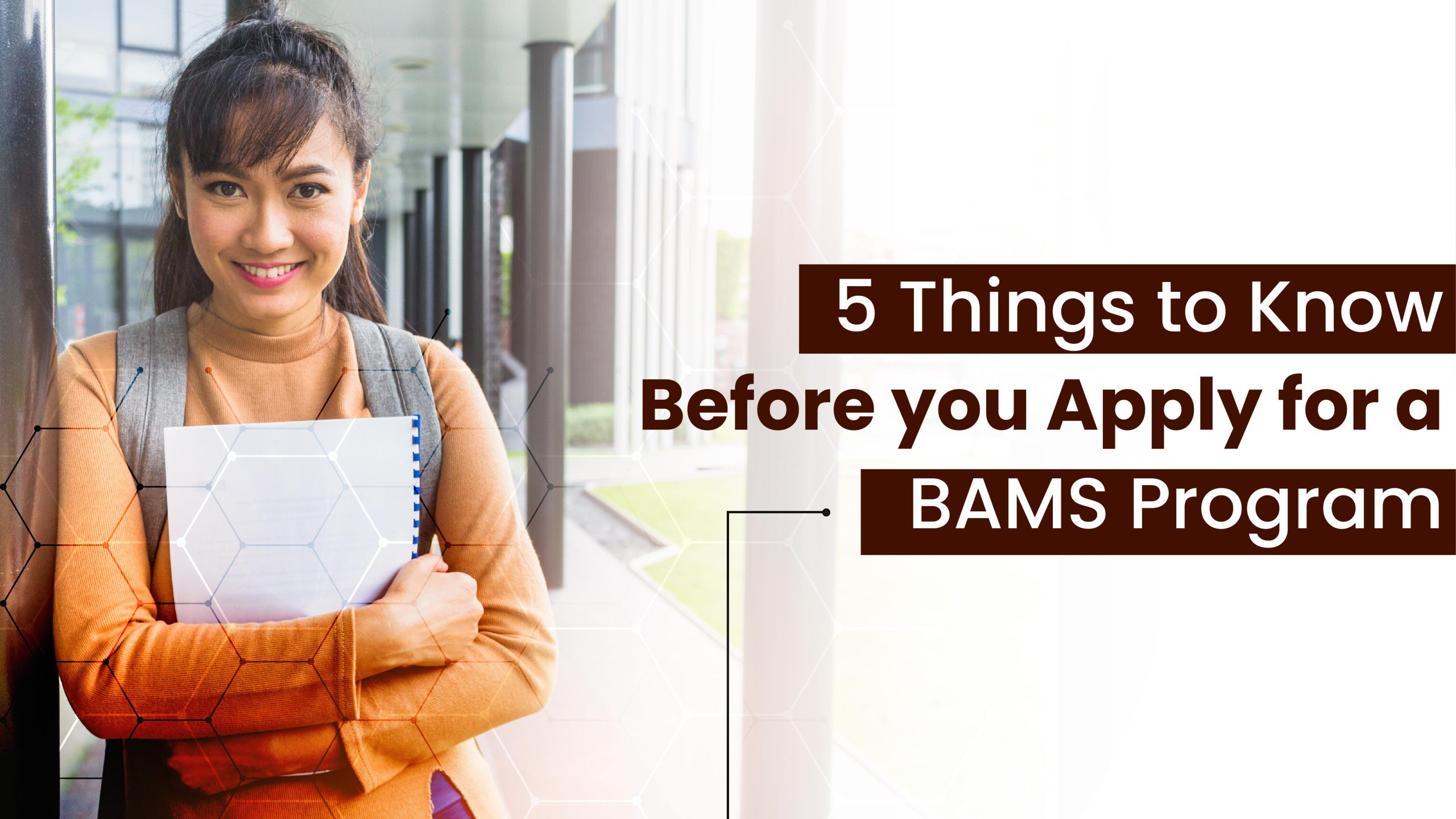 There has been a lot of talk about the benefits of living a lifestyle according to the principles of ayurveda lately. As people around the world dealt with failing health and a disease conventional medicine could only wait out and not heal when COVID went on a rampage, they were reminded of the advantages of a holistic approach to health and wellbeing.
As the popularity of traditional systems of medicine soared again, the Indian government too took a bet on promoting our traditional system of medicine that is Ayurveda. To that effect, it has created the AYUSH (Ayurveda, Yoga and Naturopathy, Unani, Siddha, and Homeopathy) Ministry to regulate the practice of these traditional systems of medicine in the country.
As such, many educational institutions in our country have introduced higher education courses in Ayurvedic medicine in our country. Now that Ayurveda as a career choice has been proven to the public, many students nowadays choose to study in a BAMS college in Madhya Pradesh, for example, rather than slugging it out with the rest of MBBS aspirants where the competition is much higher. This blog talks about 5 things you need to know before applying for a BAMS course, so if you've been wondering if this course is a viable option for your graduation, read on to know more.
BAMS Course Details
The first thing you must know before applying for a BAMS degree is that BAMS stands for Bachelor of Ayurvedic Medicine and Surgery. This undergraduate course was launched by the Ministry of AYUSH so that there could be due process to certify qualified doctors of ayurveda and separate them from the quacks that abound in our country. Students enrolled in a BAMS program get to learn about the fundamentals of ayurvedic medicine and philosophy, enabling them to handle a wide variety of cases.
This course lasts for a total of 5 years and 6 months and is taken in the professional course model in ayurvedic college in Bhopal and the rest of India. This includes 3 professionals lasting one year each, with the final professional taking 18 months. There is also a compulsory rotatory internship of 12 months that all students have to complete to get their BAMS degree, which helps them get hands-on experience in treating patients.
Eligibility Criteria to get into a BAMS Program
The next obvious thing you need to know is what makes you eligible to apply for a BAMS course. The CCIM (Central Council of Indian Medicine) determines the eligibility criteria for both undergraduate and postgraduate levels in India. The eligibility criteria for admission to a BAMS course in a college like Sri Sai Institute of Ayurvedic Research and Medicine include the following:
You must have passed your 10+2 with a minimum of 50% marks from a recognized board or university with the PCB (Physics, Chemistry, Maths) subject combination, or have a government-recognized diploma with the above subjects (relaxation for persons belonging to the reserved categories will be as per state government norms)
You will have to sit for and fulfil all the eligibility norms of the NEET (National Eligibility cum Entrance Test)
You will have to be at least 17 years of age and below 25 years of age as of 31st December of the same year you are seeking admission in.
Subjects and Syllabus in a BAMS Program
The BAMS syllabus as mandated by the Ayush Ministry is divided into four parts based on the four professionals in the course. The typical subjects taught in a private BAMS college in MP will look something like this:
| | | | |
| --- | --- | --- | --- |
| First Professional | Second Professional | Third Professional | Fourth Professional |
| Anumanapariksha | Sanskrit | Preventive Geriatrics | Physiotherapy |
| Ayurveda Nirupana | Vyadhi Vigyan | Epidemiology | Snehana |
| Pratyaksha Pariksha | Basic Pathology | Ritucharya | Nirjantukarana |
| Dravya Vigyan Niyam | Prabhava | Garbha Vigyana | Marma |
| Samavaya Vigyanam | Diseases of Rasa Vaha Srotas | Pancha Kosha Theory | Kshara and Kshara Karma |
| Hematology | Mishraka Gana | Janapadodhwamsa | Virechana Karma |
Specializations in a BAMS Course
Another thing that you need to know is the various specializations in an ayurvedic medicine program which you can take advantage of while studying in a BAMS course. The main advantage of these specializations is twofold – you can choose something that you are interested in and also earn more by being a specialist in a particular field.
Let us check out some of the most common specializations that you can avail yourself of in a BAMS college in Madhya Pradesh.
Agad Tantra (Medical Jurisprudence & Toxicology)
Kayachikitsa (Internal Medicine)
Bala Roga (Pediatrics)
Rasayana & Vajikarana (Geriatrics and Aphrodisiacs)
Prasuti Stri Roga (Gynaecology & Obstetrics)
Panchakarma (Penta Bio-Purification Methods)
Sharira Kriya (Physiology)
Shalakya Tantra (ENT & Ophthalmology)
Shalya Tantra (Surgery)
Rasa Shastra & Bhaishajya Kalpana (Iatro-Chemistry)
Sharira Rachana (Anatomy)
Roga & Vikriti Vijnana (Clinical Medicine & Pathology)
Dravya Guna (Materia Medica & Pharmacology)
Swasthya Vritta (Preventive & Social Medicine)
Career Scope with a BAMS Degree
Finally, before you apply for a BAMS program, you need to have a clear idea of what your future and career might look like with a BAMS degree. A graduate with a BAMS degree, on top of being able to practice medicine as a doctor, can also find employment in various other industries such as pharmaceuticals, cosmetics, f&b manufacturing, nutritional supplements, education, hospital management, wellness tourism, and many more.
A graduate from a BAMS college in Bhopal may also study further and get an MD (Doctor of Medicine) or MS (Master of Surgery) degree to increase their knowledge and career scope. There are Ph.D. degrees in Ayurveda too for those who want to go the extra step into research.
Here are some common jobs and their expected salary range to give you an idea of what awaits you after BAMS.
| | |
| --- | --- |
| Job Profile | Average Annual Salary (INR) |
| Ayurvedic Physician | 3.5 lakhs |
| Medical Officer | 5 lakhs |
| Pharmacist | 2.3 lakhs |
| Sales Representative | 3 lakhs |
Conclusion
We hope that our selection of the 5 most important things to know before applying for a BAMS degree has been of use to you. We hope that it has brought you clarity in deciding whether the BAMS course is right for you. All things considered, it is a pretty exciting course in alternative medicine right from the heart of ancient India and we are proud that it is on par with other courses in medicine in our country.
FAQs
Is a BAMS degree more expensive than an MBBS degree?
No. The average course fee for a BAMS degree falls between INR 25,000 – INR 3,00,000 making it less expensive than many MBBS courses.
Are there other entrance exams based on which ayurvedic colleges take admission to BAMS courses?
Yes. Other than NEET, which is national-level and most widely accepted, there are other entrance exams like OJEE, KEAM, etc based on which ayurvedic colleges take admission to BAMS courses.
Is there a fee for applying for NEET?
Yes. General category applicants need to pay INR 1,500 while candidates belonging to the reserved categories need to pay INR 800 to apply for NEET.
Is the BAMS course very hard?
No. The BAMS course is not very hard at all. It gets a bad reputation from people who are too lazy to study Sanskrit. Once you get to understand Sanskrit, in which many ayurvedic concepts are written, the course will seem pretty easy.