6 Different Ways To Secure Your Workplace
Running a successful business depends on several factors essential to all parties' general safety and safety. You can't underestimate the importance of a clean and safe working environment.
That's because the level of productivity of your employees depends partly on the state of their minds and bodies.
Good employers know that a tidy and safe work environment is the foundation of productive, motivated employees. Additionally, a comprehensive safety program can reduce workplace injury, theft, and damage.
Whether you're running a small business or managing a personal home office, it's your responsibility to secure your workplace. The following are six ways you can achieve this goal.
1. Identifying Potential Risks
You must constantly evaluate your business and identify potential risks. It would help if you thought about the most significant risks your team or business faces daily. Doing this will educate you on what safety measures you need to take. For example, most tech firms face the fear of having their business intellectual property stolen.
CCTV systems, monitoring tools, and safety practices can be an expensive and lengthy process. As a result, it may be an unnecessary expense for you if your business does not require that.
Think about the direct risks specific to your industry. Invest in safety systems you believe will improve safety only after considering your plan and the safety risks involved. You can get an Access Control Security Technician and have him give you expert advice on what security measures are needed in your workplace.
2. Put In Place A Security System
The cost of comprehensive security systems is no longer that expensive. The market now offers a broader range of options from multiple suppliers. As a result, it is much easier and cheaper for your business to purchase CCTV or other video surveillance systems.
It would also help if you deliberately informed the general public about your security system after it had been installed. You can do this by not concealing the CCTV and putting up signs stating its presence on the premises.
Those who intend to rob your business will have access to this information or notice the CCTV. This will reduce the chances of them targeting your business. At every point of entry and exit, be sure to display the appropriate security and safety signs.
3. Train Your Employees
Every employee should be knowledgeable about your business's safety and security procedures to comply with regulations. A more critical aspect of safety is integrating it into work culture as opposed to just following regulations.
Encourage your workers to share safety tips and discuss health and safety concerns with them regularly. Try to get your workers to report suspicious activities, and have good overall health and safety practices. There are also online safety courses that you can let your employees undergo to properly educate them.
Finally, be sure to take advantage of your employee's knowledge as they may have a better understanding of the hazards they face every day. Involve them in the decision-making process by accepting their input and feedback.
4. Maintain A Clean Workplace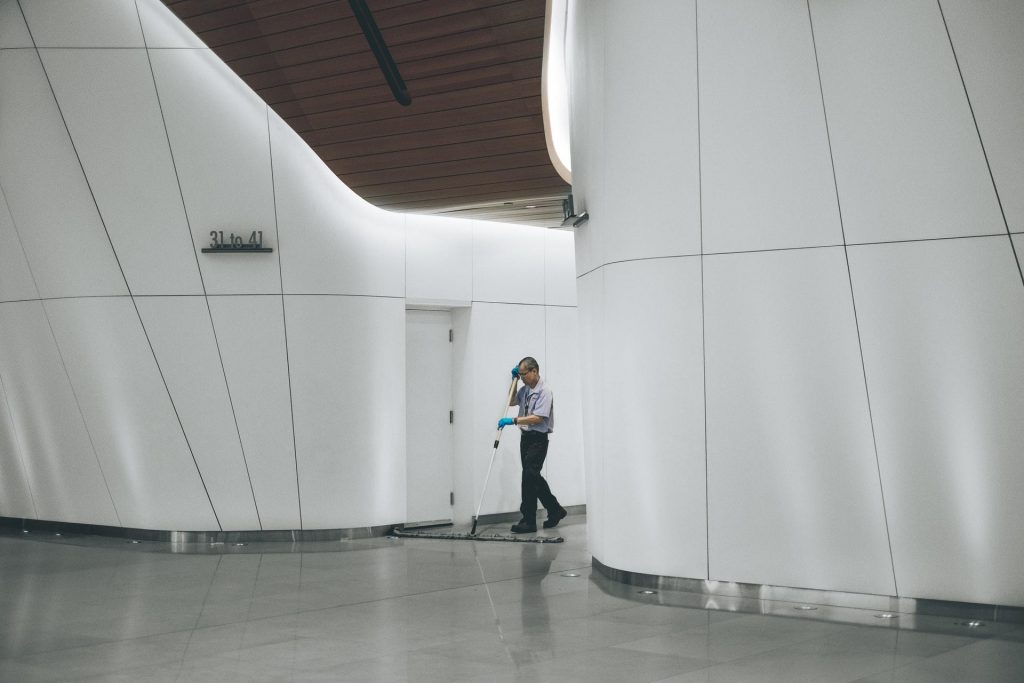 You can enhance your employee's health and well-being by keeping a clean working environment. Many businesses fail to comply with basic neatness and safety measures even though it is the obvious thing to do.
An organization that efficiently disposes of waste and cleans surfaces regularly is also more productive. This is because employees are seldom sick and so they take fewer sick leaves. Keeping your workspace neat can reduce specific hazards as well as keep your workplace looking good.
In addition, maintaining good standards of cleanliness in the workplace will allow your business to save on cleaning costs and renovations, which can be incurred if you fail to keep your facility correctly.
5. Routinely Review All Exits & Entry Points
Intruders commonly gain access through essential entry points like doors and windows. Monitor these points as regularly as possible. Try and spot any weaknesses in your security, such as unsecured entry points, open reception areas, and others.
Think like a third party. Ask yourself how you would break into your workplace. Find out the easiest spots you would use to gain entry if you were a burglar.
It is also a good idea to have an exit in case of any emergency. This exit provides a safe escape from a building or area during an emergency, such as fire outbreaks. Emergency exits should be easy to access, unobstructed and unmovable.
There is a great deal of value in having emergency exit routes in a building since they also enable relief workers to give workers the help they need during high-risk situations. Firefighters or police officers may use emergency exits to enter a building during emergencies.
6. Take Online Risks Seriously
Despite having a physical office, most businesses today also operate online. There are always more online risks than you realize, even if you work in an office. Information such as account numbers, payroll, and valuable business data is vulnerable to attacks.
In addition to your business suffering from a cyberattack, you may also expose your employees' personal and financial information. You should hire a cybersecurity expert or someone tech-savvy within your business to safeguard your website from any online threats.
Takeaways
There are a variety of ways to safeguard your workplace as well as your employees. However, your business may require a customized system. Hence, identifying potential risks facing your workplace should always come before you select and implement a security system.
Author's bio-
Jessica is a full-time content marketing specialist and a passionate writer who loves to write about creating an aesthetic and ambient living environment for everyone. She focuses on sharing ideas and techniques learned from his experience in a concise manner so that it can be used by everyone to make their surroundings beautiful to live in. Currently, She's working with Paragon Locksmith Services.