7 Reasons to Settle in Grenada
I am glad that you hopped into this article, where I have listed seven reasons that would make you take your bags and move to Grenada. This is a beautiful island country located in the Caribbean Sea, and it houses spectacular beaches along with a sprawling nature.
If you get a Grenada passport, you would have access to visit 141 countries without a visa, including the United Kingdom and European Union. This will be the ideal destination for a second passport if you are an avid traveler and eager to travel visa-free to many countries.
Only a few countries around North America have this special passport that allows you to travel to more than 100 countries, and one of those is Grenada. This destination has much more to offer, and it would be a great choice to move here.
7 Reasons to Settle in Grenada for a Second Passport
Grenada has forty plus white sand beaches which give a stunning view, such as the Aquarium Beach, Magazine Beach, and Pink Gin Beach. Also, you would see some ficus shade, mango, and almond trees along the beaches where you can sit around and have a great time.
The gorgeous coastline in Grenada is not only beautiful, but it would give you an evergreen thought to apply for Grenada citizenship. The peak holiday season here is in mid-February, where you can expect a noticeable crowd among the tourists and local Grenadians.
Grenada People are Very Warm and Friendly
Grenada is a unique destination that many travelers haven't explored, and even many big-shot nomads wouldn't have saved this location to their bucket list. Now, talking about the people here, it is a very friendly and welcoming community for immigrants who can feel at home.
There are some tremendous immigrant stories where many people have come here to visit as a tourist and opened shops to settle here permanently. The hospitality you receive from fellow citizens is really heartwarming where even an introvert would love to mingle with the crowd.
The Local Cuisine is Very Authentic
The restaurants in Grenada have a very authentic cuisine where you can try some delicious food like cocoa balls, callaloo soup, and crab back. The foods on the menu in some restaurants might be unheard of, but I would still recommend you give them a try.
You can enjoy the wide variety of roadside eateries and free dining where the food is of the utmost quality. Some of the best restaurants in Grenada that you can try are Carib Sushi, Bella Milano, The Beach Club at Calabash, and Bogles Round House, which serves some great dishes.
The Properties Have a Splendid View
Most of the properties here in Grenada have a gorgeous view which would be the ideal reason for you to apply for Grenada citizenship. Also, there would be many houses for sale in Grenada which you can find from the property websites to rent or buy a new home.
Before you come here, make sure you know about the Grenada travel restrictions because they might impact your travel plans. The properties here are pretty expensive, but still, I would say it is a good investment as the property prices are scaling up due to its high tourist arrivals.
Grenada ranks 28 with a safety index score of 82.1, proving this destination is perfectly safe for immigrants and tourists. Tourism in Grenada is safer than many rival tourist destinations around North America like the Bahamas, United States, Mexico, Jamaica, and Costa Rica.
As mentioned before, people in Grenada are very friendly and warm, and if ever you need any help, they can help you out. Also, the crime rate is very low here, and tourists can feel very safe even venturing out late at night with friends and family.
 Investments in Land Are Worthy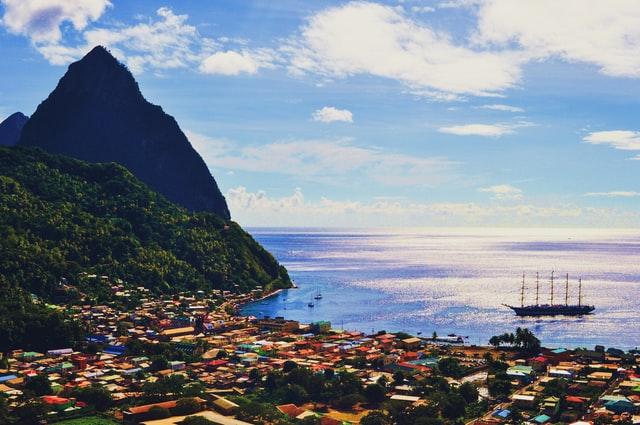 For a foreigner, buying land in Grenada is pretty straightforward, and the whole process can be done in a reasonable amount of time. First, you need to apply to the Government of Grenada to get a license under the Alien's Land Holding ordinance.
After getting the license, you need to do documentation like bank references and police clearance. For the total value of the land, there's a 10% fee and a land transfer tax of 10-15%, and also there's a thing called stamp duty which you need to pay before purchasing the land. 
One of the biggest challenges you would face in purchasing land is finding the "For Sale" signs that would seem like seeing a blue moon. Grenada Industrial Development Corporation processes all the investments that are coming into the country from foreigners. 
There are some great events, music, and literature in Grenada where you can have some peaceful time and some moments to cherish. You rarely get bored here with the amount of entertainment you get to spend quality time with your friends and family.
A wide variety of events like the Parang Festival, boat launchings, carnival, and traditional African dance are there to make you feel refreshed. There exists some culinary culture where you get a chance to try different foods to give your taste buds an unforgettable treat.
The local culture here is pretty exciting, and it doesn't cost you anything to experience something new in your life. Many travelers around the globe would love to know more about new cultures, which gives them a unique perspective about how beautiful life is.
Final Thoughts
As you read from above, I hope you would have great reasons to move to Grenada, whether solo or with your family or friends is up to you. But, when you come here, you can feel your presence in this place, like getting a new purpose to enjoy your life and have a good time.
If getting a second passport is in your mind, then make sure to have Grenada on your list, as it is pretty much straightforward to apply and get it. Not only for the reasons I have mentioned above, but this destination has much more to offer which you can experience when you get there.