B2B Ecommerce Trends: Characteristics for Growth
According to Statista, B2B eCommerce sales will accelerate and reach to $1.2 trillion by 2021. However, online sales have fueled competition in the B2B eCommerce world.
B2B companies that were previously operating from brick-and-mortar stores after the breakout of pandemic shifted to digital platforms to run their business in times of crisis.
Bedford industries, a popular B2B business that produces medical supplies and other staple products. After the pandemic broke out , the company saw a sudden increase in demand for medical supplies. Since, they used traditional methods of B2B, only existing customers were able to purchase from them.
To expand their consumer base and increase sales conversion rate, they launched their brick-and-mortar B2B business on eCommerce platform. This decision brought great fortune to them.
Therefore it's essential to expand your B2B business and take it on the digital platform. However, taking your business on an eCommerce platform isn't enough. To thrive and capitalize on it, you need to keep with latest B2B practices and trends.
B2B consumers expect a lot more than B2C. Since they are not leisure shoppers they want everything highly professional and seamless. Fulfilling expectations of consumers must be your top priority in order to thrive and stand out in this cut-throat competitive B2B eCommerce market.
So let's check out the B2B eCommerce Trends which you need to follow in 2021 to strive and grow your B2B eCommerce business.
Trend # 1 : Self-service facility
One trend that has been ruling B2B eCommerce since the beginning is self-service. It means your consumers must be able to conduct research, able to find relevant information and purchase products without even taking any assistance from sales representatives or wait for them to respond to their queries.
The ability to self service is beneficial for both, the consumer and the company. For consumers it's a pretty convenient and fast-pace process while it frees up your staff from spending hours assisting customers.
However, building a full self-service business model is a challenging task. For this purpose your B2B site must provide every information in a crystal clear way. From researching to transaction, every process must be easy and simple.
Trend # 2 : Using Omnichannel Marketing
Consumers these days switch between channels and devices before making a purchase.
They start their purchasing journey by browsing products/services on Google via mobile phone. Then they switch channels and move to social media communities to look out for social proofs. If they get satisfied, they come back to the digital store. Add items into the cart and switch devices and complete the process via laptop.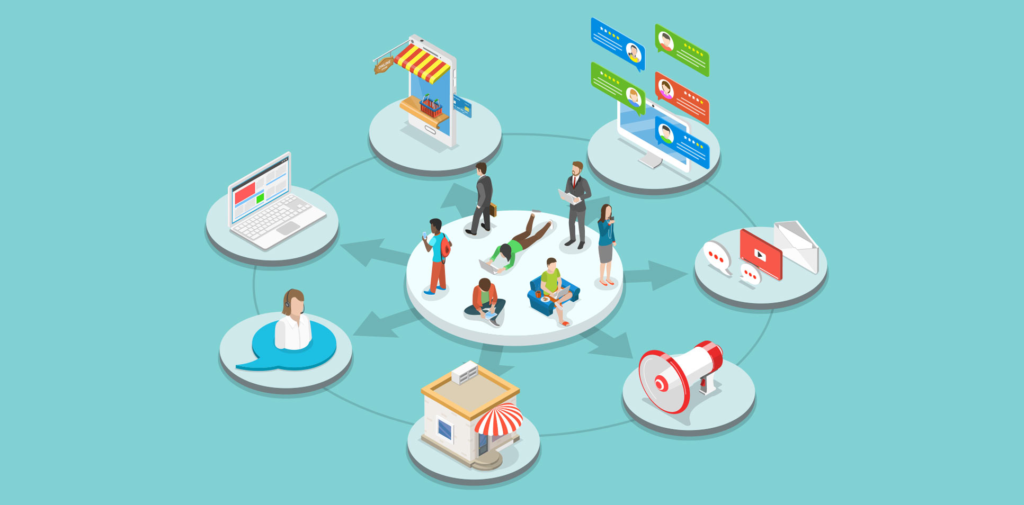 And can you guess what they expect? They do all of this without starting the process from beginning when they switch channels or devices. This is only possible if you apply omnichannel marketing strategy and develop your B2B eCommerce business.
Customers want the same kind of experience on every channel and device they're using to communicate with you. The real challenge is to deliver the same seamless experience to customers across all the channels and devices.
Trend # 3 : Personalized customer experience
Offering personalized customer experience to B2B buyers is beneficial as well as challenging. To offer a complete personalized B2B experience to your customers you need to first comprehend the needs and demands of your buyers.
Delivering personalized experience can facilitate in creating better shopping experience for buyers through using right marketing strategies, useful on-site content etc.
Buyers these days now prefer to shop from those brands who offer personalized shopping experience.
Nike, one of the most popular sports brands, isn't a B2B brand but offers a full personalized experience to its customers. If you access their website from two different countries, you'll find the content of the website personalized according to the country.
From visual content to text, everything you'll see on their site is personalized so you won't feel like an alien. They localize the content to improve customer experience.
Trend # 4 : Transparency in pricing and product quality
A key B2B trend is to be transparent with pricing. When traditional business models are shifting to digital platforms massively it becomes challenging to determine what's fiction and what's genuine.
Previously, B2B buyers were more acquainted with face-to-face interactions. It was much easier for them to inspect products and companies. When everything has shifted on digital platforms, inspecting products has become a problem because you can feel, touch or try it on.
Even the communication between business is done virtually. Therefore it's necessary to be transparent in pricing and product quality. B2B buyers only purchase from those who keep their pricing and product quality transparent because they can trust them enough to invest their valuable resources in them.
Certainly, it's one of those trends on which a B2B marketer should never compromise on.
Trend # 5 Using on-site videos to attract buyers
Using visual content on your site can improve user experience immensely. Media-rich websites like webinars, guides, original research, and white-papers is what every B2B buyer looks for. Webinars and guides can be very informative but usually B2B buyers don't have enough time to go through them properly.
They prefer to go with something that can deliver information in an engaging and fast way. For this reason, adding videos can increase the trust level in customers and be a good way to keep them engaged.
You can add product videos, tutorials, interviews and other relevant content in form of video which can be informative yet compelling. Over 70% of B2B buyers prefer video content over text or infographics to gather information and research during their purchasing journey.
Therefore, it's highly imperative to keep up with this trend to generate more leads.
Final Thoughts
From providing self-service facilities to adding videos on your B2B eCommerce Website, each trend has its own significance and benefits. There are plenty other B2B eCommerce trends that are practiced and followed but these 5 are primary and indispensable ones.
We hope this article will help you in understanding the importance of following trends to boost your B2B eCommerce business growth in order to strive and win in this jam-packed competitive market.