Career Scope for Content Writers
Looking for a career in Content writing? Content writing as a profession is in great demand and comes with endless challenges and opportunities, especially as the demand for good content is growing in every industry.
Today, many professional firms have come up in the market that are dedicated to offering content solutions exclusively to clients. Companies are outsourcing many content writing jobs to such firms.
How to become a content writer?
Anyone with a flair of writing and an interest to learn can become a good content writer. One does not need a college degree or any educational qualification. However, one has to be at least a graduate and have the knowledge of basic language (in which they plan to write), in case they are looking for a full-time content writer role. Having SEO (Search Engine Optimization) skills will be an added advantage.
It is definitely beneficial to have a degree in literature or a postgraduate degree as most employers give preference to such candidates. Students with mass communication or journalism background also have an advantage as they are expected to understand content writing in-depth.
However, a degree is not a barrier – Any aspirant can develop their own independent career as a content writer irrespective of their educational qualification.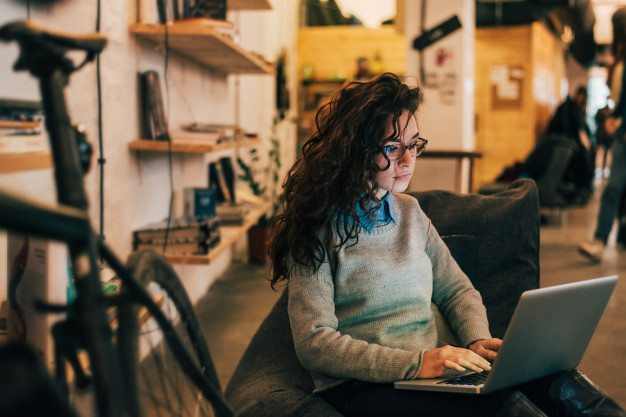 What type of content writer would you choose to be?
 1. Corporate Writer
Content writing has huge scope in the corporate world. One can work as a technical writer, a business writer or a copywriter and earn anywhere between Rs. 15000 to 1 lakh per month.
2. Published Author
These days it is easy to become a published author. As a content writer, one can self-publish their own book on Amazon Kindle and create their own income opportunity. Many writers earn millions by selling their books on Amazon. Digital marketing skills are good to have as they help in promoting your books.
3. Freelance Writer
Freelance writers enjoy great flexibility and complete independence to work. Freelancers can earn anything between 50,000 to 5, 00,000 rupees per month. As a freelancer one also needs to be a good salesman to be successful.
4. Full-time Writer
Full-time writers usually work for an organization. They get to enjoy a consistent flow of income and a good career growth. They also have an advantage of being on different projects and brands.
Scope for Content Writers
With the advent of digitalization, the scope and demand for exceptional writers has also increased in various fields. Content writing involves writing corporate communication, product descriptions, PR articles, business blogs, websites, and more.   Let us take a look at some fields that content writers can explore to begin their career
 Media
Copywriters are the base of every Webpage or TV channel, be it sports, news or entertainment. The success of the content of any show or newsfeed depends majorly on the script-writer. Content writers not only write relevant content for websites and news portals but they have the responsibility of updating current and latest information.
Social Media
These days most companies are present on social media like Facebook, Linkedin, Twitter, Instagram and other social media platforms where one can not only promote their products and services but also focus on developing their brand image. Such companies hire content writers who can write, edit and publish engaging content for different social networks and optimize social media posts by using the right language, tone and message, based on the target audience.
Public Relations
Public relations or the PR industry also requires content writers for writing press- releases, fact sheets, feature articles, blogs, speeches etc. As a PR content writer one enjoys benefits of both good public relations campaigns and also of content marketing strategies.  Working with a PR agency also gives a contentment writer exposure to their corporate events.
Information Technology
Information technology is a very flourishing field. Every IT company requires content writers to write technical content based on their company's or client's requirements. Technical content writers are responsible for preparing instruction manuals, user manuals and articles with the goal to communicate technical and complex information in simple words for the users / readers to understand. The technical writers are expected to develop, gather and circulate technical information in the relevant circles.
Another sector in IT where content writers are in demand is Cybersecurity. Blogs are maintained on the company website.  Content writers play the role of updating the people about cybersecurity requirements of all companies, employees, or even of the nation.
Digital Marketing
The main role of a content writer is to provide information about the business scope, services, products, company, employee information etc. to get new customers. Therefore content is a major part of any website to initialize digital marketing.
Most companies hire digital content writers for writing, developing, editing and publishing content for many different digital platforms such as whitepapers, blogs, websites, email marketing campaigns, videos, social media posts, advertising campaigns, infographics and more.
Some clients also expect digital marketers to promote their websites. This requires the digital marketers to have good SEO (Search Engine Optimization) knowledge. Digital marketing is a field where as a content writer one can get exposure to many different types of marketing methods.
E-commerce
Another area where content writers are required actively is in the E-commerce companies to review their products and write quality based content for their products. Many commercial online shopping sites like Amazon, Flipkart, Myntra sell their products online.  Consumers buy these products based on the product descriptions and by reading other customer reviews. Content writers are expected to research markets, compare other websites to create content that is original and innovative. Therefore, content writing skills are utilized by E-commerce companies too.
These are few points that explain the scope of content writing and good career opportunities that one can explore as a content writer.
Conclusion
Content writing has huge potential. It becomes important to understand the many aspects of content writing.  If you want a knowledge-intensive job that calls for creativity, content writing is without doubt the best options for you.