Enterprise-Level Backup Software for Virtual Machines
Enterprise-Level Backup Software for Virtual Machines
Enterprise data protection has always been a hot topic since it is considered as the life of company. 96% of businesses experienced at least one of the major causes of data loss: human errors, hard drive failures, outages, fire and natural disasters. It's no wonder that conscious companies would try every possible way to protect data security by upgrading hardware, firewalls, security gateways and so on. In addition, for a large amount of data, professional enterprise backup software enterprise backup software is commonly used to simplify the backup process and protect data from security threats.
Enterprise backup solution includes multiple aspects such as file backups, system backups, virtual machine backups, SQL backups, etc. A reliable enterprise backup software not only guards your business data as safely as a vault, but also improves business continuity by recovering your data in a short time in case something happens to your computer.
When choosing an enterprise backup software, you should be clear on the following points.
What kind of backups do you want to perform?
How long do you want to keep backups?

Where do you want to store the backup to?

Could you restore data from a backup to a particular point in time?
Clarifying the answers to these questions will help you choose an ideal enterprise backup software for your business. In this post, I will introduce you to an easy-to-use and free enterprise backup tool for virtual machines that I use every day – AOMEI Cyber Backup.
Free Enterprise Backup Software for Virtual Machine
Managing your organization's data backup in a complex IT environment can be time-consuming, cumbersome, and often incomplete. It is common for data backup solutions to be complicated to install and often require the help of a vendor's professional services staff, increasing your costs. To address these situations, you can try an easy-to-use, agent-less and free VMware backup software – AOMEI Cyber Backup.
It can easily manage backups of virtual machines with one console and accommodate different virtual environment scales. With it, you don't have to install Agent on each virtual machine, which saves time and simplifies the VM backup process.
According to 3-2-1 backup rule, it is able to offer flexible backup strategies and store VM backups to different locations. It is professional to backup and restore VMware and Hyper-V VMs in a flash.
With AOMEI Cyber Backup, you can enjoy these features for free.
Auto Backup: Automatically backup virtual machines on regular basis – daily, weekly, monthly.
Easy-to-use: Manage VM backup and recovery from central console without complicated reinstallation and complication.
Flexible Backup Strategy: Create full / incremental/ differential backups to protect data comprehensively and save storage.
Multiple Storage Destinations: Easily backup to local or network destinations.
AOMEI Cyber Backup supports VMware ESXi 6.0 and later versions, as well as Hyper-V in Windows 8/8.1/10/11, Windows Server/Microsoft Hyper-V Server 2012 R2 and later versions.
In next section, I will demonstrate how to create an automatic ESXi or Hyper-V VM backup task using this free enterprise backup software.
3 easy steps to create automatic backups of enterprise VMs
1.Bind Devices: Access to AOMEI Cyber Backupweb client, navigate to Source Device > VMware ESXi/Hyper-V > + Add VMware ESXi/Hyper-V to add a host. And then click … > Bind Device.
2.Create Backup Task: Navigate to Backup Task> + Create New Task, and then set up Task Name, Backup Type, Device, Target, and Schedule as needed.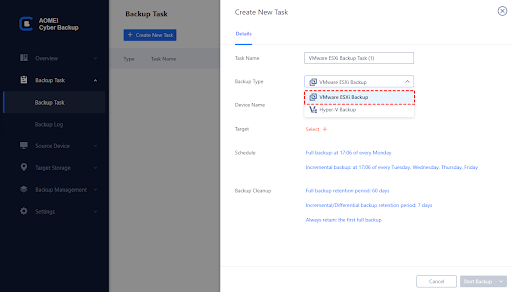 Device

: cover multiple VMs on the host in one backup task.
Target

: You can select to back up to

a local path

, or to 

a network path

. Used paths will be saved in Favorite Storage for handy selection.
Schedule

: You can choose to perform full, differential or incremental backup, and automate execution daily, weekly or monthly according to the frequency you specified.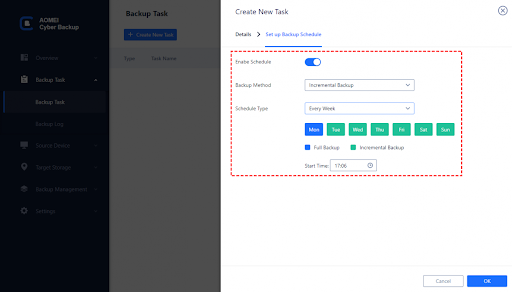 3.Start Backup: Click Start Backupand you can select Add the schedule and start backup now, or Add the schedule only.
Created backup tasks will be listed and monitored separately, for progress checking and schedule changing.
Conclusion
Enterprise data is facing various challenges every day. The success of your business depends on your ability to protect, access and leverage your mission-critical data on a daily basis — and to restore it quickly in the event of an unexpected outage. A professional enterprise backup software is necessary to seamlessly protect a virtual environment and reduce business risk.