Exchange Server 2013 To Office 365 Migration – Useful Guide
Users want to perform Exchange server 2013 to Office 365 migration for various reasons. For a more secure infrastructure, cheaper hardware and software maintenance costs, real-time synchronization, or just a more user-friendly interface, you will undoubtedly choose Office 365.
While Exchange Server 2013 offers services on-premises, Office 365 does so in the cloud. Data in the cloud offers numerous advantages, like the ability to access data from anywhere in the world, fewer outages per day as compared to Exchange Server 2013, and so on.
However, it is vital to understand that Exchange 2013 to office 365 migration is a tough row to hoe. It demands a significant amount of effort and time on the part of the user to complete the migration in the correct manner.
To avoid disrupting the flow of work and causing harm to the organization, it is critical that the migration process is efficient and produces the intended outcomes.
This is why we created this article: to offer you the information in one convenient location. In this post, I'll walk you through the steps you may take to quickly transfer data.
How to Go Through Exchange Server 2013 to Office 365 Migration?
There are two methods that you can follow to export your data from the Exchange server. You can either do that manually or use the superior tool for migration.
First method is the tool and then the manual method is mentioned which also has 3 types.
Method 1 – Professional Tool to Migrate Data from Exchange Server 2013
If a user wants to easily move data from Exchange Server 2013, the Exchange to Office 365 Migration Tool is the ideal tool to utilize.
This enables you to transfer many user accounts during Exchange 2013 to Office 365 migration at the same time.
The tool may be used for selective data export by activating the Date-Based filter. It also offers several incredible features that allow you to easily transfer entire mailbox data such as emails, calendars, and contacts to Office 365 without losing any data.
To understand how to use the tool, follow the steps indicated below:
Step 1: Download the tool and then launch it. Now, enter Exchange as Source and Office 365 as Destination account.
Step 2: Select the relevant Categories and Date filters under Workload Selection to start the Exchange Server 2013 to Office 365 migration process.
Step 3: Now, in the Source window, enter and confirm the Exchange Admin ID and Password along with the Server IP address.
Step 4: Enter your Office 365 Admin Email ID and Application ID, followed by a confirmation of your privileges. Validate it and hit Next.
Step 5: You can either import users from a CSV template or get all user mailboxes.
Step 6: Map the Source and Destination Mailboxes, validate them and assign them a priority.
Step 7. Choose Start Migration and wait until all of the mails have been successfully transferred.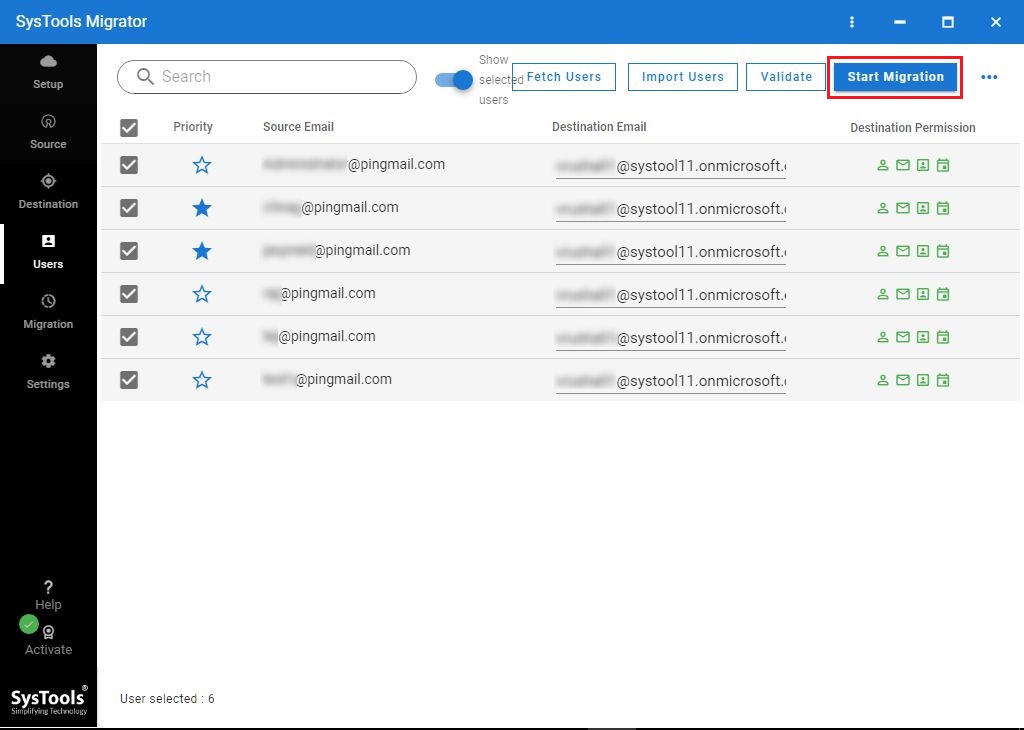 2. Manual Way for Exchange 2013 to Office 365 Migration
The methods for directly converting Exchange Server mailboxes manually are as follows.
Cutover Migration: Use this approach if you wish to migrate all mailboxes (fewer than 2,000 mailboxes) at once. It is compatible with Exchange 2003, 2007, 2010, and 2013.
Staged migration: When the number of mailboxes reaches 2000, phased migration should be used. You can do a phased migration if you are migrating from Exchange 2003 or 2007.
Hybrid migration: Hybrid migration keeps both on-premises and online mailboxes active during the Exchange server 2013 to Office 365 migration. If you wish to transfer Exchange 2010 mailboxes (150 to 2000 per user) in tiny batches, always utilize hybrid migration. This is the best solution for migrating data files to Office 365.
Now, these methods may seem pretty simple but there is a lot more to them than just what is shown here. There are permissions you need to take, technical expertise that you must have, and much more.
If you are trying to perform it for the first time, do it with technical assistance as this is no piece of cake.
Negative Aspects of Manual Method for Exchange Server 2013 to Office 365 Migration
Manual method relatively takes a lot of time and results in lengthy outages.
It is important that the exchange administrators must be familiar with mailbox migration.
You can never be sure that all your data will be migrated successfully, data loss is possible while migrating to Office 365.
What Are the Issues Involved in Migration Without Tech-Knowledge?
Many companies struggle to properly perform the process for Exchange 2013 to Office 365 migration owing to a lack of proper assistance.
There are several issues that anybody may encounter throughout the migration process, and everyone should be aware of them.
If you are unfamiliar with the process of migration and the intricacies involved, you may have a difficult time completing this task.
Employees may be irritated since they must now work with a new email system.
Throughout this procedure, you must ensure that your data is secure.
You never know how long the Exchange server 2013 to Office 365 migration procedure will take. It might range from a few weeks to several months.
Data migration from Exchange to Office 365 is a difficult job that needs a significant amount of knowledge, effort, and assistance.
Wrapping Up
Transferring data from Exchange Server is not easy if the user is unaware of the procedures that must be followed. As a result, in order to put your mind at ease, the various ways for the transfer have been thoroughly described.
You can select the technique that best suits your needs. The professional tool is suggested as it lets the user transfer his data in bulk and that too without much hassle. You have the liberty to perform Exchange server 2013 to Office 365 migration with no data-loss guarantee.