Fast Ways of Exporting Your LinkedIn Connections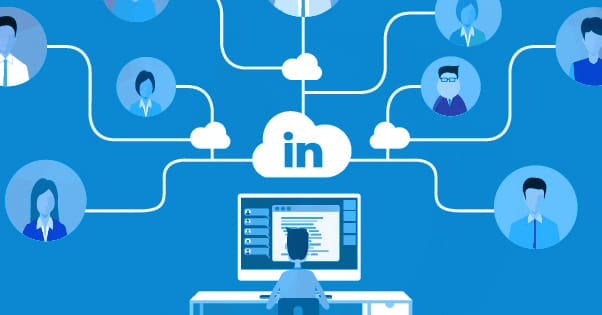 Nowadays, the word 'networking' is often used to describe the process of connecting with people and building a network.
The underlying purpose of networking is simple – connecting with people to benefit from these interactions. However, for effective networking to take place, it is vital that you can communicate with other people regularly and keep your interactions going smoothly.
LinkedIn is a platform where professionals can connect with their peers and form mutually beneficial relationships. It has helped millions of users over the years gain valuable insight into their field of work through the medium of online forums.
Why Export LinkedIn Contacts?
This resource will demonstrate how simple it is to Export LinkedIn contacts into Google Sheets using several CSV applications. But before we get to that section of the lesson, let's establish why people need this kind of solution and what they want to do with it.
LinkedIn, for prospecting purposes, is now one of the most beneficial strategies to acquire new customers for sales. The platform is excellent for locating potential customers; it has a network of business people ready to be contacted.'
LinkedIn is an excellent resource for salespeople. Salespeople actively seeking fresh leads will benefit significantly from using the site to connect with other professionals in their field. However, LinkedIn is not nearly as helpful for salespeople in helping them build these relationships outside the platform.
According to Marketing Sherpa, the ROI of email marketing is twice as high as that of cold calling. It seems that individuals would choose an innocuous email that can be read and responded to whenever is most convenient for them over an obtrusive phone call that demands immediate attention.
Therefore, it is crucial, if not absolutely necessary, to extract such email addresses from LinkedIn to digitally communicate with potential customers. Problematically, it's not as simple as it sounds to harvest many relevant email addresses from LinkedIn.
While LinkedIn connections may be exported, the file will likely not include the email addresses you want. And there will be a lot of data entering and cross-referencing by hand for any upgrades. Salespeople often don't have time to conduct extra work like this.
‍Traditional LinkedIn Way of Exporting Contacts
LinkedIn's built-in tools make it easy to get primary contact info from profiles. And if you just care about getting the names and basic details, this strategy may be sufficient.
The great news is that this process is straightforward and does not need special equipment. You may have the whole contact list available for download in less than 24 hours, after which the process will take around 5 minutes.
Here is a step-by-step look at the procedure:
Beginning with the "Me" symbol found in the upper right, choose "Settings & Privacy" from the resulting drop-down menu. Additional choices will appear on a new screen.
Select "Obtain a copy of your data" from the menu on the left, and then click "Change." This will allow you to get a copy of your LinkedIn data and export it to another service.
You'll then be allowed to export specific information from LinkedIn or everything the service knows about you and your connections.
In around 24 hours, you'll be able to view and utilize your data outside of LinkedIn after completing your download.
However, you can probably guess that this technique has specific restrictions on the data it can provide. Due to rules such as GDPR, LinkedIn cannot provide contact details for LinkedIn connections without their consent.
5 Tools that can Export in a Blink of an Eye
Leadjet
Dropcontact, a Leadjet partner, employs algorithms that are GDPR-compliant to find and validate valid business email addresses. Leadjet places a premium on ensuring that our user's information is always secure.
By installing the Leadjet browser extension, salespeople can import their LinkedIn connections, complete with name, company, job title, phone number, and email address, right into their CRM.
Phantom Buster
Designed explicitly for harvesting contact details, Phantombuster is a robust automation and data extraction tool featuring a LinkedIn profile scraper.
Phantombuster can let you easily export your LinkedIn connections or scrape info from individuals you don't know yet so you can import it into your customer relationship management software.
Linked Helper
Linked Helper is a simple yet powerful tool that allows you to export LinkedIn contacts in a blink of an eye. With this tool, you can easily export all your LinkedIn contacts from different companies and save them as CSV/Excel files on your computer. You can also import them into any mail service provider like Gmail, Hotmail or Yahoo mail so that you can send emails to all these people simultaneously without wasting time manually adding them.
This LinkedIn contacts exporter is compatible with Chrome, Mozilla, Opera and other web browsers. It's also compatible with every primary OS out there.
SignalHire
When locating contact information, such as email addresses and phone numbers, SignalHire is among the most effective and user-friendly export tools available.
Voila Norbert
Voila Norbert searches social media sites like LinkedIn to discover and validate email addresses to generate leads. In addition, the software may be linked to various other platforms and applications via integrations with Zapier, Salesforce, Pipedrive, Close, a Chrome plugin, and so on.
They provide three different resources:
Prospecting: The Process of Obtaining New Email Contacts
Verify: Checking each email address.
Enrich: Get anyone's job details.
Steps to Take Once You've Exported Your LinkedIn Contacts
You have now successfully exported your LinkedIn connections. So, what do you do now?
Add to CRM
After saving and exporting your LinkedIn connections, the first step is to import them into your CRM system. This opens up opportunities to reach a wider audience, which may help your business flourish. How about this? Since these individuals are now part of your CRM, in-depth research may be performed to ascertain demographic patterns or spot areas of marketing potential.
Increase your Target Market Precision
LinkedIn contacts may be exported and used to refine your market targeting via more precise segmentation and separation of your target audience. Given LinkedIn's platform's professional emphasis, the quality of connections typically outpaces that of other social networks, making these relationships a vital resource in increasing market efforts, particularly for enterprises with specialist goods or those supplying B2B services.
Make your Contact List Bigger
In addition, LinkedIn exports may be used to populate a professional's mobile or desktop contact list. Where's the catch? Before adding your exported contacts to your address book, it's a good idea to go through them and determine the nature of your relationships. Though you have known someone for a long time on LinkedIn, for instance, they may respond positively to an email or phone call, even if you received their information through exporting. Meanwhile, if you've just had external contact with this person, it's best to work on establishing rapport with them first before making a cold call.