How To Use Free Illustration For Google Slide Themes and PowerPoint Templates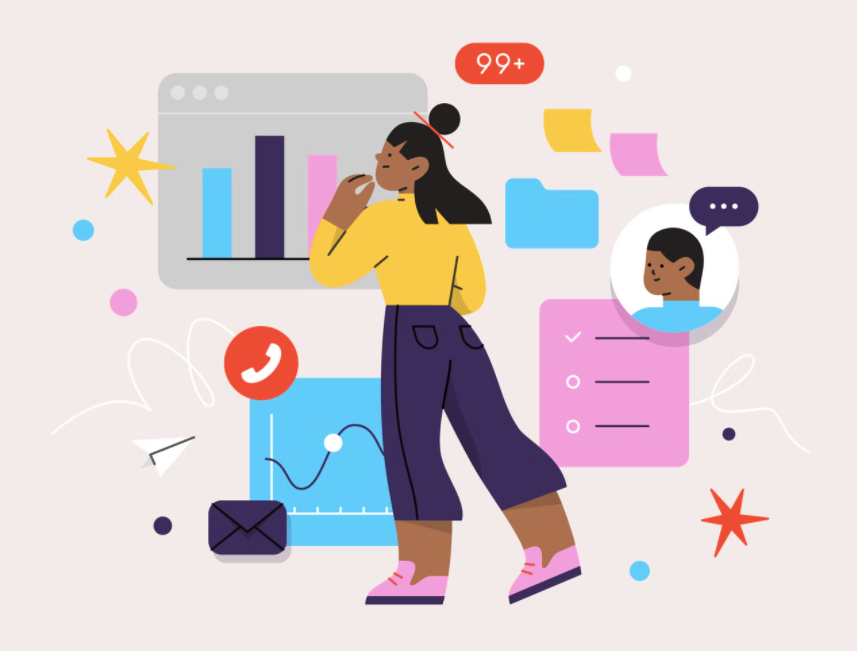 Are you confused about where to find free illustrations that you can use to enhance your presentation and impress your audience? If you are, the chance is that you are a creator yourself who is looking for eccentric or typical illustrations to spice up your content without the need to spend a considerable sum.
The good thing is that you can find free illustrations on the internet. Here, you can find answers to almost everything as long as you know the proper way to search and the right keywords. And we have shortlisted five sources of free illustrations, images, and vectors that you can use on your Google Slide themes and PowerPoint templates. 
But first…
How Important Are Presentation Templates?
We can cite a lot of reasons why you should use fabulous presentation templates. Here are five that you can mull over:
Speed.

Every time you add a new slide, you no longer need to reinvent the wheel every time you add a new slide. Since you already have a good point where to start in every slide, you can create your presentation in a snap. 

Professional Graphic Design.

Many of those who do not have graphic design experience still know how to modify existing graphics. This is what makes the use of templates – you are already knowledgeable on how to use them.

Quick Customization.

Since you control your source file, editing becomes much easier than before. Templates are much easier to edit in their original form instead of being a copy of a copy. 

Branding.

Branding becomes more uncomplicated than ever because templates are easily modifiable. This means you can change fonts, graphics, colors, or even attach your logo to the blend.

Consistency.

Would you prefer creating a presentation with an assortment of various styles mixed all through, or one with a uniform style from start to end? A consistent design scheme can help you avoid conflicting transitions and the hidden suspicion that you just pasted your presentation.
Where to Get Free Illustrations
Before you create your template, you also need different resources to get free illustrations you can use. Here are five fabulous websites where you can find them:
1. Pixabay
Pixabay is truly one of the most relevant illustration search engines with more than two million royalty-free and copyright vector images. There is a superb selection of illustrations and pictures in Pixabay since it hosts images from hundreds of other websites. Also, its user interface is not complicated and you can search anything you want with the use of keywords. Pixabay is truly one of the most relevant illustration search engines with more than two million royalty-free and copyright vector images.
Since the stock images on Pixabay are free and can be used commercially, you no longer need to go through the expected purchasing and licensing hassle of illustrating your content. 
And given that the limitless collection of vector images on Pixabay have different tones and styles, it always has the fix for you whether you are looking to enhance some charts for your presentation, making amazing videos for your product's Instagram story, or making icons for your brand's website. 
2. Openclipart
Openclipart is home to around 160,000 clipart that you can use for free. The available illustrations come in various aesthetics and styles so everyone can use something.
Also, every clipart on Openclipart is a public domain which means that there is no need to go through the expected hassle of copyright issues for their use.
Furthermore, designs on Openclipart are original, distinctive, and created by its massive community of artists.  Its illustrations have a realistic look. They will work magnificently if you are into something more intricate than usual icons. 
3. Drawkit
Drawkit.com  is another source of free illustrations for your presentation needs. It has a somewhat limitless array of illustrations suitable for a wide variety of content. Also, the website is uncomplicated and, in fact, easy to use.
With Drawkit, you no longer have to settle with having your content design in a neutral color palette and all the illustrations on Google in orange. Since the illustrations on Drawkit are customizable, you can choose color schemes that go with your brand design and content to make everything appear seamless and expensive.
Aside from this, all of the vector images are Scalable Vector Graphics (SVG). This means that you can resize, mirror, or flip them as you wish without affecting their impeccable quality.
Finally, all of Drawkit's illustrations are open source, thus, they do not demand lavish copyright and licensing permits professing your firstborn child. Anyone, even without attribution, can use them without charge! 
4. Freepik
Freepik is another excellent choice. It is a superb search engine for free stock illustrations and images. With Freepik, you will have access to thousands of free vector images for almost all your needs, such as brochures, PSAs, greeting card templates, pamphlets, and brand announcements, among others. It also has a built-in template editor that can help customize templates based on your ideas and content.
You can download the illustrations on Freepik in different formats like Al, SVG, and EPS, attracting your gamut of content illustration requirements! 
On top of this, its vectors and illustrations are open sources. You can use them without the need for attribution. Also, Freepik is very user-friendly and does not require you to create an account and make you crazy with its stock illustrations' free downloads.  
5. DesignStripe
DesignStripe.com can create amazing illustrations even if you do not possess design skills. It is a straightforward and powerful customization tool. The side offers three key functionalities: (1) Machine Learning, (2) Remote Access, and (3) Asset Management.
Designstripe is a very easy-to-use tool that enables you to put colors, change sizes, drag figures, and export in image format.
How to Make a Google Slide Template
If you are using of Google Slides presentation tool, you can enhance it by creating your own templates with these ten steps:
Step 1. You have to create a Google Presentation and select the Simple Light template.
Step 2. Determine the design pattern you want. You can use editing software like photoshop or create a Google Drawing for your designs. Or, you can use the resources we mentioned above to get free illustrations you can use on your template. You can make your base design in a Google Drawing and then File > Download As > PNG. When you are finished downloading, create circles or boxes with decreased opacity to make various slide backgrounds that follow the theme. When using Google Draw, go to the File menu, select "Page Setup," and choose the page size to be 16:9 or Widescreen since this matches Google Presentation's default size.
Step 3. Go to the View menu and click the button labelled "Master."
Step 4. From "Simple Light," you can rename the slide template to whatever name you like to call it. You can observe the small lettering on top of the slide master slides.
Step 5. Click on the Master slide, and it will take you to the first layout slide by default. Make sure to click on the slide master with the title "Master" over it. 
Step 6. If you change the background of the "Master," the background of all the layout slides will change as well. To upload an image for the background, you have to click on the background in the toolbar. 
Because this is the "Master" slide, adding anything on this slide will also appear automatically on all slides. Changing its font size and color will also be applied universally across all slides. 
Step 7. There are different layouts below the "Master" that you can click. The default font is something you can change there, as well as add lines and other design elements. Also, you can click on the background link if you want to make a difference in the default background from the slide "Master" background.
Step 8. If you want to add new layouts, you just have to click on the plus button. As you edit in the master mode, anything you click in the toolbar also affects the master layouts.
Step 9. In adding a text box to the layout, you need to select one of the placeholder options. This is located on the drop-down list of Text box options. If you choose the plain "Text box," it will create a text box that you cannot edit when inserting the layout. You should only use the "Text box" if you are sure that you want that font on the slide.
Step 10. After inserting new layouts and editing the master layouts, you just need to click on the left side beneath where the slides are situated. In essence, you are snapping out of the master editing. To exit, you can also tap the X in the upper right-hand portion of the master editing portion.
How to Make a PowerPoint Slide Template
If you are using PowerPoint, here is how you can make a slide template to use your chosen illustrations:
Step 1. Opening PowerPoint. Look for the app icon of PowerPoint and double-click it. The icon looks like a white letter "P" on an orange background. The PowerPoint homepage will then open. 
Step 2. Clicking Blank Presentation. You can select the blank presentation by going to File > New > Blank Presentation. If you are using a Mac, depending on your setting, a new presentation might open just by opening PowerPoint. When this is the case, just skip this step. 
Step 3. Clicking the Design tab. You can find this tab in the editing ribbon above your PowerPoint. It is situated along with Home and File.
Step 4. Clicking Slide Size, Custom Slide Size, and then choosing the page dimensions and orientation. Doing this will set the total appearance of the PowerPoint. 
Step 5. Clicking the View tab. You can locate this tab in the editing ribbon above the PowerPoint window. Upon clicking it, a toolbar below will open. But if you are using a Mac, this option is located above the menu bar.  
Step 6. Clicking Slide Master. You can locate this option near the toolbar's left side in the "Master Views" section. By doing this, you can open the Slide Master tab of the left portion of the PowerPoint window. On Mac, you have to click first Master and then Slide Master.
Step 7. Select a slide format to edit. In the left-hand column of options, you have to click one of the slide templates. For every type of slide, for example, a basic content slide or a title slide, there will be one that you can select and use. After choosing a slide, you can select a theme from the "Themes" drop-down. This is located on top of the slide master panel. You may also apply backgrounds. You will just have to click Background styles. If you want to customize colors options such as gradient, base color, and brightness, you can just click Format Background in the drop-down menu.
Step 8. Clicking Insert Placeholder. This tab is located on the left side of the Slide Master tab. Clicking this will provide you with choices that you can add to your slides for subsequent use. You can see the following options in the drop-down menu that appear:
Picture – Inserting a section for a photo. This is where you can add your selected free illustrations from the various sources we have identified above.

Online Image – Insert a section where you can add an online image.

Media – Inserting a section for a video.

Content – Insert a written content outline. When using Mac, there is also a "Vertical" option for Content.

Text – Inserting a text box. When using Mac, there is also a "Vertical" option for Text.

Chart – Inserting a section for a chart.

Table – Insert a section for a table.

Smart Art – Inserting a section for smart art items.
Step 9. Dragging and dropping a placeholder to a slide. After deciding which placeholder you want, drag it from the drop-down to a slide just like a picture box.
Continue adjusting where it is on the side. Do this by dragging and adjusting as needed. The placeholder can be resized by dragging the corner of one of its borders. 
Step 10. Selecting a template font. You can do this by going to the "Background" section and clicking Fonts. In the drop-down menu, you can click on your selected font. 
Step 11. Saving your template. The steps in saving an existing PowerPoint as your template will vary between the Mac and Windows versions of PowerPoint. Follow these:
Windows: Clicking File > Save As, selecting a location, and entering a name for your template. Clicking the Save as type drop-down box. Next is clicking PowerPoint Template and then clicking Save.
Mac: Clicking File > Save as Template, entering a file name, and clicking Save.
Takeaway 
The need to exhibit a unique presentation is always demanded, might it be through Google Slides or PowerPoint. And making your own templates further enhances your opportunity to attract and send your message to your target audience. Now that you know where to get those free and high-quality illustrations, you can now maximize them to spice up your succeeding presentations. Just give it a try!
Author's Bio:
Shelly Solis is an SEO content specialist for DesignStripe.com.
She is also the co-founder and CEO of SaaSLaunchr, a SaaS marketing agency offering professional help through SaaS SEO, guest posting outreach, and content writing and marketing.