Top 14 Growth Strategies to Make your Small Business a Unicorn in 2022
Small businesses account for more than 40% of the G.D.P. in the United States alone and contribute towards creating more than 66% of the jobs in the American market. Along with the U.S., most countries realize the importance of small businesses and take steps to boost their growth. For small business owners today, the world is full of opportunities for growth. And if you want to grow your business through branding and marketing, you can contact a ThinkSME expert. This is where small businesses can find the assistance, resources, and solutions they require to thrive.
When you look at some of the largest businesses today, you will be blown away by their sales and profit figures. Most of us forget while we think about big companies like Google, Walmart, General Electric, and Tesla because they all started small.
These businesses became the juggernauts that they are today by deploying excellent small business growth strategies. The meaning of growth is different for all businesses, and you will need to be clear about how you would like your business to grow before you embark on implementing a digital transformation strategy. A business can grow in many ways, and we have mentioned a few below.
Acquiring more clients
Clocking more revenues
Expansion of business in new geographies
Hire more people
In terms of growth strategies, small businesses have several options to choose from, depending on various factors and circumstances. We will look at some of the most trusted business growth and IT strategies that can prove useful for small businesses hoping to expand their operations and occupy a larger share of the market.
Propel growth of your small business with these strategies
Before we discuss growth strategies for small business owners , it is essential to understand that there is no one-size-fits-all strategy. You will have to customize your growth strategy according to your business and market.
1#.  Market penetration strategy
The first task of any small business that wants to expand and grow quickly is to penetrate its existing market. The main goal of market penetration is to increase the market share for existing products/services or promote new products/services successfully.
Here are some of the market penetration strategies that a SMB can deploy to increase its market penetration.
Reduce the prices initially
Sam Walton, the founder of Walmart, used this strategy to gain a foothold in the retail market of the U.S.A. When Sam Walton started Walmart, there were many established retail stores in the area. What differentiated Walmart from its competitors was that Walmart offered its goods at considerably lower prices than its competitors. This strategy works best in markets that have little differentiation.
Increase the promotional activity
Another effective way to penetrate the market would be to increase promotional activity. The increased promotional activity would result in a pull strategy for the small business, improving the footfalls.
Apart from conventional and non-conventional forms of advertisements like TV, radio, print and digital media, small businesses should also employ other means to attract customers. To attract customers and stand out from the competition, small businesses should employ strategies like conducting special promotional events, offering memberships and discounts. Such schemes will serve a dual purpose. They will attract new customers and will also aid the small business retaining the old ones.
Expand distribution channels
To improve the market penetration, the small business will need to expand its distribution channels. Usually this is done by making the distribution channel wider. One way of expanding the distribution channels would be to identify more distributors, retailers and dealers. As a small business owner, you can leverage the relationships of these retailers, dealers and distributors with their customers to your advantage. Nurture good business relationships with your distribution partners, and you will undoubtedly benefit from it. A broader and more stable distribution channel will improve your chances of reaching your customers and increase your market share.
2#. Market development strategy
The market development is different from the market penetration strategy. As discussed earlier, the market penetration strategy increases the market share in the existing market. On the other hand, the market development strategy is concerned with expanding the size of the market. In this growth strategy businesses or organizations introduce their products or solutions to the target audience.
One way to develop the market would be to conduct a product reassessment. History has enough examples that show how a product initially designed for one thing became successful in another area. Viagra, for instance, was developed initially as a cure for hypertension, but it found mind-boggling success as a medicine for erectile dysfunction. Today Viagra rakes in more than a million in sales.
In the market development strategy, there is no new product but a new market. The idea is to expand the market either by identifying new users or by finding new uses for the same product.
3#. Use alternative channels
To experience decent growth, small businesses need to identify alternative channels for selling their products. The internet has opened up many channels for small businesses to reach out to their customers online.
Small businesses can either set up their own websites to sell directly to the customers, or they can partner with websites like Etsy and Amazon to sell their products. Social commerce has proven to be a game-changer for small businesses. Small businesses can reach out to more customers using social media.
4#. Expand the product line
While in the earlier two strategies, the focus was on the market, in this one, the focus is on the product. This strategy suits small businesses that operate in a highly dynamic product environment. A nice example of the product expansion strategy would be the smartphone industry. Mobile phone manufacturers need to consistently churn out new smartphone models with state-of-the-art technologies to stay competitive in the market.
Small businesses can adapt the product expansion strategy by either introducing new products or by consistently adding new features to the existing products. In many cases, the small business will need to do both to gain a foothold in the market. As a small business owner, you need to be quick to respond to the dynamic consumer demands to implement the product expansion strategy successfully.
5#. Conversion rate optimization
Conversion rate optimization is a very important that has the potential to either make or break your small business. Typically only a small percentage of the business enquiries will be converted into an actual business.
A small business can take the following steps to increase its conversion rate.
Create a compelling value proposition
Focus on digital and social media advertising to maximize reach
Offer proof to make the buying decision easier
Ask for feedback from customers
Build trust with the customers
Make it very easy to buy your products
6#. Diversification strategy
Diversification is another good business growth strategy. The idea behind diversification is to sell new products in new markets.  Diversification is a high-risk strategy as a small business needs to start fresh to diversify into new markets with new products.
Diversification requires a substantial investment of money, manpower and time. Diversification is as good as starting a business from scratch, and this is why you need to be clear about your requirements before you think about diversification.
In terms of business growth strategies, there are two types of diversification.
Conglomerate diversification
Conglomerate diversification means diversifying into areas completely different from the current business. Conglomerate diversification happens when the small business doesn't find enough business opportunities in its current niche.
A caterer diversifying into the furniture business is an example of conglomerate diversification. The virgin group is one of the most successful companies that have deployed the conglomerate diversification strategy. The virgin group started as a music company and has since then diversified into various businesses that include media, airlines, and soft drinks and so on.
Concentric diversification
Concentric diversification is concerned with diversifying into related businesses. The idea is to diversify by adding products related to its current product portfolio or venture into markets similar to the current market with the same product. Due to a certain degree of parallelism, concentric diversification is a much more synergistic strategy than conglomerate diversification.
Picking up from the earlier example, a caterer who diversified into the food business by cultivating crops on a farm would be concentric diversification.  Apple is a shining example of concentric diversification. The company started with selling computer hardware and then evolved by selling smartphones and iPods.
7#. Mergers and acquisitions (M&A) strategy
A merger is the consolidation of two companies, while acquisition happens when one company purchases another. The M&A strategy play a very important role in corporate restructuring.
Normally, acquisition is a high-risk strategy for small businesses as they have to shell out a significant amount of capital to acquire another business. This risk deters many small businesses from exploring acquisition as a business growth strategy.
The following are the 3 major types of M&A strategies.
Upstream M&A
This is an M&A strategy where a small business goes for M&A with a bigger company in the same industry. The idea behind upstream M&A is to consolidate the market position of the two companies. The upstream strategy is also seen as an excellent strategy to secure higher investments from potential investors. The investors see the merged company favorably as it creates a higher value and better shareholder dividends.
Downstream M&A
The downstream merger or acquisition happens when a business acquires a business smaller than its own size. The goal of this kind of acquisition is to expand the business and operations of the larger company.
Lateral M&A
The lateral merger and acquisition is a strategy where two businesses of the same size join hands to pool their resources for high growth. The new business entity will be considerably bigger than either of them operating separately.
Before you consider merger and acquisition, you should have a look at the following factors.
Be clear why you want to acquire or merge with a business
Study how the decision will impact your financials
Research properly about the business
Keep a third-party mediator
Understand the team management well
Have a solid integration plan
The M&A decision will significantly impact your future course. Hence you should thoroughly assess all the pros and cons of a merger or an acquisition before you proceed.
8#. Market segmentation strategy
Market segmentation is another great growth strategy that can be adapted by small businesses that find themselves in an industry that is dominated by large players.
Effective marketing research helps small businesses identify segments in the market to compete against the big boys. These are the segments where small business can focus their efforts on and maximize their chances of success.
In market segmentation, you will have to divide the market into segments. Each segment is characterized by a distinct group of customers with their own needs and preferences. Once the market segmentation is done, you will need to identify the ideal market segment that will be most receptive to your products.
Follow the following steps to implement a successful market segmentation strategy.
Group the buyers into different segments based on demographic, geographic and behavioral criteria
Group the products into categories
Estimate the size of the different market segments
Select the most attractive target segment
Take marketing actions to target the segment
A major hurdle that small businesses encounter when they apply the market segmentation strategy is the lack of access to high-quality market research for segmentation purposes. Small businesses do not have the budget to buy high-quality, in-depth market research. Hence small businesses need to be creative and find out cost-effective sources to conduct market research.
The following sources can prove to be useful for your market research.
Marketing programs of competitors
Conducting informal research with the targeted customers
Research data from basic research publications
Data from trade publications
Data from industrial experts
The key to crack any market segment is to find the unsatisfied wants of the customers in that segment and then find ways to fill that gap.
9#. Leveraging Small Business partnerships
Earlier, we have discussed how you should enter into partnerships with your distributors and retailers to improve your reach. Similarly, you can enter into partnerships with other businesses to maximize your potential.
Here are some of the possible strategic alliances that small businesses can leverage
Symbiotic distribution
Two businesses can act as dealers or distributors of the other in their respective markets.
Technology joint-venture
Two businesses can collaborate to build new technologies.
Cross-manufacturing
In the cross-manufacturing partnership, two businesses will use the same manufacturing line for their processes. Car manufacturers like Renault and Nissan use this kind of strategy.
A small business can cut costs, improve the efficiency of the business and ultimately grow the business faster by fostering collaborative partnerships.
10#. Remove unprofitable products and services
As a small business, you need to aim to become profitable right from day one. Because unless you have deep pockets, it will be challenging to survive in the business world without profits. Profit is improved not only by selling good products but also by removing unprofitable products and services. Run a thorough analysis of the costs and revenues of every single product to identify the unprofitable products. You should either reduce the costs involved in producing unprofitable products or think about altogether stopping it.
11#. Build an effective sales funnel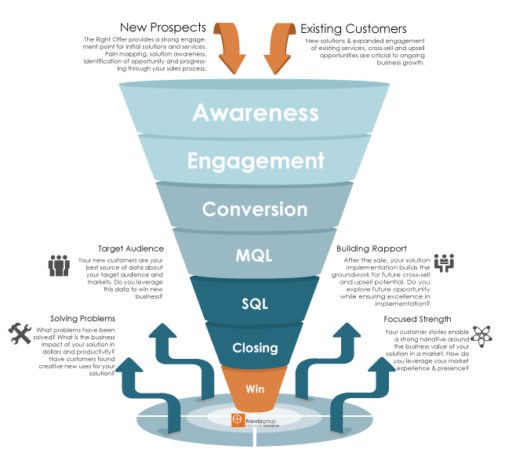 One of the most efficient ways to increase sales for a small business involves building an effective sales funnel. A small business should focus on delineating the steps that every customer needs to take before buying your product or service.
By doing so, you will identify the stages at which most of the customers back off from buying your product.
The sales funnel will help your company improve its productivity as it allows your small business to measure the effectiveness of your strategies. The sales funnel helps you identify the number of prospects or leads that have progressed through the buying journey and zero in on the strategies that work.
Another benefit of an effective sales funnel is that it helps you know the number of people you will need to attract to the top of the funnel to generate sufficient sales.
A sales funnel can help you identify opportunities to increase your conversion rate. This is because, with a sales funnel, you will be able to track the status of every sale in real-time and track the chances of each deal being realized.
12#. Revamp the recruiting tactics
For a small business, its employees are the heart and soul of the company. Often, a small business starts with only 1-2 employees, and hence it becomes imperative to choose the right set of initial employees to ensure quick growth of your small business.
As a small business owner, you need to be creative and look beyond LinkedIn to identify the right employees. You should always be on the lookout for the correct set of employees and do not be afraid to recruit at any moment. Whenever you recruit, always remember that recruiting isn't about filling positions but about finding the correct set of employees who share your passion for the business. These are the employees that will help you achieve your business goals.
13#. Focus on customer relationship management
It is a well-known fact that it is far easier and cheaper to keep the existing customers than to acquire new ones. A good customer relationship management policy will help you keep existing customers and even gain new ones. You can take the following steps to improve your customer relationship management.
Select the right communication strategy
Collect and use customer data ethically
Listen to the customer complaints
Use technologies like AI-enabled Chatbots to your advantage
Request feedback from the customers
Good CRM (Customer Relationship Management) systems will help you secure your hold on the market share. By securing a firm grip on your existing customers, you will go after new customers with more confidence.
14#. Stay aware of your competition
For a small business, it is important to be always aware of the competition. A study of competitor growth and diversification strategies will help you avoid your competitors' mistakes.
You can take the following steps to conduct a robust competitor analysis.
Identify your main competitors.
Select the critical aspects of your competitor's business
Ascertain where to look for the data
Understand how will you use the insights
Frequently visit the competition's websites and research the changes adopted by your competitors in landing pages, the pages and services pushed by your competitors and the reviews put up by their customers.
Prepare to be a unicorn
To achieve your business goals, you can follow one or a combination of the strategies mentioned in this write-up. Remember, all the best strategies in the world cannot help you grow your business if you do not implement them. To implement these strategies and let us know which one worked for you.
Author Name:  Avantika Shergil
Short Bio:
An enthusiastic Operations Manager at TopDevelopers.co – A dedicated directory of IT service providers, coordinating and  managing the technical and functional areas. She is an adventure lover, passinate traveller, an admirer of nature, who believes that a cup of coffee is the prime source to feel Rejuvenated.