How to increase CPU speed Windows 10?
Everybody wants a fast running computer but after some time even computers with top notch hardware become slow. There are different ways in which our computer can be made faster.
We will show you how to increase the CPU speed of Windows 10 computers. There are different simple tricks and tips that will help you to get more out of your slow sunning system.
You do not have to use any third party program in order to optimize your computer
Change your power settings
Window 10 comes with different power plan settings. If you have set your computer to Power saver plan then your computer's performance will be low.
If you want to improve the performance of your computer then you have to set the power plan to "High Performance". To change the power plan, go to Control Panel> Hardware and Sound > Power Options.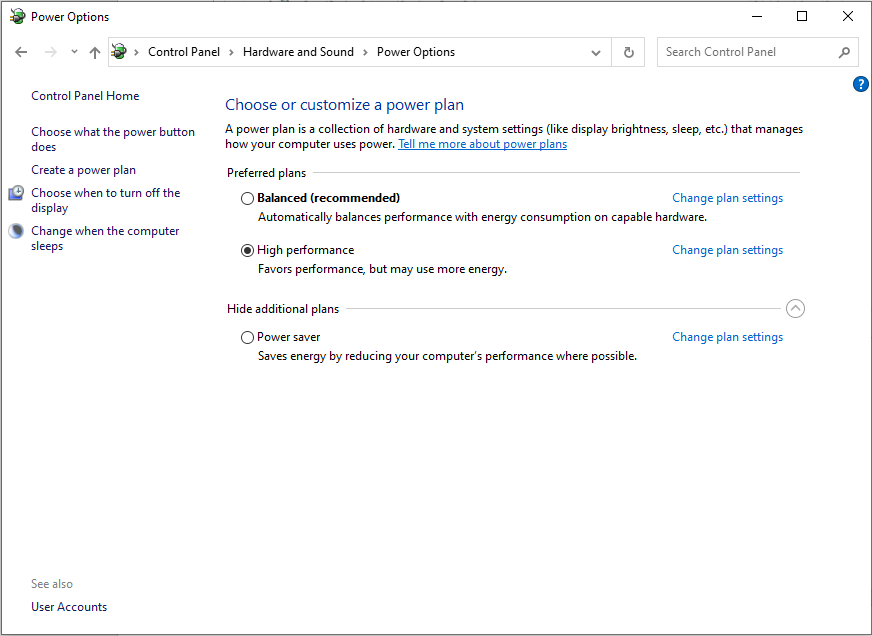 Disable programs running at startup
Another reason for a slow computer is the programs that run on start-up. If there are many programs running on the startup then it will make your CPU slow.
You can stop the program from running at startup from the task manager. You can open the Task Manager by pressing the Ctrl+Shift+Esc. From the task manager click on the Startup and then you can disable unwanted programs from running at startup.
Shut off Windows tips and tricks
Window 10 provides tips and tricks; this extra feature will slow down your computer. We suggest you disable these tips and tricks to make your computer fast again.
To disable tips and tricks go to Window 10 Settings. Now click on System and Notifications & actions and then uncheck Get tips, tricks, and suggestions as you use Windows.
Stop OneDrive from syncing
Windows 10 system comes with OneDrive storage. It is a cloud based files storage system and is a useful backup tool provided by Microsoft.
It constantly synchronises the files on your computer and to the cloud storage. This may sometimes slow down your computer. So, you can pause OneDrive syncing by right clicking on the OneDrive icon and then clicking on More button now from the popup screen you have to click on "Pause syncing" and then you can select the time you want it to be paused, you will get three option i.e., 2 hours, 8 hours and 24 hours
You can also unlink your system permanently from OneDrive so that it won't sync.
Third Party Software
You can use any third party software to free up cpu usage. They also increase the system speed through clear unwanted data, files cache. You can find the best top10pcsoftware.
Clean out your hard disk
If your hard disk is full then your CPU performance will be low. You have to free up the space on the hard drive to improve your Computer's performance. you can use the storage sense feature available in Windows 10 to free up the hard drive space. This feature will help you to remove junk files and temporary files.
To make space on your hard drive you can also delete old versions of Windows. And you can also remove unwanted files from your computer.
Disable shadows, animations and visual effects
Window 10 has animations and effects that make your computer pretty. Latest computer may not be affected as old computers if animations and effects are enabled on the computer. If your computer is old then all these animations and visual effects will slow down your system. So, you can disable these from System Properties.
Type sysdm.cpl in the search bar and then open System Properties now click on Advanced and then click on Settings from the performance section. And then select "Adjust for best performance".
Disable transparency
Window 10 also comes with transparency effects then it may affect the system performance. You can disable transparency by going into Windows 10 Settings>choose Personalization > Colors and from colors turn off the slider in front of "Transparency effects".
Kill bloatware
Sometimes computers are filled with adware and bloatware. To get rid of adware and bloatware you can use Window Security. You can also remove unwanted applications from the Control Panel.
You can run the Window Security program by typing Window Defender in the search bar and then run the scan to remove any infections from your system that will slow down the system.
Defrag your hard disk
After a certain time of usage of system fragments are created on the hard drive. Fragmented hard drives will slow down the system so you need to defragment the hard drive.
To open the disk defragmenter on your computer you have to type "defrag" on the search bar. Now open the application first in the list and then select the drive you want to defrag.
Verdict:
Know how to improve CPU performance in windows 10 using these tips and tricks. If your computer is slow and sluggish then these steps will help you to make your computer faster. These steps we have mentioned are easy to follow and will improve the performance of your computer. You do not need to install any third-party optimizing programs for windows in order to improve the performance of your computer. In built utilities in Window 10 will help you to perform the optimization task on Window 10 easily.