How to clear data and increase disk space in windows
No matter what the size of your disk drive, it eventually gets filled with all sorts of wanted and unwanted data. This happens because we tend to blindly download data and applications and keep copying data from one drive to another which results in cluttering the disk storage to a high extent. If you too want to get rid of the situation here are a couple of looks around you can follow to clean disk data and free up space in the disk in your Windows 10 System.
Let's read the different possible solutions to restore storage space in Windows 10:
Empty The Recycle Bin: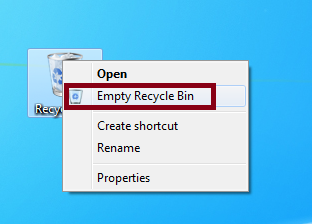 Many of us think that deleting a file is all we need to free up disk space. However, all the files we delete are simply transferred to the recycle bin and sit there occupying the same amount of space. To delete them permanently, we should empty the Recycle Bin. To do so, simply look at the files and then right-click on the Recycle Bin Ico on the desktop and click on Empty Recycle Bin.
Use Disk Cleanup:
Another best method to keep your disk free from clutter is to clean the files that are not required anymore. This can be done using the Disk Cleanup feature. Windows 10 has an inbuilt feature to clean disk space. In case you do not want to do it manually, you can also use a disk optimization tool like Disk Speedup. We will be discussing both ways here.
Manual Method:
Click on the Start Menu and then type Disk Cleanup in the search box and press Enter
Choose the drive you want to run disk cleanup and then click OK.
This will analyze the disk and then display a list of the space occupied by system files, temp files, etc.
Post this choose the Cleanup system files option and click OK.
Using Disk Speedup By Systweak Software:
Disk Speedup by Systweak Software is an amazing disk defragmenter tool that not only optimizes the disk fragments but also removes unwanted data and files to optimize the disk space and performance.
Features And Benefits:
It effectively rearranges the scattered piece's storage space and optimizes it, improving the performance.
It easily relocates chunks of data and disk space to make the system perform faster.
It restores a huge amount of disk space.
Clears fragmented space by defragging the storage space.
Since it frees up space on the disk it also makes the operations fast.
The Duplicate File Finder helps to remove the redundant files.
Organize data and files in a more uniform pattern.
Easily detects the bad sectors and resolves the underlying problems.
Compatible with Windows 10/8.1/8/7/Vista and XP.
Uninstall Unwanted Applications:
This is again the main culprit behind storage space filling up. Over time we all download various applications that eat up huge storage space. All these applications after a certain period sit idle and waste precious disk space. Hence we must regularly uninstall unwanted applications and clean disk data.
Locate and Remove Redundant Files:
Memories are precious and to preserve them we usually end up making duplicate copies of these images and different files. Not only this we also tend to duplicate important files and folders at secret locations being unaware of the duplicity and hence all such duplicate files sit on the storage space making it bulky and unresponsive.
A good habit is to be cautious of the images, files, and folders we save on our Windows 10 PC. Alternatively, we can use a duplicate image remover or duplicate files remover like Duplicate Files Fixer from Systweak Software to clean disk space and improve the overall health of the PC.
Save Data On A Cloud Storage:
Cloud storage is very famous today because it not only help us access data from anywhere but also makes the data secure from attacks. Uploading the data on Cloud storage eliminates the need to save all the data on the physical drive and hence saves the disk space.
If you do not want to use Cloud Storage, you can always choose to transfer the data to external storage like a pen drive or external drive.
Buy Additional Storage Space:
If it seems impossible to clean disk data and rearranging it takes a lot of your time and effort you can always choose to buy additional storage but this is very expensive so we should always keep it as a last option.
Having a clean disk space and an optimized hard disk is a prerequisite for an Operating System to work properly. Fragmented and coagulated disk space not only makes the Windows PC perform poorly also leads to sudden crashes and unexpected lags. Hence you can follow the steps provided in the article to optimize and free up space on disk regularly.