How to Record Screen in windows 11, 10
Screen recording is not new to anyone nowadays and many of us come across instances when we need to perform a screen capture for Windows. If you too are amongst users, who wish to learn how to record screens in Windows 11 and Windows 10, this article is the best place to educate yourself on the best screen recorder for Windows.
There are ample screen recorder software' available in the market, but upon research, we found TweakShot Screen Recorder by Tweaking Technologies to be the best and easiest.
So if you too are a Windows user and want to know how to use the best screen recorder software, continue reading the article.
TweakShot Screen Recorder By Tweaking Technologies:
TweakShot Screen Recorder by TweakingTechnologies is one easy-to-use tool that allows you to record any part of your Windows screen without any deep technical knowledge.
Not just this, it also allows you to record a screen with Audio or Microphone narration. TweakShot Screen Recorder is also the best screen recorder in HD quality.
The nifty yet effective tool also comes with ample features like screen capture, 4K, and HD recording up to 120 frames per second. It allows you to record tutorials, streaming videos, webinars, gameplays, webcams, and even webcam with overlay and is compatible with version 11/10/8/8.1/7/XP of Windows Operating Systems.
Tweakshot also allows saving the screen recorded video in different formats like MP4, FLV, & AVI and can also be used to customize the quality of the video, watermark, size of video being recorded, etc.
Key Features of TweakShot Screen Recorder:
Some of the many key features of the HD screen recorder for Windows are:
It allows recording screens with or without Audio.
It allows recording screens with voice-over.
It allows recording screens in 4K and High Definition mode at 120 fps.
Can easily record multiple screens and capture sessions.
It allows recording screens even while using a Webcam.
Give the provision to customize the watermark.
Available for Windows 11/10/8/8.1/7/XP Operating Systems.
TweakShot Screen Recorder comes in trial and premium versions whereas the free screen recorder version lets you record a video of maximum of 10 minutes and comes with a watermark.
The Premium version, however, has the full functionality of a recording screen without any time limit and watermark.
How To Use The Best HD Screen Recorder For PC:
Let us now see how to screen record in Windows PC using the Pro version of TweakShot Screen Recorder:
Download and follow the on-screen instructions to install TweakShot Screen Recorder.
Launch the best screen recorder tool for Windows.
The main screen provides you with different recording options like Full Screen, Select Region, Select Window, Webcam.

The full-Screen feature records the entire screen.
Select Region feature allows recording a selected portion of the screen.
Select Window feature only screen records the window that is selected by the user.
The webcam feature lets you record the webcam video.

Click on the Record button to start the screen recording, displayed by a three-second timer. TweakShot Screen Recorder records any screen with the system speaker as a default setting. However, if you wish to do it with a microphone, click the Mic icon.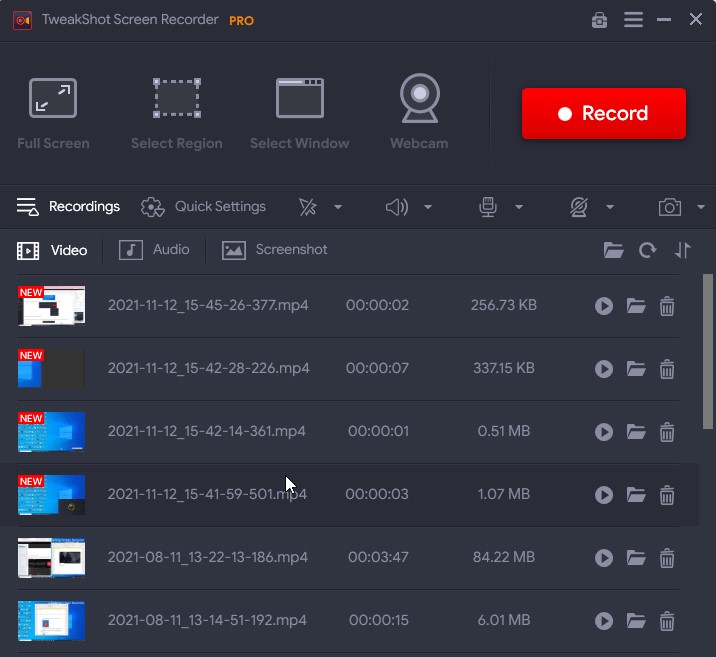 Once you have done this, simply customize the screen recording as per the different criteria. You can customize the screen recording from Quick Settings and can set the frame rate, format, size. Etc.
Once all the customization is done, simply click on the Record button to start screen recording on Windows PC.
After you have finished recording click on the Red button to save the recording.

Now, when you wish to view the screen recording, simply click on the Recording option on the main screen and then click on the Play icon to view the recordings.
Wasn't that easy, with TweakShot Screen Recorder, recording screens on a Windows PC is just a cakewalk and to top it, you can record multiple screens including gameplays, webinars, tutorials, and all sorts of desktop activities.
How To Screen Record Using A Microphone?
If you wish to use the screen recorder software to record screen with Mic, you can follow the steps below:
Launch TweakShot Screen Recorder and then disable the option of recording with the system sound. To do this, simply click on the Speaker icon and then click on None.
Post this, simply click on the Mic-shaped icon and then choose or select the device that is connected to record voice.
System Specifications:
Latest version – 1.0.0.31028
Compatible OS: Windows 11, 10, 8.1, 8, and 7
Processor: Intel Core i3 or higher
Memory: 4GB RAM or more
Hard Disk Space: Minimum 2 GB free space, SSD for better performance
Display: 1280×768 size or better
That was easy, if you wish to screen record your Windows PC and want to know about the best screen recorder software, TweakShot Screen Recorder is the best option available. Not only is it advanced but it is extremely simple to use.