How to turn your leads into customers with automation marketing?
Whether you're seasoned or just getting started with promoting your business, you can use a wide range of advertising options to achieve your business goals. In this article, we will explore how automated marketing tools turn potential customers into real customers and the great benefits it brings.
The best way to optimize time is to automate some of your marketing processes. The solution for businesses is to find an automation tool, also known as automation marketing, to make business really easier.
Those who work in the profession understand that marketing is a series of activities that need to be performed continuously, overlapping each other to be effective. But in fact, work is too busy that we can't control it, leading to some tasks being missed or not being able to proceed on time. What is not done today can be done by tomorrow. But will the customer give you time to wait?
There is a solution, although it cannot complete all marketing tasks for you, but can make our process more efficient that customers will not look at as opposed to mechanical robots. Marketing automation is a concept that refers to the use of automated software in the marketing process of businesses. Automated marketing tools we are focused on in the article are chatbots, live chat and pop ups. This software will be designed to undertake and optimize the marketing tasks to be operated smoothly, efficiently and on schedule. Marketing automation will help the marketing team save a part of the time without affecting the quality of work. This will help you reach your goals faster.
What is Chatbot?
Facebook Messenger chatbot is a marketing tool that appears more and more popular around the world. Administrative units use Facebook chatbot to help users look up exam scores, traffic jam routes. Big brands use chatbots to collect user information & return reasonable products/services or create order lookup features. Even business people are taking advantage of chatbots to answer customers automatically through pre-prepared sentences, or send broadcasts to subscribers.
Compared to email marketing – the average email opening rate is just under 20%, with chatbots the reading rate is very high – up to 80%. And this is a really effective form of marketing if you know how to apply.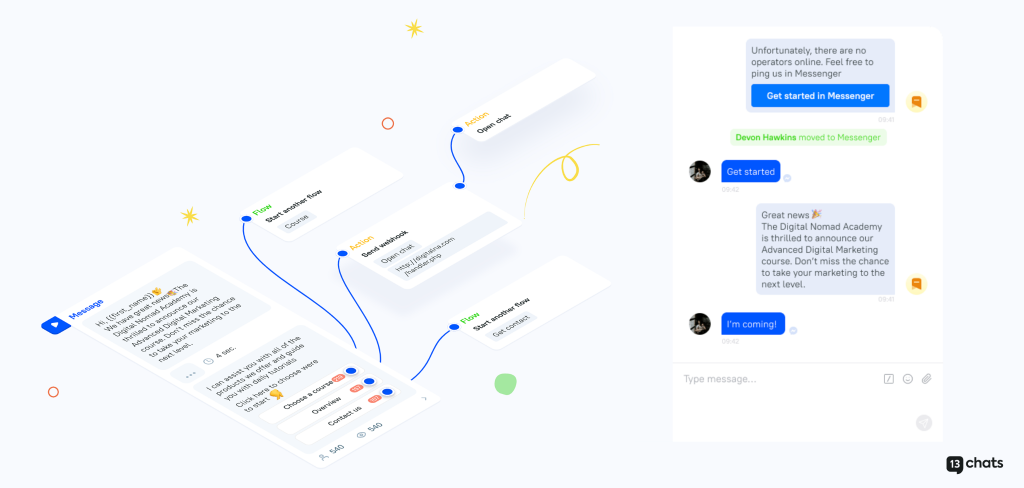 What is Live chat?
Live chat is one of the smart tools that businesses have applied on their websites recently. This helps businesses to effectively close orders and take care of customers stably.
Live chat is defined as a famous online chat program on the website, allowing users to chat directly with people right on the website interface. Business websites integrate live chat to increase customer satisfaction. Besides, businesses can provide quick support and timely customer care. Customers also easily communicate and get a response sooner.
What are pop up ads?
In the era of growing technology, online advertising communication methods are always the top concern of businesses to promote their businesses. One of the trends that many businesses use most to increase business coverage to customers is pop up advertising. So what is pop up advertising?
Pop up is a small ad, from 1/8 to 1/7th of the screen, that is automatically displayed prominently on the website screen even if you don't even click the mouse. Pop up ads usually have content and images that introduce promotions or link directly to the advertiser's website and have a duration of about 10 seconds.
How to use these tools to provoke a conversation with a potential customer?
Pop up advertising is a new, modern form of advertising. This type of advertising is growing rapidly and is favored by many businesses thanks to its outstanding advantages such as being able to advertise directly in the program, without interruption, cut scenes, viewers can watch television program developments as well as advertising content at the same time. You can more easily build communication plans for your business if you understand what a pop up ad is.
For the exact purpose of simplifying the business process, you can start your automated journey using free automated marketing tools. Simply create a greeting sign up form and ask for a phone number to stay in touch with the visitor. Or perhaps, you can design a pop-up ad so that the customer knows about your great offers instantly.
Whether you're launching a new sale or introducing the newest product, chatbots can completely meet these needs! Along the line of improving your customer support, you can create scripts based on trigger words. Moreover, you can insert buttons and unlimited extended scripts and be more useful as an online service by instantly providing an answer and giving advice to the client.
One of the outstanding benefits mentioned today of chatbot and live chat is the ability to turn your leads into customers. Automation marketing is able to help with collecting data and provide an overview of user behavior on the website.
Final thought
More and more businesses are using automated marketing tools and getting great results from this platform. However, it also means that in order for your ad to stand out, you will need a lot more effort. Automation solutions are pretty easy to use. Even those of you who don't have any prior experience in marketing can use chatbots and pop ups to reach potential audiences, turn them into real customers and generate revenue.
In addition, you can advertise your business with a very small budget and still create great results. You can even create viral content, spread the word without spending too much, as long as your content is really unique and interesting.
In fact, applying marketing automation in tasks like lead generation and nurturing will help your business calculate lead times, save costs and help with more precise planning.