How to use voice changer for discord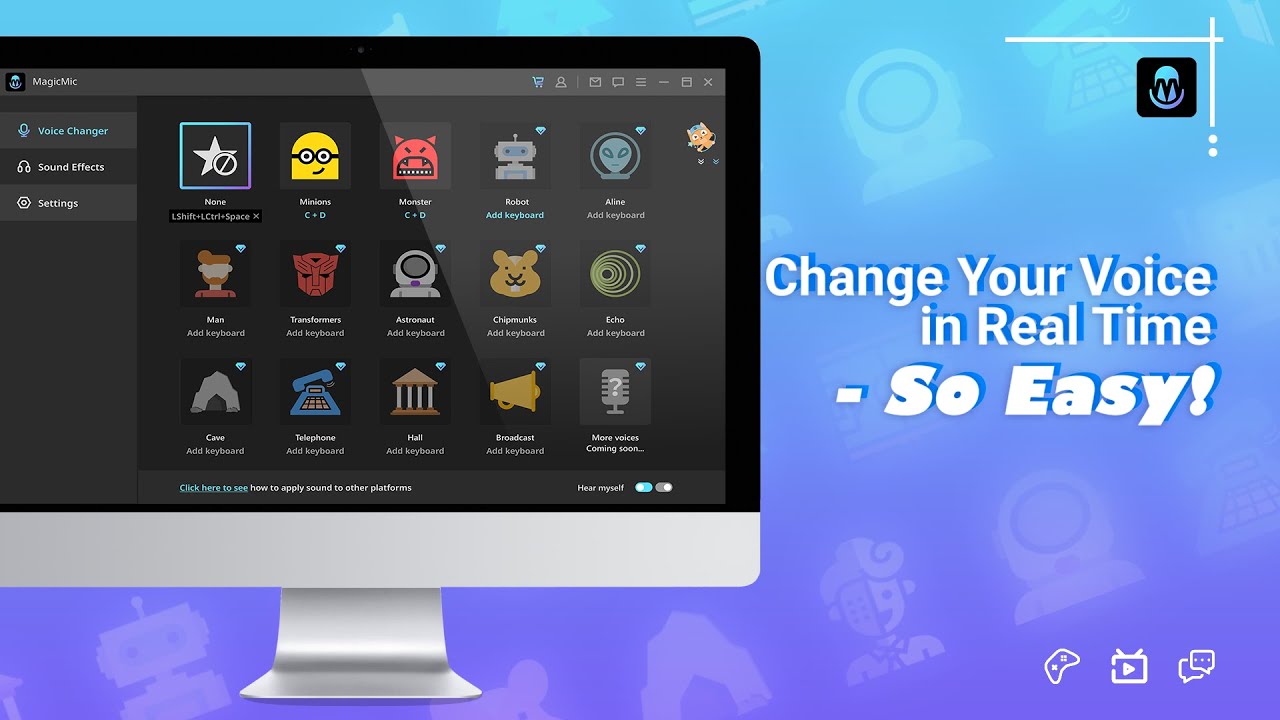 As the world progresses and life becomes easier for the upgraded technology has solved upcoming generations, the obstacles to a peaceful, healthy lifestyle. Technology has proven to be a major advancement over the past few decades. It has provided many new forms of freedom to us, as who in previous centuries would think of getting the human voice changed to any other sound effect. When you're gaming or live streaming on platforms like Pubg, Fortnite, Discord or Twitch, you look for various voice-changing effects. So here we're to announce the Best Real-Time Voice Changer, iMyFone MagicMic. 
Best Magicmic Voice Changer Features
It is a leading real-time voice changer that allows you to change your voice in real-time during your favourite shows in 200+ different effects. It sounds like 2 in 1 facility granted by iMyFone MagicMic because it also works as a direct voice emulator. This application is the best free voice changer for discord with high-quality efficiency to work even on Mac OS X 10.10 and later additions. This app is not only for Mac but also works perfectly on Windows. The operating systems Windows 7, 8, 8.1, 10,11 and MAC OS 10 onwards are all fully supported. 
The software is extremely user-friendly. Anyone, from a newbie to an expert, a child to an adult, can begin altering their sound right away. 
You can easily convert your voice to a timely reaction during the live streaming of the game of the show. For example, you can add crowd cheers or clapping to appreciate the speakers, add dramatic effects when the opponent player is on the verge of losing in the game, or even a heartbeat when you are about to fail the game. Because MagicMic features high-quality sound effects, you won't have to download ridiculous public chanting sound effects for your game.
These 200+ sounds are all classified into different categories to make the options easier for you, like Voices for Men, Voices for Women, Theme Voices, Dreamy Voices, Animal Sounds and so on.   
Another feature that iMyFone MagicMic presents is "keybinds", which helps you to assign your favourite voice effects in your own way because it becomes difficult to search your most liked voice changing effects from the total number. 
The magical part is that iMyFone MagicMic will allow you to download your changed voice into MP3 or WAV form and everything just with some simple steps. What else can you dream of in a free application? 
In this era of applications and technology, the old versions are easily replaced by the new ones because they generate more advanced features. Still, for iMyFone MagicMic, the effects are updated every month. Yes, you read it right, every month! 
You might be concerned if the iMyFone MagicMic is a genuine product. This tool is completely legitimate, and it is recognised both for its amazing capabilities and because it does all the major heavy lifting parts for the users, allowing them to recover their data in a completely safe and sound way.
You need a single real-time mouse click to change your voice with more than 200 options. Because of its one-click mode, this free voice changer Software beats out the other voice changing apps in the competition. 
The best feature available on iMyFone MagicMic is that you can make your own voice with Voice Studio. Chorus, Distortion, Delay, Tremolo, Reverb, High Pass, Multiband, and other effects. They're offered in the form of switches.
How to Use Magicmic Voice Changer for Discord
You can enable iMyFone MagicMic best voice changer for discord, just by following these easy steps mentioned below : 
Step 1: 
Open the iMyFone MagicMic software. 
Download and run the iMyFone MagicMic application. Keep reading the setup instructions if this is your first time using MagicMic.
Step 2 : 
To use this voice changer, you must first select the output and input. As the input device, choose your real or primary microphone. As the output device, choose your headphones. At the bottom of the MagicMic window, turn on the "Apply Voice Changer option."
Step 3 : 
Then, using your microphone, speak into any voice filters to hear how your voice sounds in each of them. 
This is all about the simple clicks leading towards the successful setting up of this voice changing app. But in case the iMyFone MagicMic voice changer fails to work, there are three options for resolving the problem.
Solution 1 : 
Select "Hear Myself" from the drop-down menu in the settings section to turn it on. Open the "Sound Effects" tab from the side menu. Select your real microphone as an Input device and your headphones as an output device. Speak into your mic to test the volume level and sound. 
Solution 2 : 
In most cases, the reason that you're unable to use this app is that the pc is unable to find the voice changer drive, headphones or microphone. 
In this case, we suggest that you should install the Voice Changer driver by selecting the Install option in the settings.
And for headphones or microphone issues, link and use the 'refresh' button to get started. 
Solution 3 :
Make sure that your windows audio configuration is set to default. You can do this by going to windows 'sound settings' and clicking the sound control. Check if your headphones and microphones are default in the 'Recording and Playback section. 
Do you want to try these sound effects and hear how your voice sounds in these animated voice effects: female to male, animal, ghost, robot, crowds and more? Would you like to play a prank on your friends in games and live conversations using funny sounds? MagicMic, the voice changer, is available for this service! It includes a large section of voice effects from which you can select any. This app is also quite reliable for getting started as a real-time voice changer. On Discord, Twitch, pubg, and others, you can change your voice using this app.